Day 1 - Hanoi
Arrive at any time. There are no planned activities today until an evening welcome meeting. After the meeting, opt for dinner out with the group.
Arrival Day and Welcome Meeting The adventure begins tonight. Feel free to explore before your welcome meeting, but make sure you're back in time to meet the group. After introductions, your CEO will review the details of your tour. Please note that normal check-in times apply at our start hotels, but you can usually store your luggage for the day if you arrive early.
When arranging your transportation, such as flights, please take into consideration the below time restrictions for joining and departing from your group. With these times, we have taken into account travel time to/from the airport in the given destination and required time for check-in or baggage collection/immigration.
Your flight must arrive by or before: Arrive at any time. Your flight must depart no earlier than: 20:00 on Day 17
Church Boutique Hotel Lan Ong (or similar)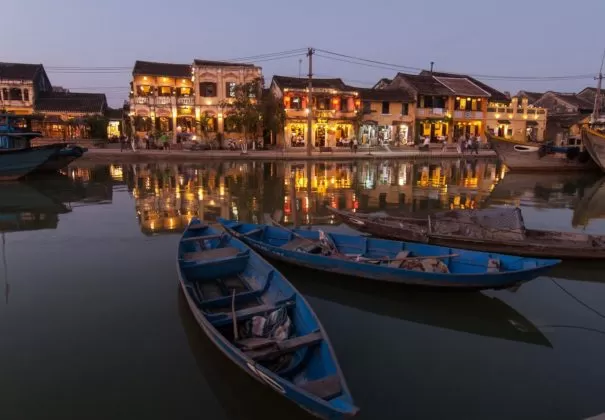 Day 2 - Hanoi / Ha Long Bay
Enjoy a Ha Long Bay cruise on a junk boat with visits to a cave and an island lookout. Savour a seafood lunch and dinner. Drive to Bai Chay harbour, the jumping off point for Ha Long Bay. Thousands of islands with intricate cave systems rise dramatically from the waters. Sail past limestone karst mountains in the junk boat and stop to visit some of the islands and caves. In the evening, devour a seafood dinner, then opt to enjoy a drink on deck under the stars.
Breakfast, Lunch & Dinner
Day 3 - Ha Long Bay / Huế
Cruise back to the port and take a private van to Hanoi. Enjoy some time in the city before an overnight train to Hue. Enjoy breakfast on board before a morning sail back to the port. Drive back to Hanoi for a little more time to enjoy the city before boarding an overnight train.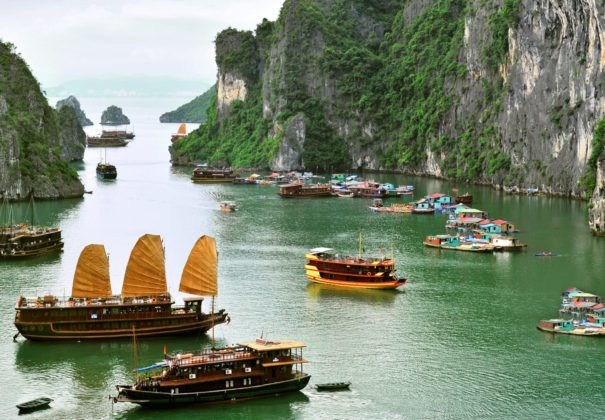 Breakfast, Lunch
Day 4 - Huế
Guided tour of the Imperial Citadel, Royal Tomb and Tien Mu Pagoda. Arrive early to Hue, once the imperial capital of Vietnam. Start the day with a visit to the Tien Mu Pagoda followed by a visit to the tomb of one of Vietnam's former emperors. After, opt for a vegetarian lunch at a local nunnery. While in the city, try some local Hue specialties such as banh khoai (Hue savoury pancakes), and banh bot loc boc tom thit (thin rice paper filled with meat and shrimp). Wash it all down with a Hue beer.
Day 5 - Huế / Hoi An
Drive the Hai Van pass. Take advantage of Hoi An's many options over the 2.5 days in town. Opt for a cooking class, riverboat trip, bike ride, beach time, tailor visit or My Son ruins. Cross the Hai Van Pass (weather permitting), with fantastic views in all directions, before arriving to Hoi An in the afternoon. With three nights here, there's plenty of time to explore all this charming town has to offer. Accommodation Vinh Hung 2 Resort (or similar)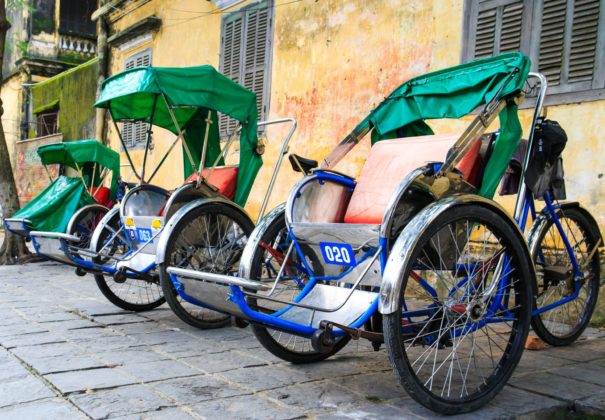 Breakfast
Day 6 - Hoi An
Spend two full days exploring all Hoi An has to offer. Dive into the culture, hang out on the beach or get clothes tailor-made in one of the many shops around town. Enjoy a noodle making demonstration and lunch at Oodles of Noodles, a G Adventures-supported project.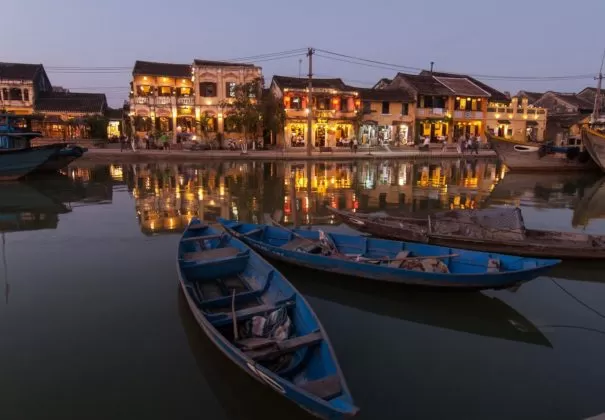 Breakfast & Lunch
Day 7 - Hoi An
Spend a free day exploring all Hoi An has to offer. Your Discover Moment There's plenty to see and do in Hoi An, and we wanted to make sure that you had some time to take it all in. Feel free to relax or try optional activities like learning about Vietnamese cuisine with a cooking class, trying your hand at making traditional lanterns, and visiting the ruins of My Son. Your CEO has more ideas if you need them. Just ask! Accommodation Vinh Hung 2 Resort (or similar)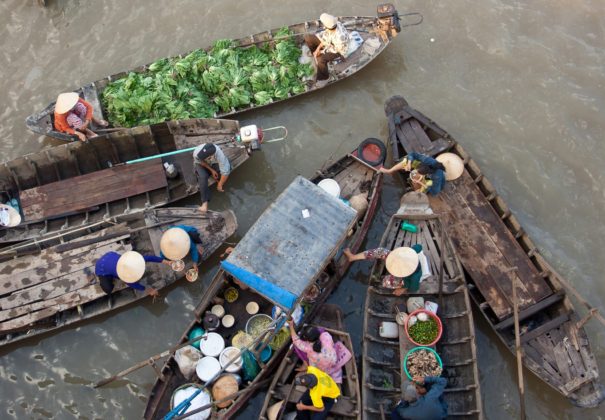 Breakfast
Day 8 - Hoi An / Ho Chi Minh City
Fly from Hoi An to Ho Chi Minh City with free time to explore this hectic city. Drive to Da Nang for the flight to Ho Chi Minh City, once the capital of South Vietnam and the country's commercial centre. Start exploring the small alleys and busy streets, keeping an eye out for laquerware shops and delicious local food stalls. Accommodation Lotus Boutique Hotel (or similar)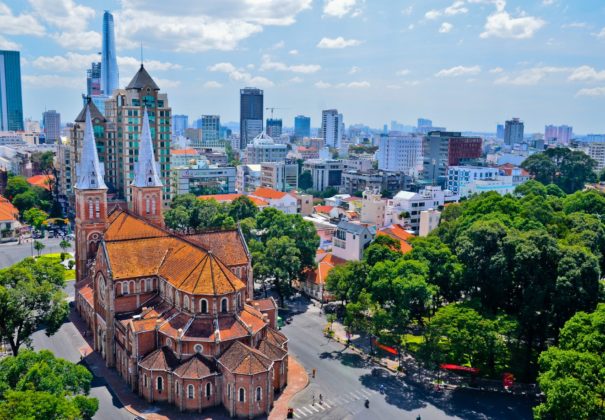 Breakfast
Day 9 - Ho Chi Minh City
Enjoy a guided tour of the Cu Chi Tunnels and learn more about the Vietnam War. Use free time in the afternoon to explore sprawling Ho Chi Minh City. With some free time in the city, opt to visit the Thien Hau and Giac Vien pagodas and stroll through the immense Ben Thanh Market. Also well worth a visit are the Reunification Palace (the residence of South Vietnam presidents before 1975), the city's Chinese quarter of Cholon, and the War Remnants Museum. Cu Chi Tunnels Guided Tour Củ Chi – Ho Chi Minh City Take a guided tour of the Cu Chi Tunnels, a complex network of tunnels that the Viet Cong lived in to protect themselves from opposing forces during the Vietnam War. Try crawling through some of the tunnels (if you're not claustrophobic). These tunnels stored ammunition, had underground hospitals, and served as a hidden base for attacking allied forces.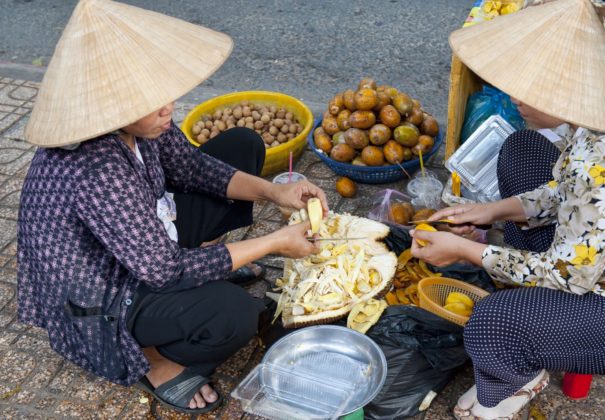 Breakfast
Day 10 - Ho Chi Minh City / Mỹ Tho
Meet in the lobby of our accommodation at 12:00pm for the transfer to the starting point of the riverboat journey.  Transfer to the pier for the start of the riverboat journey. Embark, settle in, and get to know the crew as the adventure begins.  Sail towards My Tho. Riverboat Welcome Meeting Welcome aboard! It's time to meet the crew and get some information about the cruise.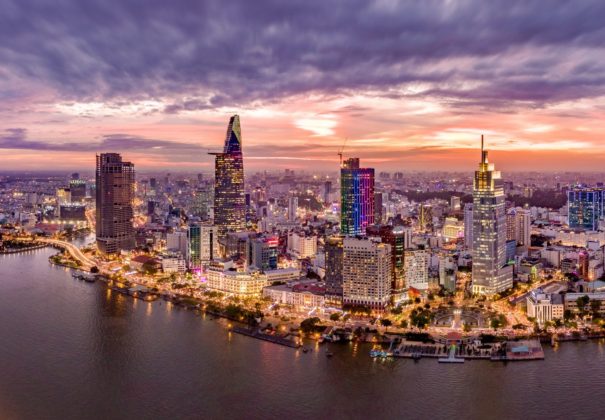 Dinner
Day 11 - Mỹ Tho / Sa Dec
Visit Vinh Trang Pagoda with a short tour of My Tho town en route. Take local boats to Thoi Son Island to see a coconut product manufacturer, taste some local fruit and honey and meet traditional musicians. Continue on to Cai Be and enjoy a visit to the floating market. Opt to wander the small paths through local communities on the island and visit a Rice Popping cottage industry. Continue by local boat to Vinh Long to meet the vessel. Embark for the evening sail to Sa Dec.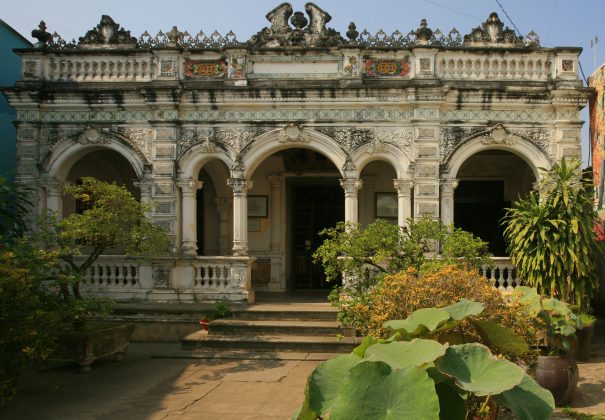 Breakfast, Lunch & Dinner
Day 12 - Sa Dec / Xã Vĩnh Xương
Visit the Kien An Cung Pagoda in Sa Dec and stroll through the market along the river. View the old colonial houses by the delta. Enjoy breakfast and lunch on board as you cruise the Mekong.  Arrive at Chau Doc and visit Sam Mountain for sunset. Gaze out over the rice paddies or relax in a hammock. Visit some temples and pagodas along the way. Opt for dinner in town.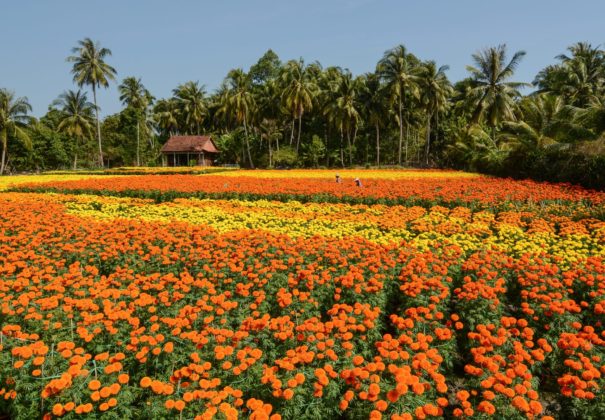 Breakfast & Lunch
Day 13 - Xã Vĩnh Xương / Phnom Penh
Cross the border into Cambodia and continue on to Phnom Penh. Enjoy an evening in the capital city starting with a cyclo tour to see the city from a new perspective. Opt to finish up at the Foreign Correspondents Club for Happy Hour overlooking the river or dinner in town. During the border crossing all passengers must stay on board and the formalities are done on the riverboat. The ship will usually stay at the border for a 2-3 hours whilst all the formalities are completed. Depending on the time spent at the border, the itinerary for the afternoon may vary, although this process is usually quite simple delays can happen.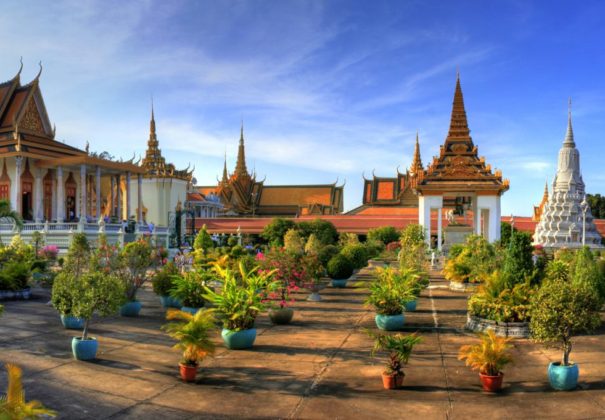 Breakfast & Lunch
Day 14 - Phnom Penh
Visit the sobering S21 Museum and the Killing Fields with a local guide. After lunch, use free time to visit sights like the Royal Palace, Silver Pagoda, the National Museum, or the Russian Market. Tuol Sleng Museum (S-21 Prison) Guided Tour- Phnom Penh Learn about the dark history and devastation that occurred at Security Prison 21 (S-21); the prison, used by the Khmer Rouge regime, is now Tuol Sleng Museum. Take a guided tour to hear the stories behind the sombre photos lining the museum walls. Choeung Ek (Killing Fields) Guided Tour – Phnom Penh Learn more about the atrocities of the Khmer Rouge visiting the killing fields of Choeung Ek; the grounds now stand as a powerful memorial filled with victims' skulls and mass graves. Tour this sombre, yet serene, site with a guide. Free Time – Phnom Penh Half Day Discover more of this dynamic city.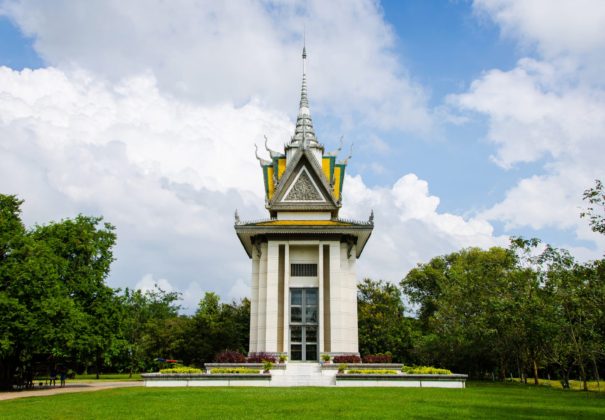 Breakfast & Lunch
Day 15 - Phnom Penh / Kâmpóng Trâlach
Continue to Kampong Tralach and visit the local vihara (Buddhist monastery) and Wat Kampong Tralach Leu pagoda. Opt to cycle, or ride in a tuk tuk or buffalo cart, through the village and past rice paddies to reach the monastery. Kampong Tralach Visit  – Kâmpóng Trâlach, Kampong Chhnang 15:00-18:00 Afternoon Arrive at Kampong Tralach and visit its wonderful Vihara (Buddhist Monastery) and Wat Kampong Tralach Leu pagoda. Travel through Kampong Tralach Krom village along a small road perpendicular to the river, crossing beautiful stretches of emerald rice paddies. The Vihara dates back to early last century and is home to some outstanding mural paintings. Standing isolated in the middle of the rice fields, it is a modest pagoda that receives very few international visitors, enjoy this truly unique experience.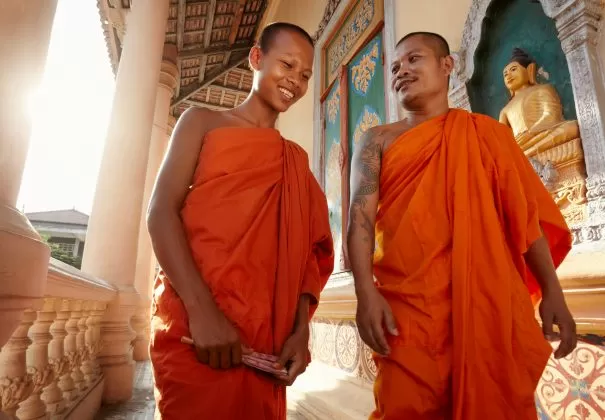 Breakfast, Lunch & Dinner
Day 16 - Kâmpóng Trâlach / Koh Chen
Sail on to Kampong Chhnang, one of the largest fishing ports on the Tonle Sap River. Learn more about the fish farming, pottery and sugar palm production in the area. Wander through the local market then opt to cycle to visit the local industries. Enjoy lunch back on the ship en route to Koh Chen, an island in the river. Visit silver and copper workshops and meet a Khmer Rouge survivor eager to tell his story. Enjoy an evening cocktail and the Captain's farewell dinner.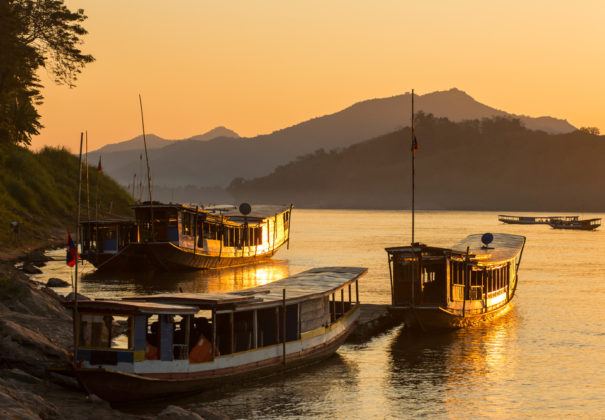 Breakfast, Lunch & Dinner
Day 17 - Koh Chen / Siem Reap
This morning, say goodbye to the crew of the Toum Tiou II Riverboat. Hop into a private vehicle for an included transfer to Siem Reap. Tour ends upon arrival. Please book onward travel after 4pm. Departure Day (Activities) Not ready to leave? Your CEO can help with any onward travel arrangements you require. Private Vehicle – Koh Chen, Siem Reap 5h 285km Settle in and scan the scenery from the convenience of a private vehicle.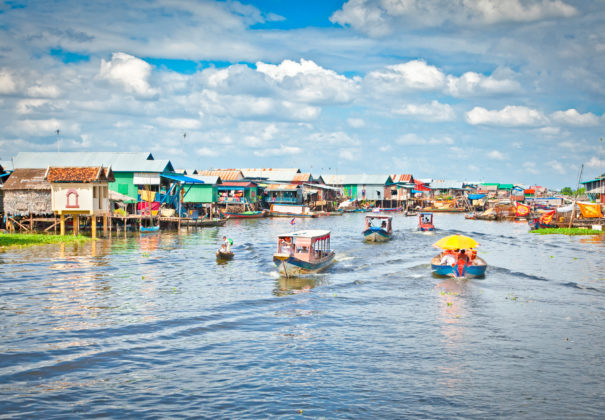 Breakfast
Day 18 - Siem Reap
Sunrise at the Angkor Wat temple complex.
Explore Angkor Wat for the morning before return to the hotel where the tour ends.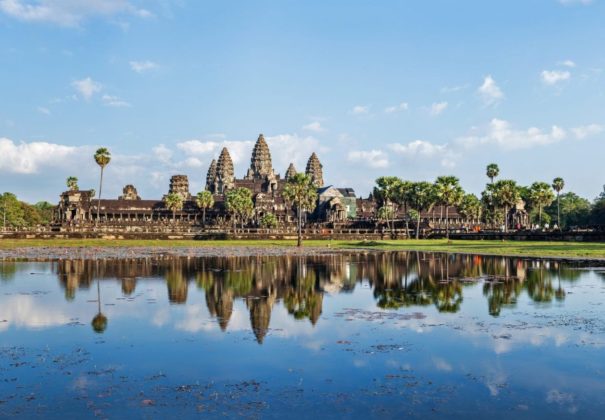 Breakfast