Christmas & New Year River Cruises from Global River Cruising.
Escape on a luxury river cruise to a festive wonderland, most European cities and towns transform from everyday life into traditional wintery villages from mid-November until just before Christmas Eve.
Even though, snow can't be guaranteed, you can however look forward to Christmas-card settings with traditional handmade decorations which are beautifully lit during the evening. And if you're lucky, you might even come across a local choir singing traditional Christmas songs. It can't get any better than that.
Visiting at this time of year on a river cruise you'll get to see beautiful towns and villages fully decorated with beautiful Christmas lights and ornaments. Excursions are specially curated to offer a wide range of choices of activity in every destination, including bike tours, late riser tours and slow walking tours, as well as the visiting some of the best festive destinations Europe has to offer, all included in the price.
And then of course we come to the special celebrations that happen on your luxury ship. Join fellow passengers to decorate the tree, sing carols, exchange presents and perhaps take in midnight mass in one of Europe's iconic churches.  All leading to the incredible gala dinners on Christmas Eve and New Years Eve.
Make a Christmas time and New Year river cruise part of your annual holiday calendar.  You won't regret it.
Call the experts on 0800 471 4754
Browse Christmas & New Year River Cruise Selection
Join our exclusive voyages this Christmas & New Year on the Danube or Rhine.
There is no better way to celebrate Christmas and New Year than on our exclusive Amadeus Danube festive river cruises. This year the brand new Amadeus Star is our floating host. Join our European celebration amongst like-minded guests and a staff that are full of Christmas cheer. Spend Christmas Day in Vienna or New Years Eve in Budapest watching the fireworks from your floating vantage point.
What our customers say about our Christmas & New Year River Cruises
"We thoroughly enjoyed the atmosphere onboard, the attention to detail and the celebration.  Put together with the beautiful landscape and the boundless energy of the staff who looked after us so incredibly I absolutely recommend the experience.  So much so that we have booked to go again this year, on a different river but for two weeks and not one and more friends are coming with us."
Mrs E, West Midlands
Browse our Christmas Markets River Cruise Selection
Free Flights on 2020 Christmas & New Year River Cruises
Book early and get Free Flights on all European 2020 Christmas and New Year river cruise's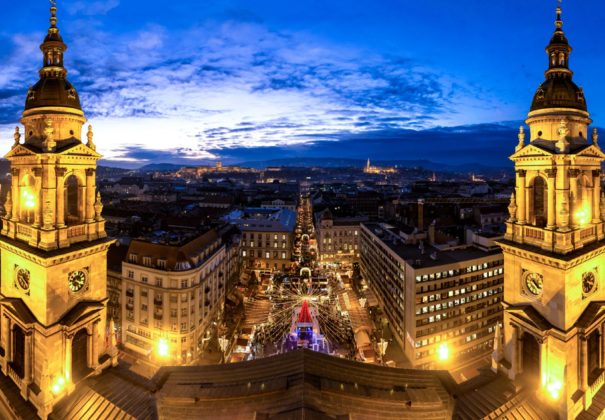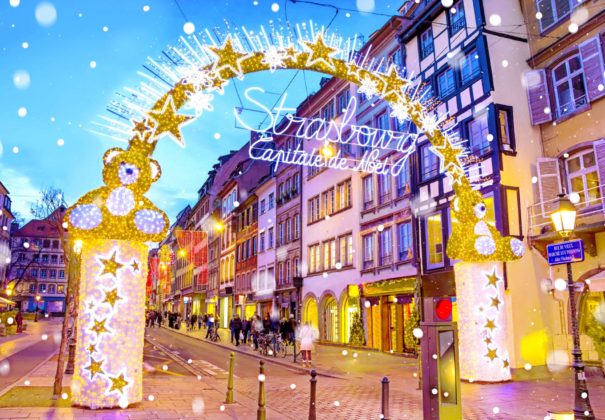 Christmas Market River Cruises
We have an extensive range of Festive river cruises on offer in Europe and Asia. Christmas market shopping trips, relaxing Christmas getaways and New Year celebration cruises. With full board accommodation and the knowledgeable services your on board Cruise Manager to look after your every need, just sit back, relax, and watch the sparkling winter wonderland scenery pass you by. Wander around the festive squares which are lit up with decorations, a light dusting of snow may cover the ground, and the Christmas markets are in full swing
The difference from summer to winter is amazing, as cities like Vienna, Strasbourg and Cologne take on a completely different look and feel during the Festive season, usually from the end of November until the new year. Cities that may be crowded in Summer with lots of tourists are quieter in the winter months giving you the chance to fully appreciate the sights and sounds. Take one of the relaxed excursions to fully take in your surroundings, although it may be cold outside, the atmosphere aboard your river cruise ship will be warm and cosy, with all the usual amenities on offer. So, why not go during what is arguably one of the best times of the year and celebrate the holidays in Europe?
Browse our Christmas markets river cruise selection
Finding it hard to choose?
Our Global River Cruising team have been on most of our cruises and are here to advise you, so why not give them a call on 0800 471 4754
Choose from a 4 to 14 night cruise during this Christmas & New Year
Whatever you are looking for, we can assist. All the cruises on our website have been chosen with our customers in mind. Travelling as a family group, a couple, a single we are able to meet your requirements and tailormake the most amazing Christmas and New Year experience on the rivers of the world.
Call 0800 471 4754
Find the river cruise of your choice and either send us an enquiry online or give our Global River Cruising team a call on 0800 471 4754.
  Terms and conditions apply, all offers are subject to availability and operator booking conditions. All savings are included in the fares shown and were correct at time of print, but are subject to change. Prices are per person based on two passengers sharing and economy flights from London unless otherwise stated. Please note all excursions mentioned in the itineraries are not included but can be purchased pre-cruise.  Global River Cruising ABTA P6713.
What are our customers saying?
Alex is clearly very knowledgeable about the industry. She will listen to what we are looking for in a river cruise and is then able to make suggestions enabling us to short list and ultimately select an appropriate holiday.
Mr Onley, Avalon Waterways – The Blue Danube Discovery