Day 1 - Venice (Embark)
Arrive at Venice Marco Polo International Airport, where you will be transferred to the ship. Unpack, relax and enjoy your first evening on the Venetian Lagoon.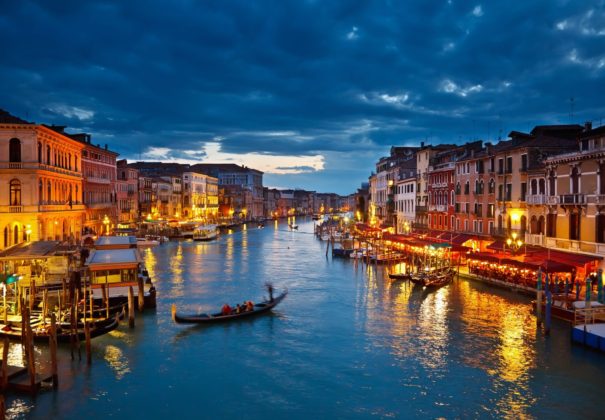 Dinner
Day 2 - Venice
If ever there was a city that could be described as "bewitching" and "ethereal," Venice is it. An expert guide will show you iconic sites as well as quiet lanes and secret spots known only to locals (shhhh….). Also on deck today: a scenic cruise around the Venetian Lagoon and an experience that's sure to be a highlight of your trip—an extremely rare after-hours visit to St. Mark's Basilica. Hoping to escape marauding Huns, Goths and Vandals as the Roman Empire collapsed in the fifth century, refugees built a little settlement they called Venice on tiny islands in a lagoon in the Adriatic Sea. By the 12th century, Venice was the wealthiest and most powerful city-state in Europe, controlling the Mediterranean and all European trade with the East. Its merchant-aristocrats lavished their wealth on palaces and churches, art and music, creating a city that is truly like no other. Now, seawater laps at the foot of thousand-year-old houses— and sometimes rises above the doorsteps—but the glorious palaces and romantic canals enchant visitors just as they have for centuries. Today you will embark on your own personal voyage of discovery through this entrancing city.
Featured Excursions:
Exclusive evening opening of St. Mark's Basilica Venice walking discovery tour A special Captain's Welcome Reception and Dinner will be prepared for you this evening.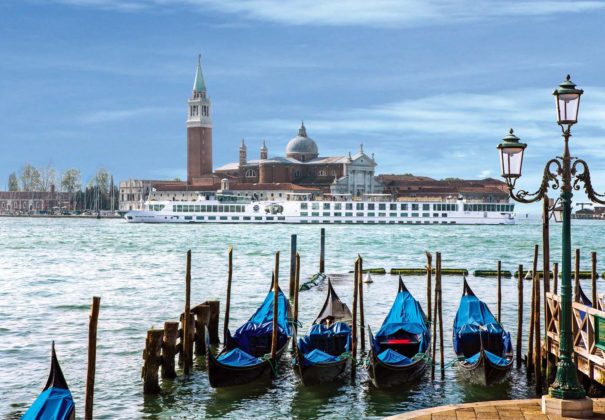 Breakfast, Lunch & Dinner
Day 3 - Chioggia
Join a local expert for a stroll around this picturesque fishing village, a popular place for artists, or "Go Active" with a bike ride along the beaches lining the lagoon. The seaside air and sweeping views are simply spectacular. The River Countess sails from Venice, cruising through the lagoon, past the Lido, the colorful fishermen's houses of Pellestrina and the huge ongoing flood-control project called MOSE (which is designed to protect Venice from rising seawater), before docking in Chioggia, sometimes called "Little Venice," at the southern end of the lagoon. Special attention to: We are obliged to comply with Italian Maritime Authorities who require that the ship is only manned by crew during the Adriatic Sea passage. We thank you for your cooperation.
Featured Excursion:
Choice of Chioggia walking discovery tour or Exclusive guided "Let's Go" bicycle tour of Chioggia's beaches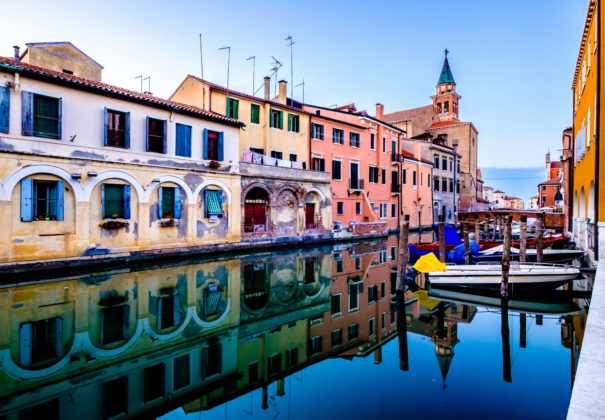 Breakfast, Lunch & Dinner
Day 4 - Polesella (Bologna or Ferrara)
Bologna or Ferrara? Let your passions be your guide today. If you have an appetite for pasta, head to Bologna—the heart of Italian culinary traditions—and learn how to make (and eat!) your own lunch. Or indulge your appetite for art with an excursion to Ferrara, an ancient center for the arts that once rivaled Medici Florence. Today you face a tough decision: Do you spend a full day in Bologna, the culinary capital of Northern Italy, or visit UNESCO-designated Ferrara, a beautifully preserved Renaissance city?
Featured Excursion:
Choice of Full-day excursion to Bologna with exclusive pasta-making workshop and lunch Half-day excursion to Ferrara with lunch onboard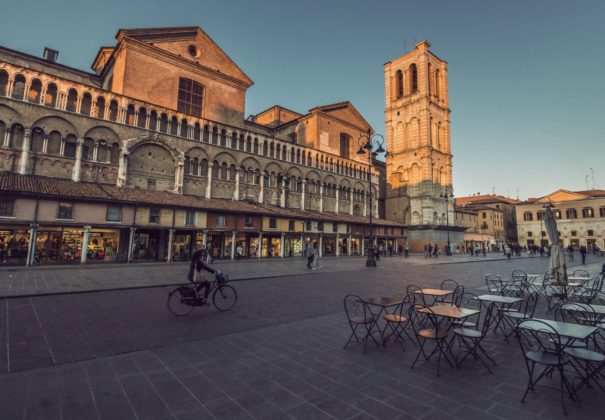 Breakfast, Lunch & Dinner
Day 5 - Taglio di Po, Chioggia
Chioggia is such a delight that we'll return there today to experience something completely different. You can visit the village's bustling once-a-week market—a colorful and boisterous scene, and quintessentially Italian—or for something really unique, hop aboard a small boat to go mussel harvesting with local fishermen out in the lagoon. Dip into a lively local scene with a stroll through Chioggia, or, if weather permits, take a small boat out to the lagoon to take part in a mussel harvest. Special attention to: We are obliged to comply with Italian Maritime Authorities who require that the ship is only manned by crew during the Adriatic Sea passage. We thank you for your cooperation.
Featured Excursion:
Chioggia market visit with lunch onboard or Chioggia mussel harvesting experience You'll sail back to Venice this evening.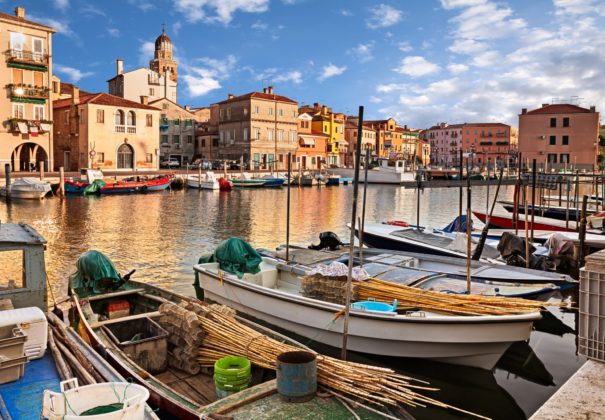 Breakfast, Lunch & Dinner
Day 6 - Venice Islands (Burano, Mazzorbo, Torcello)
Venice is an island surrounded by hundreds of smaller islands, three of which you'll visit today—Burano, famous for its lace-makers and houses painted in eye-popping colors; Mazzorbo, where you'll taste a historic golden-hued wine; and Torcello, home to beautiful Byzantine mosaics.
Featured Excursion:
Full-day "The Magical Islands of Venice"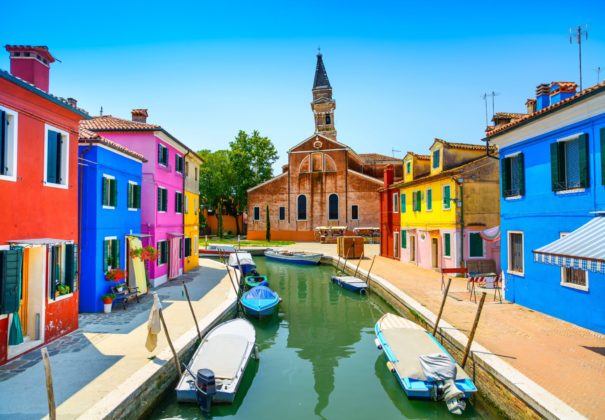 Breakfast, Lunch & Dinner
Day 7 - Venice
Lovers of food and wine flock to Italy to immerse themselves in a true farm-to-table epicurean experience. If that sounds like you, you'll love today's walking tour to the famous fish and produce market next to the Rialto Bridge. Prefer a more visual feast? Join an art historian for a highlights tour of the Accademia gallery. Further your acquaintance with the city called the "Queen of the Adriatic" with a tour of its marvelous food markets (your ship's chef might just lead your expedition) or take a tour of the stunning Academy museum.
Exclusive "Do as the Locals Do" Venice walking tour
Back when Venice was at the height of its power, only the Rialto Bridge spanned the Grand Canal—and the city's famous Rialto markets for fish and produce have sprawled at its feet as long as the bridge has arched over the water. Here you'll find violet artichokes from the nearby island of Sant'Erasmo, honey from the salt marshes, white asparagus from Giare—and Venetians shopping for their dinners in the historic heart of the city. Join them as you explore the colorful, noisy and fun arcades with your guide (the ship's chef often leads this expedition), who knows Venice's culinary arts intimately. Freshly caught local fish is sold to knowledgeable customers under the Gothic arches of the covered fish market, which was probably originally built in the 11th century. At the end of the tour, join your guide at a bacaro (a casual wine bar) for the Venetian version of happy hour, called ombra e cicchetti—a drink (often a glass of prosecco) with a bite of something delicious— perhaps crostini with salt cod spread or another Venetian fish specialty.
"Venetian Painters at the Accademia" tour with art historian guide
Join an art historian on an exclusive guided visit to the Academy. Probably the greatest collection of Venetian Renaissance paintings in the world, it includes works by Tiepolo, Veronese, Tintoretto, Bellini and Canaletto. There are more than 20 galleries, each one containing extraordinary masterpieces, with exhibits generally laid out in chronological order. There are far too many to see in a single visit; fortunately, your guide brings a specialist's knowledge to the history of Venetian painting and will show you what was unique about Venetian art as it developed from the 14th through the 16th centuries. Note: Photography is not permitted inside the Academy, and large bags, especially backpacks, must be left in lockers. A special Captain's Farewell Reception and Dinner will be prepared for you this evening.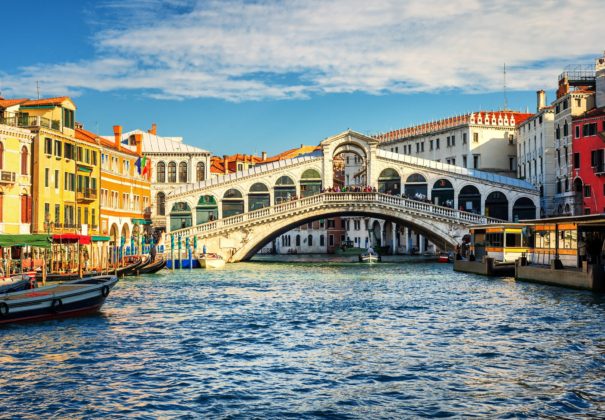 Breakfast, Lunch & Dinner
Day 8 - Venice (Disembark)
Disembark the ship. You will be transferred to Venice Marco Polo International Airport for your flight home.
Bfreakfast