Day 1 - Arrive in Lyon
Arrive for your flight to Lyon, Marseille or Montpellier, or take the Eurostar from London St Pancras International to Paris Gare du Nord, where you will be met by a guide and escorted on a coach transfer to Gare de Lyon to board a high-speed TGV to Lyon. On arrival we transfer by coach to our ship moored in Lyon's historic centre. The dedicated English-speaking crew will welcome you on board and help you to your cabin. After settling in to your spacious and tastefully furnished accommodation, there's time to familiarise yourself with this five-star floating hotel.c
Dinner
Day 2 - Lyon
After our first splendid breakfast, we've a leisurely start enjoying a guided tour of Lyon, one of France's most fascinating cities. The Rhône Valley had been the route of choice for marauding armies and peaceful traders for centuries, and Lyon's current site, at the confluence of the Rhône and Saône Rivers, cried out to be fortified. In 43 BC the Romans founded the city, which subsequently grew in importance; the Emperor Claudius, conqueror of Britain, was born here. There are many Roman remains to see, but it was the production of silk that brought Lyon to prominence during the Middle Ages, and throughout the city you can see signs of the wealth that poured in – Renaissance buildings, imposing churches and Europe's largest pedestrian square, Place Bellecour, with a statue of Louis XIV as its focus.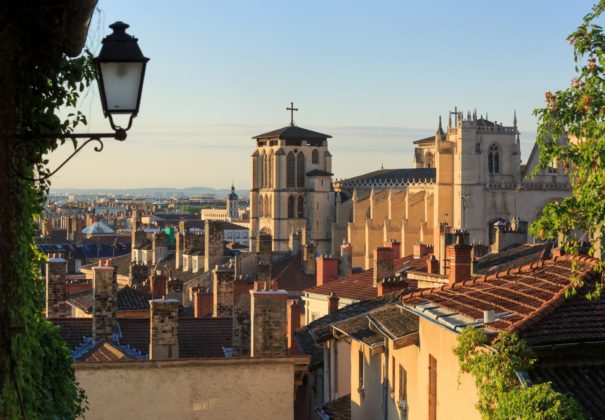 Breakfast, Lunch & Dinner
Day 3 - Chalon & Beaune
Rising this morning we're berthed in Chalon, gateway to Burgundy and home of Nicéphore Niépce, the inventor of photography. On this morning's tour we see some of the pretty yet surprisingly small villages that produce some of the world's most sublime wines – Meursault, Volnay, Pommard, Gevrey-Chambertin and many more. Nearby is medieval Beaune, Burgundy's wine capital, which is wonderful to wander around. At its centre is the Hospices de Beaune, also known as the Hôtel-Dieu. Originally built in the 15th century as a hospital for the disadvantaged, it's a jewel of High Gothic architecture, instantly recognisable for its colourful glazed roof tiles arranged in dazzling geometric patterns.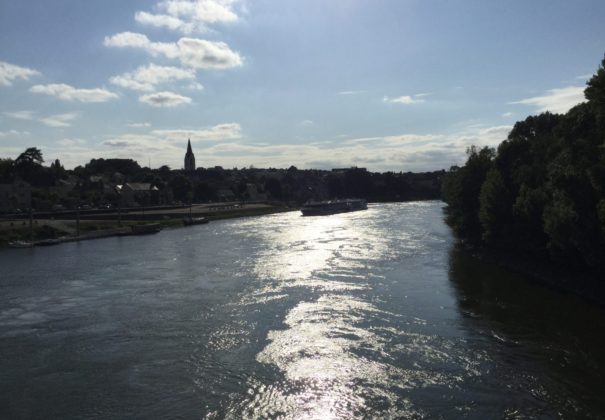 Breakfast, Lunch & Dinner
Day 4 - Vienne & Tournon
One of river cruising's great pleasures is waking in a different place to the one you fell asleep in. Overnight the ship has cruised almost imperceptibly downstream and we enjoy breakfast in Vienne, first a Celtic settlement, then a Roman stronghold under Julius Caesar. Strikingly located in a narrow section of the Rhône where the river meanders dramatically around a steep bluff, Vienne is a treasure trove of historic remains, including the stunning Roman Temple of Augustus and Livia, and a walk around its streets really brings its heritage to life. During another superb lunch, we enter perhaps the most picturesque section of the Rhône as the river squeezes and twists past Condrieu, Saint-Rambert-d'Albon and Saint-Vallier, with wooded cliffs rising high on both sides.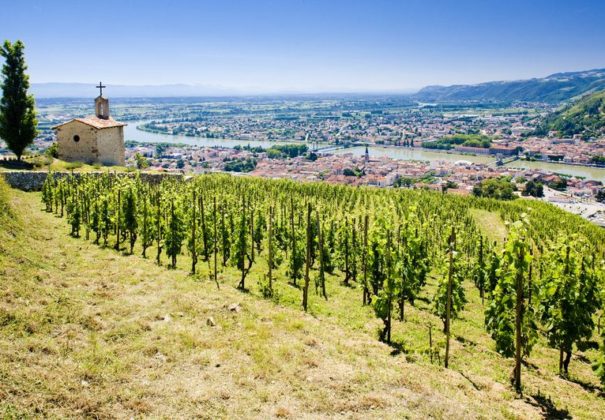 Breakfast, Lunch & Dinner
Day 5 - Ardeche Gorge
This morning we cruise effortlessly downstream. In the distance you'll catch glimpses of the Alps and, as we approach Valence, the landscape gradually becomes less green with more ochres and magentas, the houses have sloping terracotta roofs typical of the Mediterranean and the air carries heady aromas of pine and cypress. You can only be in the Midi or – as we call it – the south of France. It's so relaxing to catch up on some reading or just laze in the sun. After lunch we explore one of France's most outstanding landscapes – the Ardèche Gorges, whose scale is a fitting reminder of Mother Nature's awesome power. Sheer limestone cliffs plunge almost 1,000 feet to the river's blue waters, which elegantly snake their way through stupendous rock formations, culminating in a huge natural arch, the Pont d'Arc.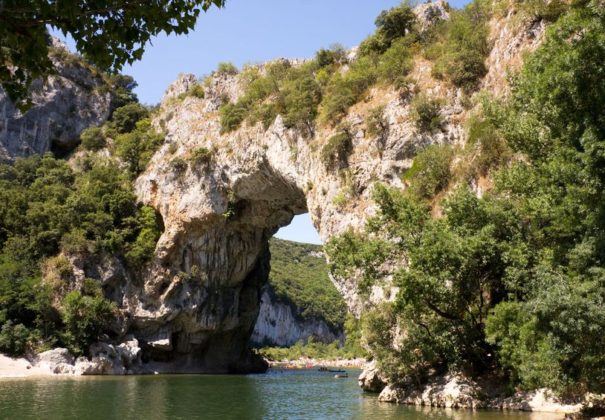 Breakfast, Lunch & Dinner
Day 6 Arles & Pont Du Gard
You awake under the azure skies of deepest Provence and amid the warm stone colours of Arles, many of whose historic monuments are UNESCO World Heritage Sites. Although small in size, it was the key stronghold on the Roman road to Spain, one of the empire's richest possessions. Seagoing ships could reach here and the city became a regional capital, briefly ruling over Gaul, Spain and Britain. Our guided tour will help you appreciate the finer points of Arles's magnificent Roman remains, including the splendid amphitheatre, one of the best preserved in the world, the earlier theatre built during the reign of Augustus and the Alyscamps, the ancient necropolis with its extraordinary atmosphere.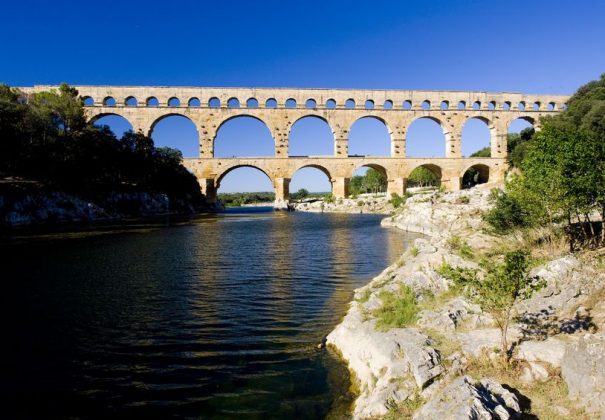 Breakfast, Lunch & Dinner
Day 7 - Avignon
The light catching the red roofs of Avignon's majestic skyline is a sight to behold over breakfast, after which we embark on a guided tour of one of the most extraordinary and intriguing cities in France. Avignon's destiny changed during the 14th century, when the Pope's court moved here to avoid strife in Rome. Igniting a century of prosperity, the Pontiff commissioned a host of ambitious building projects, and today the city is immaculately preserved, nestling behind its almost-intact 14th-century walls and boasting more remarkable monuments, superbly decorated buildings, churches, chapels and convents than you can possibly count. Most important is the stunning Popes' Palace, made up of two buildings that together form the largest Gothic palace in the world. With turrets, towers, parapets and other fortifications, its exterior resembles a mighty fortress, while the interior is a tour de force of medieval architecture and ornamentation, adorned with priceless frescoes, Gobelin tapestries and graceful sculptures.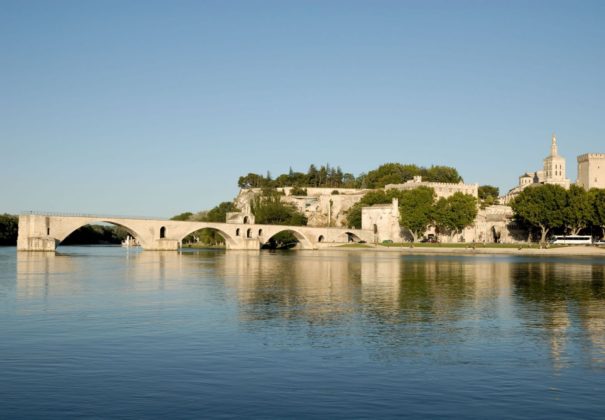 Breakfast, Lunch & Dinner
Day 8 Avignon - Return Home
After breakfast you bid farewell to the ship and her dedicated crew, before transferring to the airport for your return flight or to Avignon for your high-speed rail journey home.
Breakfast