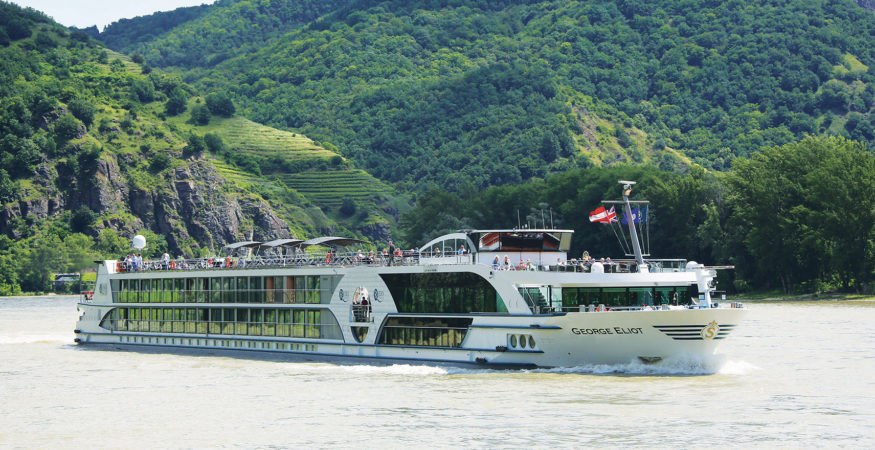 The MS George Eliot is one of the smaller vessels in Riviera Travel's fleet.  At 110 metres she offers the convivial ambience and personal service of a boutique hotel. With 36 staff serving just 132 guests, the experience is intimate and enjoyable.
Launched in 2019 she offers excellent standards of accommodation consistent with Scylla's (the ship operator) other 5 star ships. Standard cabins are a good size at 172 ft² with floor to ceiling windows opening to a rail on the middle and upper decks.  4 Superior Suites and 4 Deluxe Balcony Suites are available on each ship at 247 ft² and 253 ft² respectively.  Deluxe Balcony Suites, located on the upper deck, also feature a small private balcony.  Cabins on the lower deck are slightly smaller at 161 ft² and feature high level windows with 2 Superior Suites at 183 ft².
Guests are welcomed in the elegant lobby with its gleaming marble floor, well-lit by sophisticated lighting. Thoughtful design is on tasteful display throughout the ship; sustainable hardwood furniture, intricate wrought-iron work, and polished copper and brass are beautifully complemented by soft leather and sumptuous Italian fabrics.
She is really a lovely base for you to explore the rivers and waterways of continental Europe.