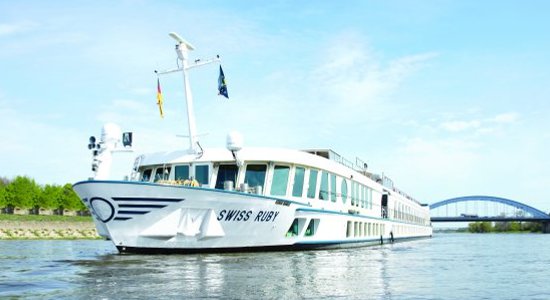 Specifically designed to operate on Europe's smaller and more intimate Rivers like the Elbe and River Seine is the luxurious "Swiss Ruby" is Swiss owned and managed and is one of Europe's few top-class vessels.
With a guest to crew ratio of 4:1 guests to every crew member. Taking just 88 passengers you willnever feel crowded onboard the luxury, spaciousness and ambience are very much in evidence as you board through the beautifully panelled entrance lobby.
The ship has a really lovely, genteel atmosphere of understated elegance and taste, using leather armchairs, different sized settees and deep pile carpets in superbly harmonious colours. With a real 'professional' behind the fully stocked bar, this is the perfect spot to while away the evenings with the gentle melodies of the resident pianist in the background, while you enjoy a glass of wine. The ship's restaurant has a intimate feel featuring elegant wood panelling, tasteful lighting and top quality service, this is every inch the classy dining experience to match that of any first-class establishments onshore.
To promote a relaxed dining experience, as on all our river cruises, you can sit with whoever and wherever you wish, with tables ranging in size from four to six so you can be as private or sociable as you wish. The outer Sun Deck is a great place to read, relax and admire the ever changing views as they pass by, with drink in hand.