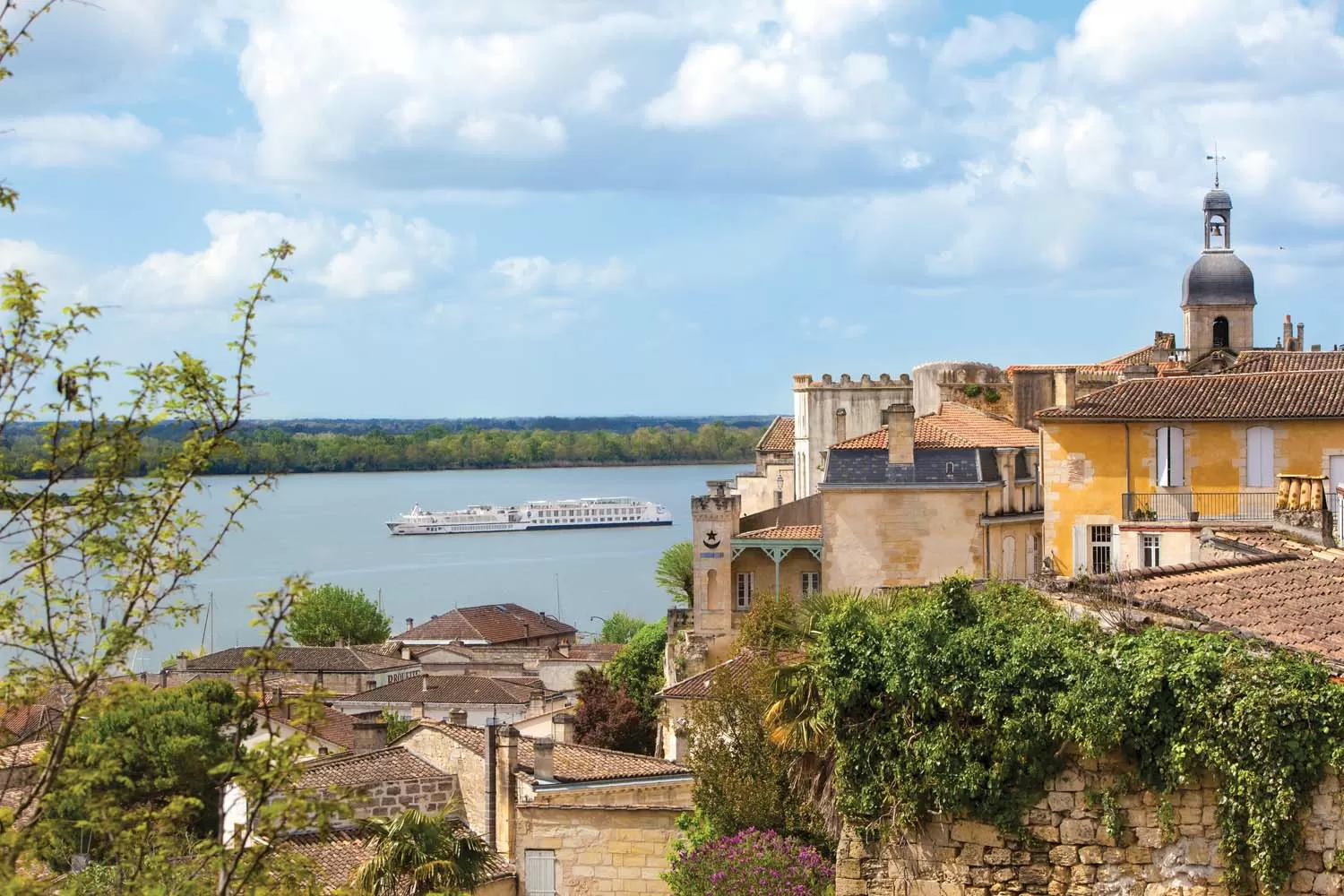 SS Bon Voyage has had an extensive full-ship renovation, formerly the River Royale, the Bon Voyage willbe launched in Spring 2019. Inspired by the renowned wine and gastronomic expertise of the region, the S.S. Bon Voyage will represent the bountiful destination—from the beautiful design on the ship's bow to the enhanced culinary opportunities onboard.
With her transformation, the S.S. Bon Voyage will debut a completely different look—including a redesigned top deck with an added swimming pool and lounge area, with an adjacent casual dining venue featuring lighter fare with a local spin and chef-led cooking classes. Inside, four new gorgeously-appointed suites will be introduced, as well as marble bathrooms throughout the ship, an enhanced dining room with an added chef demonstration area, and a new bistro inspired by Bouillon Pigalle in Paris. All finished perfectly in the unique and beautiful design aesthetic that Uniworld is known for.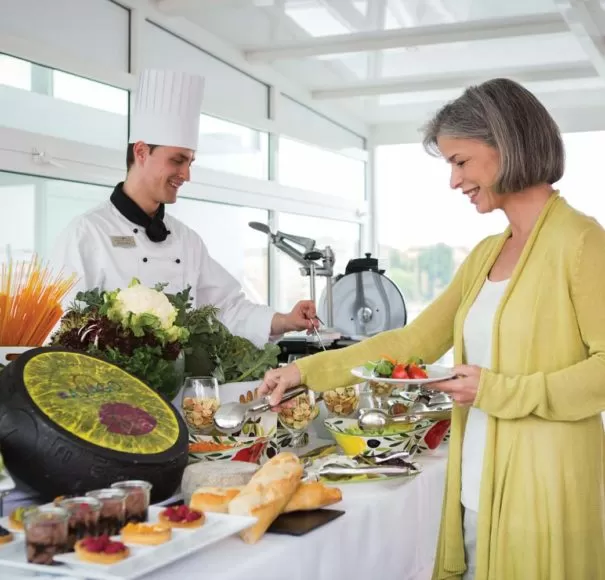 58 lavishly decorated outside staterooms many with French Balconies
2 individually decorated suites with French Balcony
2 spacious Grand Suites with twin French Balconies
Sun deck with panoramic views and swimming pool
Lounge with full-service bar and dance floor
Elegant Le Grand Fromage Restaurant
Casual Sun-Deck dining area with chef's cooking classes
La Brasserie Bistro
Fitness center & Serenity River Spa
Free Internet and Wi-Fi
Bicycles and Nordic walking sticks
Complimentary 24-hour specialty coffee and tea bar
24-hour reception service
Elevator
Boutique*
Guest laundry & ironing room
World Class Staterooms
After one night in your magnificent riverview stateroom, you'll understand why sailing with Uniworld is truly the best way to see the world. Rated Top Cabins by Zagat Survey®, your elegantly appointed boutique stateroom comes standard with Uniworld – as does the ever-changing breathtaking river scenery.
All Staterooms Feature
Handcrafted Savoir® of England beds
100% Egyptian cotton sheets and European duvets
Marble bathrooms with L'Occitane en Provence bath and body products
Individual climate control
Telephone, safe, hair dryer & bottled water replenished daily
Infotainment center with flat-screen TV and complimentary movie and entertainment options
Generous built-in closets
Plush Christy towels
Backlit magnifying mirror
Cosy waffle bathrobes & slippers
Towel warmers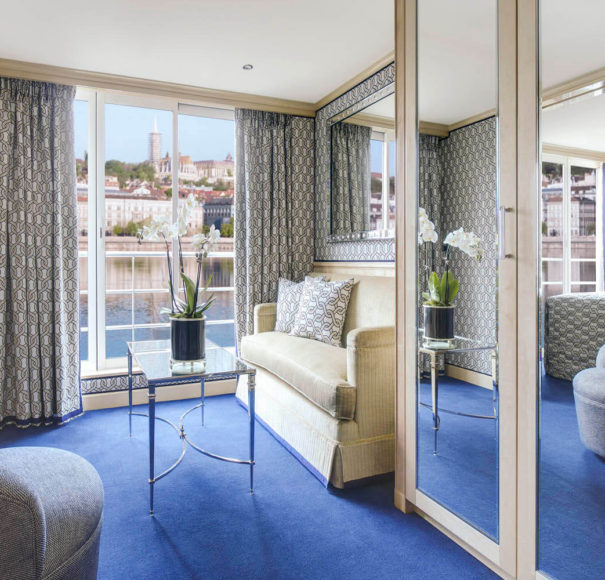 Grand Suite
280 ft² –  Bordeaux (Upper) Deck
Twin French balcony (floor-to-ceiling sliding glass doors)
Separate lounge and bedroom
Marble bathroom with L'Occitane en Provence and Hermes bath and body products, plush towels, backlit magnifying mirror, heated mirrors, cosy bathrobes and slippers
Handcrafted Savoir® of England beds, built-in closets,
Hair dryer, safe, direct-dial telephone, individual climate-controlled thermostat,
Flat-screen TV with infotainment centre
Daily fruit & cookie plate, and an evening amuse-bouche
DVD & iPod® docking station
Nespresso coffee machine
Bottle of wine upon arrival
Morning coffee, tea & continental breakfast
In-suite butler service; packing and unpacking assistance; in-room breakfast; daily fruit and cookie plate, and an elegant evening snack
Fully stocked mini bar; bottle of wine upon arrival; shoe shine; free laundry service
Suite
217 ft² –  La Gironde (Upper) Deck
French balcony (floor-to-ceiling sliding glass doors)
Handcrafted Savoir® of England beds, built-in closets,
Hair dryer, safe, direct-dial telephone, individual climate-controlled thermostat,
Flat-screen TV with infotainment centre
Marble bathroom with L'Occitane en Provence and Hermes bath and body products, plush towels, backlit magnifying mirror, heated mirrors, cosy bathrobes and slippers
Daily fruit & cookie plate, and an evening amuse-bouche
DVD & iPod® docking station
Nespresso coffee machine
Bottle of wine upon arrival
Morning coffee, tea & continental breakfast
In-suite butler service; packing and unpacking assistance; in-room breakfast; daily fruit and cookie plate, and an elegant evening snack
Fully stocked mini bar; bottle of wine upon arrival; shoe shine; free laundry service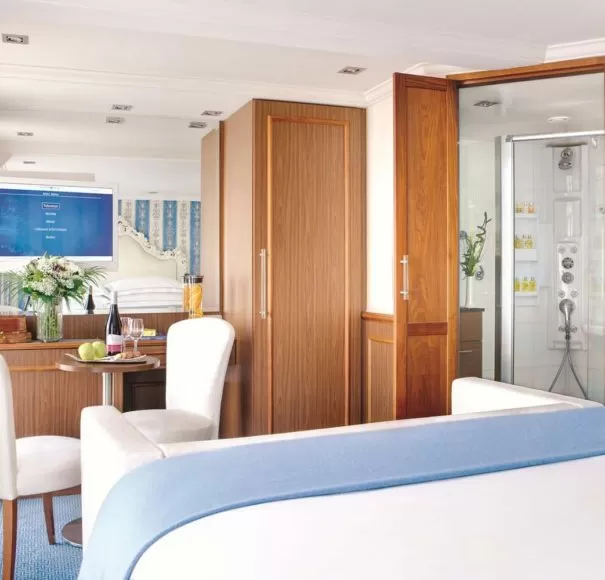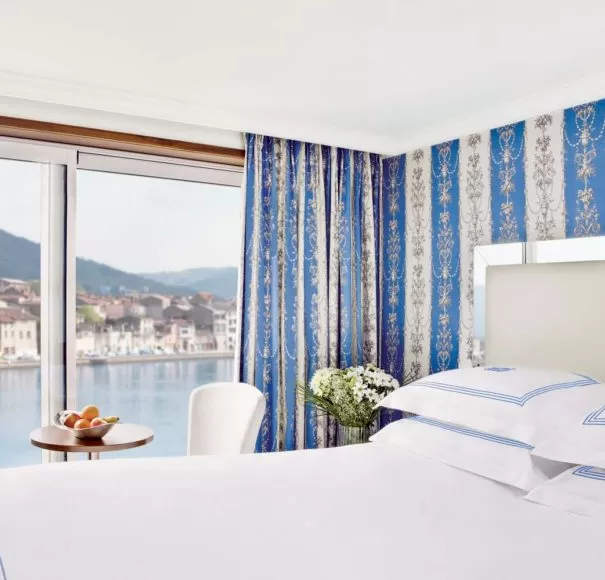 French balcony Staterooms
140 ft² – La Gironde (Upper) Deck
French Balconies (floor to ceiling sliding glass doors)
Handcrafted Savoir® of England beds, built-in closets,
Hair dryer, safe, direct-dial telephone, individual climate-controlled thermostat,
Flat-screen TV with infotainment centre
Marble bathroom with L'Occitane en Provence and Hermes bath and body products, plush towels, backlit magnifying mirror, heated mirrors, cosy bathrobes and slippers
Deluxe Staterooms
151 ft² – Bordeaux (Middle) Deck
Panoramic picture window (does not open)
Handcrafted Savoir® of England beds, built-in closets,
Hair dryer, safe, direct-dial telephone, individual climate-controlled thermostat,
Flat-screen TV with infotainment centre
Marble bathroom with L'Occitane en Provence and Hermes bath and body products, plush towels, backlit magnifying mirror, heated mirrors, cosy bathrobes and slippers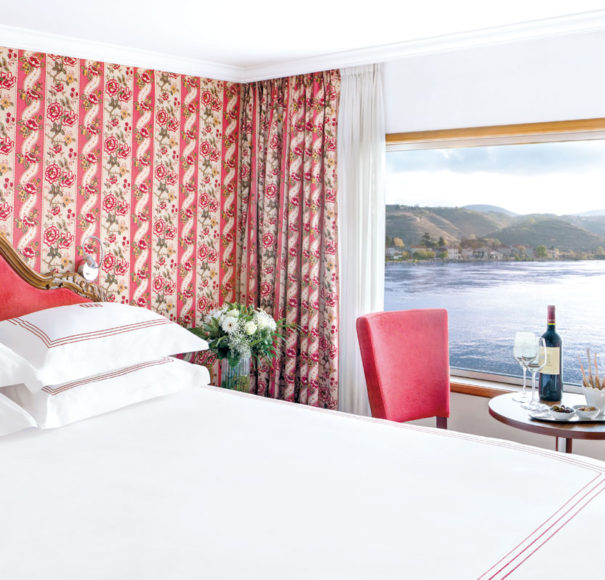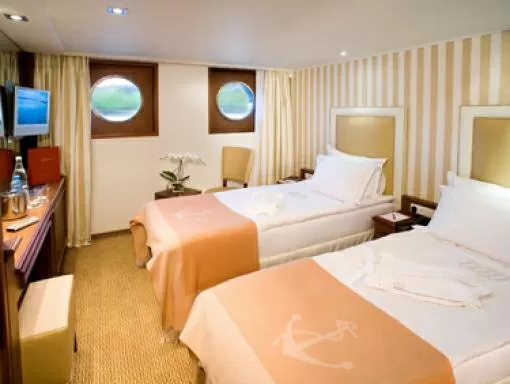 Classic Staterooms
 151ft² – La Durance (Lower) Deck
High level window (does not open)
Handcrafted Savoir® of England beds, built-in closets,
Hair dryer, safe, direct-dial telephone, individual climate-controlled thermostat,
Flat-screen TV with infotainment centre
Marble bathroom with L'Occitane en Provence and Hermes bath and body products, plush towels, backlit magnifying mirror, heated mirrors, cosy bathrobes and slippers