Day 1 - Porto
Embark your cruise in Porto. Gather on board tonight for your Welcome Dinner.
Dinner
Day 2 - Porto – Régua
This afternoon, you will have an excursion to ancient and picturesque Lamego, home to one of the most important pilgrimage sites in all of Portugal, the Nossa Senhora dos Remédios (Sanctuary of Our Lady of Remedies). The shrine features a staircase of nearly 700 steps, beautifully decorated with white and blue tiles. Other attractions include a Gothic cathedral, a museum, and charming cafés. Alternatively, you will have the opportunity to sample local traditional specialties such as Bolas de Lamego, bread filled with smoked ham, Presunto, a type of dry-cured ham, and Espumante, a Portuguese sparkling wine. Late this afternoon, you will visit a Wine Museum in Régua, where the ship will overnight.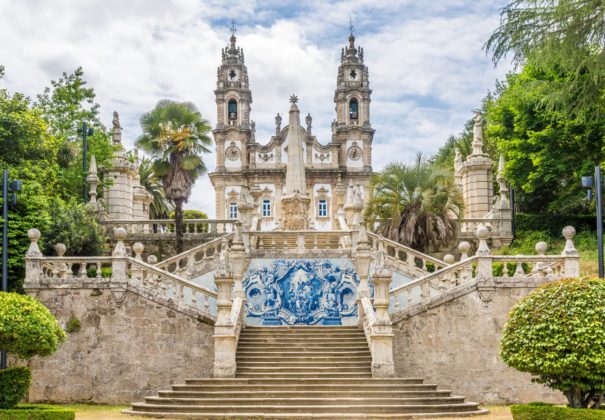 Breakfast, Lunch & Dinner
Day 3 - Régua – Barca D'Alva
Spend some leisurely time soaking up the beauty of the Douro River as you cruise to Barca d'Alva, where you will visit Castelo Rodrigo. Tour Figueira de Castelo Rodrigo, a small fortified village perched high on a hilltop with centuries-old walls, steep narrow streets and fantastic views. We will stop to admire the Chafariz dos Pretos, a truly unique fountain decorated with black faces, and taste some delicious locally grown produce.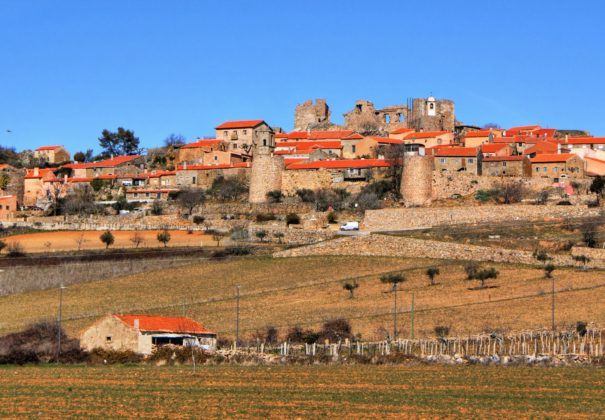 Breakfast, Lunch & Dinner
Day 4 - Salamanca, Spain – Vega Terrón, Spain
Drive to Salamanca today for a tour of this UNESCO World Heritage Site, located at the center of Spain's Castilla y León region. Built of golden sandstone, Salamanca is known as a "living museum," an opportunity to step back in time to the Middle Ages. During your guided tour, you will see the city's elegant university buildings, the twin-towered Cathedral, the intriguingly decorated House of Shells, as well as Plaza Mayor, considered the most magnificent main square in Spain. Afterwards, enjoy an exciting flamenco show.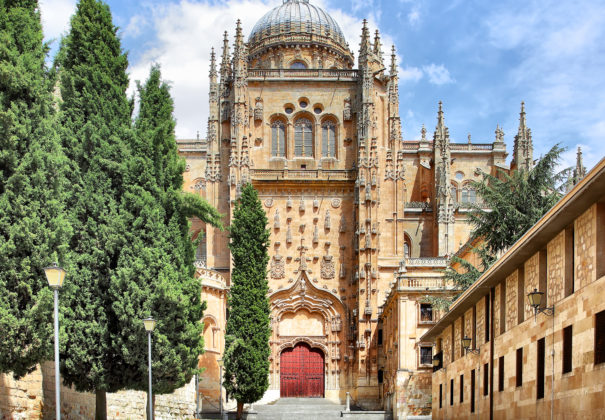 Breakfast, Lunch & Dinner
Day 5 - Vega Terrón. – Pinhão, Portugal
Today we have something special planned. You will indulge in an exclusive wine tasting and lunch at Quinta da Roeda, a famous estate that is home to one of the Douro Valley's finest vineyards.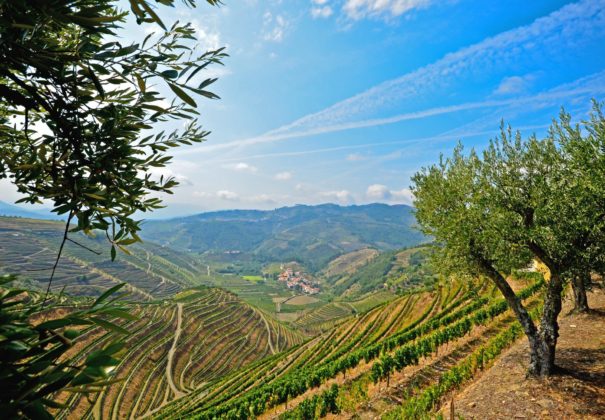 Breakfast, Lunch & Dinner
Day 6 - Régua – Entre-os-Rios
This morning, cruise to Régua for a morning excursion to the Baroque-style Palacio de Mateus and its gardens, located in the beautiful Trás-os-Montes region near the city of Vila Real. Inside the house you'll see exhibits of religious images and beautiful furnishings, paintings and ceiling of intricately carved wood. The gardens here are considered some of the most beautiful in Portugal. Alternatively, you may either wish to visit Quinta da Pacheca where you will enjoy breathtaking views over the Douro River and picnic in a terraced vineyard, or enjoy a port wine tasting at Quinta do Seixo. Return to the ship for lunch while the ship cruises to Entre-os-Rios, arriving this evening. Tonight, you will enjoy a traditional home-cooked Portuguese meal off ship at Casa de Vila Verde.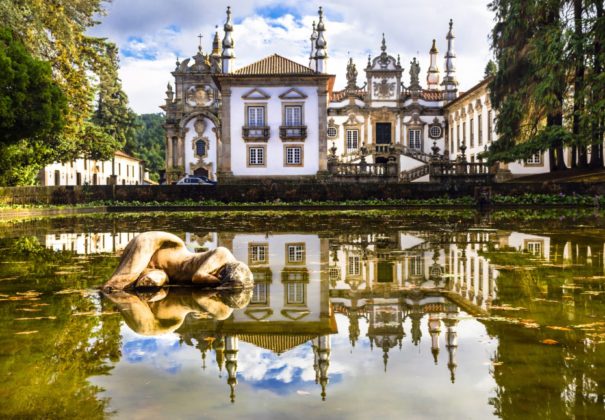 Breakfast, Lunch & Dinner
Day 7 - Porto
Your ship arrives in Porto, the capital of northern Portugal, early this morning. Your guided tour of the historical quarter, a UNESCO World Heritage Site, includes a number of iconic sights: the Porto Cathedral, one of the city's oldest and most impressive monuments, the bustling main square and the Sao Bento Railway Station, renowned for its magnificent blue and white tile panels depicting scenes from Portuguese history. More active guests may wish to instead take part in a guided hiking tour of Porto where they will explore the old harbor quarter, passing through the medieval streets of Porto, and cross the Dom Luis Bridge by foot. You'll also enjoy a tasting of port wine, which derives its name from this very city. This afternoon, we take a short journey to the nearby coastal town of Matosinhos, where we will visit a traditional restaurant for a cooking demonstration of Pataniscas, a traditional Portuguese cod fish cake, and other typical regional snacks. The ship moors overnight in Porto.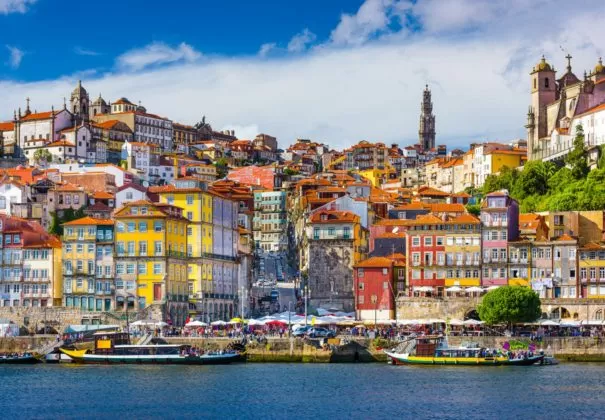 Breakfast, Lunch & Dinner
Day 8 - Porto (DisembarK)
Your cruise comes to an end as you prepare for your homeward flight.
Breakfast
3 nights Pre Cruise stay in Lisbon
One of Europe's most beautiful cities, Lisbon, stretches across several hills along the Tagus River.  On your escorted tour, you'll see Bel em Tower and visit the late Gothic Jeronimos Monastery, the burial place of many Portuguese kings and heroes. Taste a typical Portuguese pastry, Pasteis de Belem, before visiting Discoveries Monument, built in honour of Portugal's greatest Maritime exploreres.  Enjoy a morning excursion to Sierra de Sintra, one of the loveliest mountain villages in Portugal and a favourite summer residence of the Portuguese Royal Family for more than 500 years.  High up a rocky peak, you will tour Pena National Palace, a wonderful fairytale castle dating back to Portugal's Romantic period. Prices from £592 per person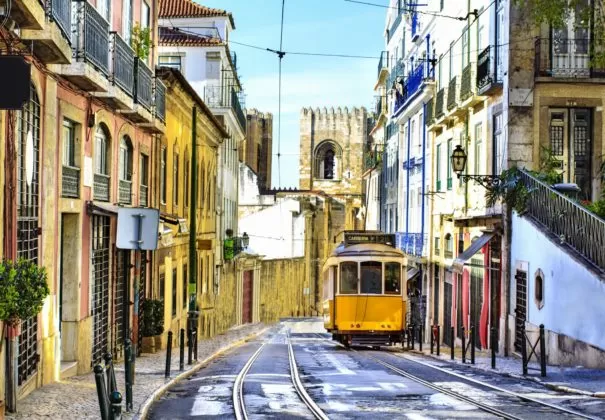 Breakfast