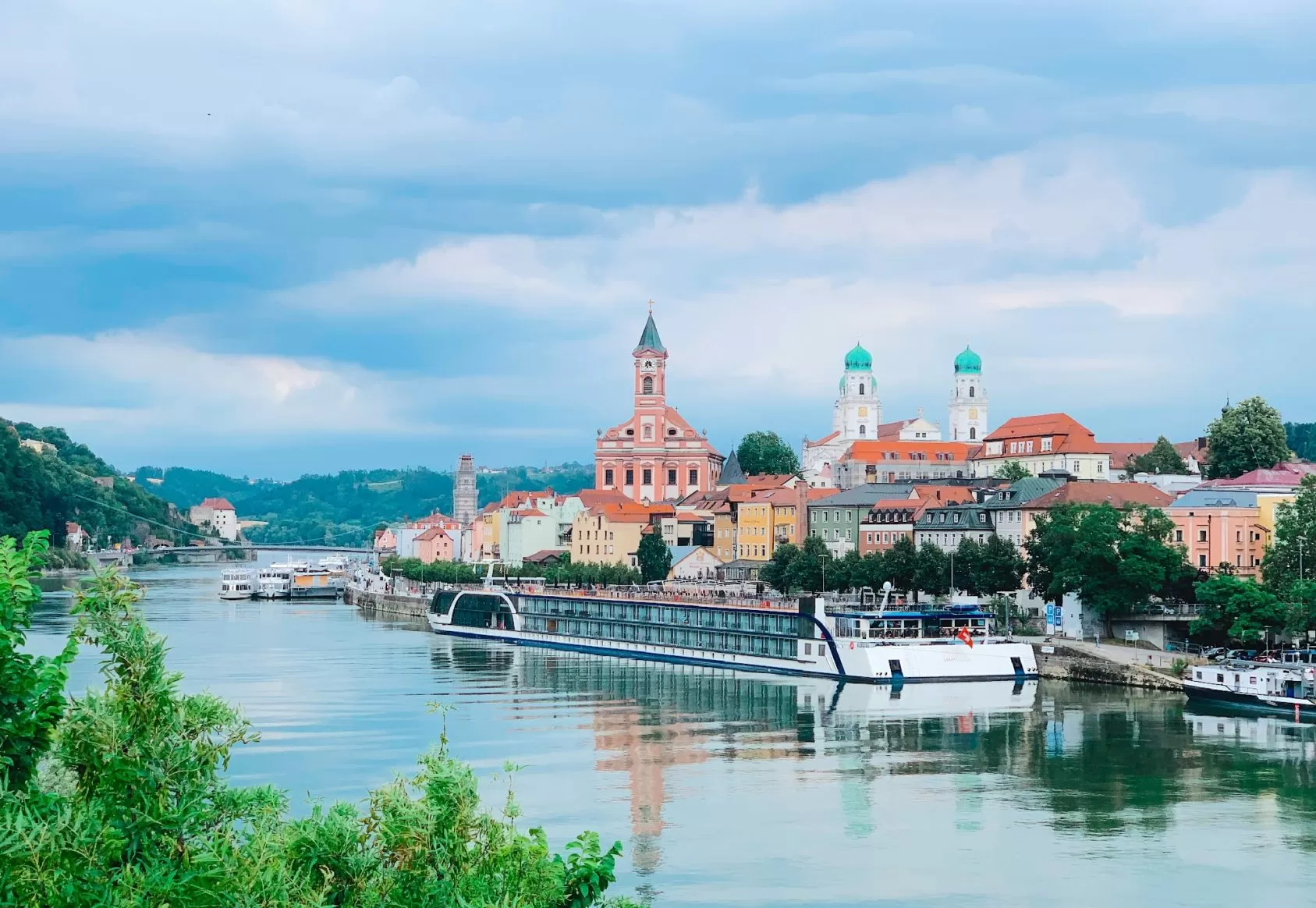 AmaMagna, due to be launched in May 2019 sailing on The Danube,  As imagined by AmaWaterways co-owner and president, Rudi Schreiner, the "godfather of river cruising," the AmaMagna, years in the making, represents a new concept specifically designed to elevate river cruising to a new level. AmaMagna offers the luxury of more space than ever before, which means enticing new ways for every traveler to enjoy the journey, including water sports. Both a sun deck pool and whirlpool give guests the option of taking a refreshing dip or a soothing one while enjoying the views. With a complimentary fleet of bicycles—and helmets—on board, guests have the opportunity to explore on guided bike tours, or discover a new path all on their own. Guided hiking tours also offer active ways to see grand cities and villages from a different perspective. Savor fresh, locally inspired and masterfully prepared cuisine. Choose from an al fresco dining area, wine bar and alternative restaurant in addition to The Chef's Table and two-level main dining room. Delight in AmaWaterways' already popular nightly performances that highlight local musicians and dancers, bringing the culture and flavor of Europe to life—plus, choose from even more enticing ways to enjoy your evening after the sun sets. When she debuts with all of her other exciting innovations in May 2019, AmaMagna will sail some of our most popular itineraries in Europe, giving guests even more to love along the storied Danube River.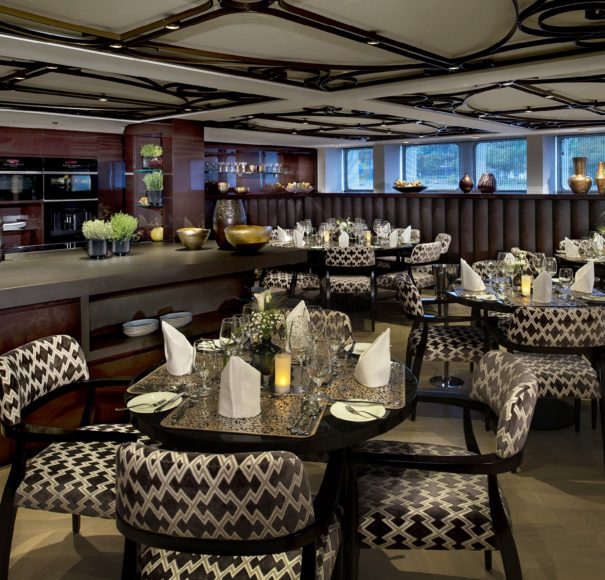 Onboard Features & Facilities
Multiple outdoor decks offering unimpeded panoramic views
Sundecks with large heated swimming pool, Whirlpool, Walking track and pop up sky bar
Four Unique dining venues, main restaurant, Chef's Table, Jimmy's wine Bar, Al Fresco Restaurant
Main Lounge with bar, piano and dance floor
Zen wellness studio
Watersport's platform
Salon and spa services
24-hour specialty coffee and tea station
Complimentary Wi-Fi throughout the vessel
Gift Shop and Fireside Library
Laundry service*
* Payable locally.
Accommodation & Amenities
98 spacious, elegantly appointed staterooms and suites range in size from 205-710 sq. ft. Select staterooms can become adjoining by request, and some offer triple and quad occupancy to accommodate the needs of families. 16 Cabins are available as interconnecting also. Most accommodations have twin balconies, both a French and outside balcony, so you can enjoy the ever-changing scenery however you wish. Suites feature added enhancements, including a larger sitting area with sofa and two chairs, and an stateroom amenities include Entertainment-On-Demand, featuring free high-speed Internet access, unlimited Wi-Fi, movies, music and English language TV stations; climate-controlled air conditioning; and an in-room safe. In the bathroom, enjoy multi-jet showerheads. Plus, all AmaMagna suite bookings for 2019 now include the following amenities: Welcome gift including bottle of champagne Mobile Wi-Fi device for unlimited Wi-Fi ashore Complimentary laundry service New renewal of Vows on the river, want to tie the knot all over again? Now you can with AmaMagna's exclusive Renewal of Vows package. Available to reserve up to 90 days before sailing, this romantic package includes:Symbolic Renewal of Vows Ceremony led by a designated official, Two 1-hour massages PLUS one manicure/pedicure or hair salon service, Bottle of champagne, Romantic turn-down service with rose petals, Special custom-made dessert by our onboard chef, Sundowner excursion with champagne. Best of all, this package is available for just £351 per couple—and if you book a group of 10 total guests (5 staterooms, including yours), we'll waive the fee!
Owners Suite
710 ft² – Violin (Upper) Deck
Exclusive Large Balcony
Expansive bathroom with a bathtub and separate shower with multi-jet showerheads
Enhanced sitting area features a sofa and two chairs
Mini-bar
Hotel-style white on white, plush bedding and terry bathrobes
In room safe, hair dryer, full-length mirror, ample closet space and direct dial telephone
Complimentary bottled water replenished daily
Flat-screen televisions with local and satellite channels that also works as a computer
AmaWaterways' exclusive Infotainment system, including complimentary Internet access, first run Hollywood movies & classics as a large selection of music
Individually controlled air-conditioning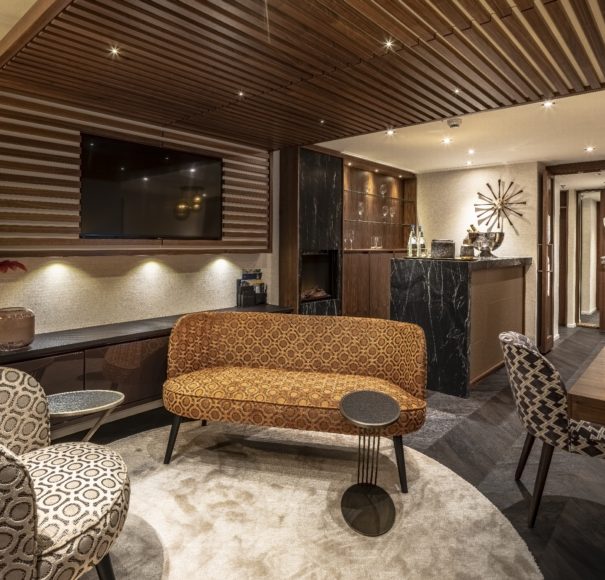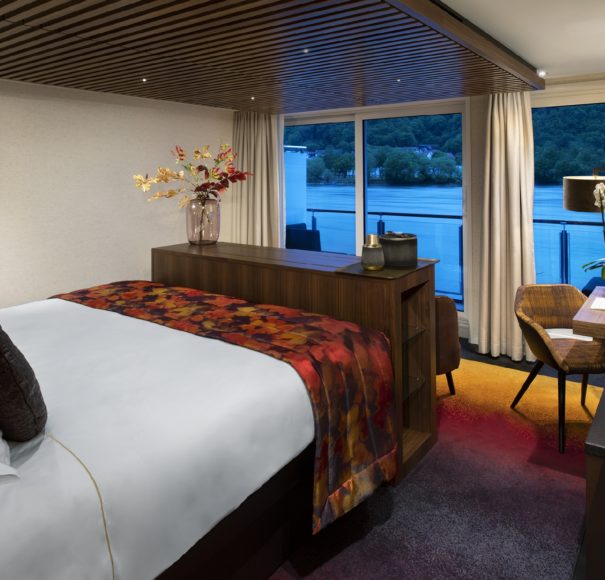 Grand Suite
474 ft² -Violin(Upper) Deck
Outside Balcony
Triple or quad staterooms available
Spacious bathrooms with multi-jet showerheads
Hotel-style white on white, plush bedding and terry bathrobes
In room safe, hair dryer, full-length mirror, ample closet space and direct dial telephone
Complimentary bottled water replenished daily
Flat-screen televisions with local and satellite channels and also works as a computer
AmaWaterways' exclusive Infotainment system, including complimentary Internet access, first run Hollywood movies & classics as a large selection of music
Individually controlled air-conditioning
Cat. SA & SB Staterooms
355 ft² – Violin & Cello (Upper & Middle) Deck
Outside Balcony
Spacious bathrooms with multi-jet showerheads
Hotel-style white on white, plush bedding and terry bathrobes
In room safe, hair dryer, full-length mirror, ample closet space and direct dial telephone
Complimentary bottled water replenished daily
Flat-screen televisions with local and satellite channels that also works as a computer
AmaWaterways' exclusive Infotainment system, including complimentary Internet access, first run Hollywood movies & classics as a large selection of music
Individually controlled air-conditioning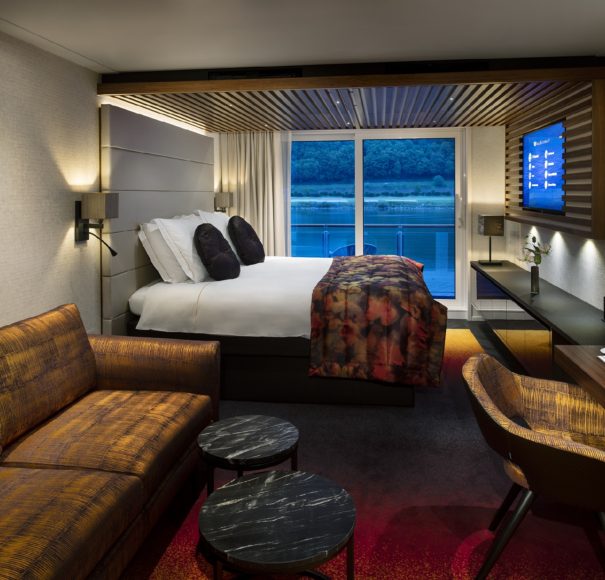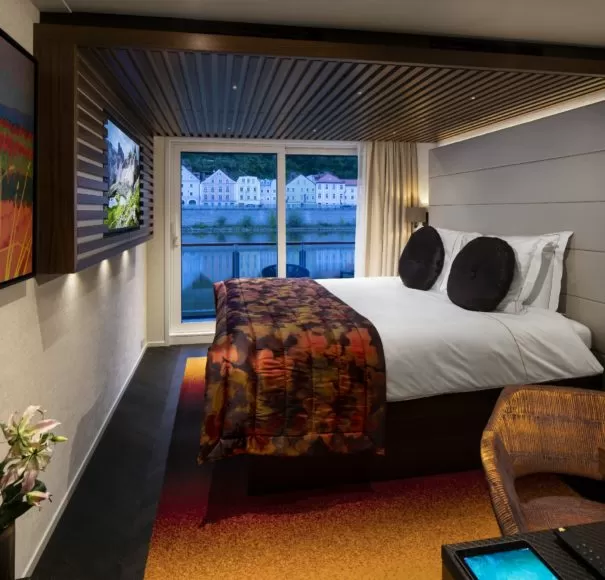 Cat. AA & AB Staterooms
252 ft² – Violin & Cello (Upper & Middle) Deck
Outside Balcony
Spacious bathrooms with multi-jet showerheads
Hotel-style white on white, plush bedding and terry bathrobes
In room safe, hair dryer, full-length mirror, ample closet space and direct dial telephone
Complimentary bottled water replenished daily
Flat-screen televisions with local and satellite channels that can be used as a computer
AmaWaterways' exclusive Infotainment system, including complimentary Internet access, first run Hollywood movies & classics as a large selection of music
Individually controlled air-conditioning
Cat. D & Cat. E Staterooms
205 ft² – Piano (Lower) Deck – Fixed Window
Fixed window with river views
Spacious bathrooms with multi-jet showerheads
Hotel-style white on white, plush bedding and terry bathrobes
In room safe, hair dryer, full-length mirror, ample closet space and direct dial telephone
Complimentary bottled water replenished daily
Flat-screen televisions with local and satellite channels that can be used as a computer
AmaWaterways' exclusive Infotainment system, including complimentary Internet access, first run Hollywood movies & classics as a large selection of music
Individually controlled air-conditioning