Unlike many further afield overseas holidays, river cruises in Europe really lend themselves to the increasingly popular "no-flying" holiday concept. Due to climate concerns regarding carbon emissions and the restrictions in airports due to Covid-19, river cruising without flying will become even more in demand, we predict. The start and end destinations are usually capital cities or major cities such as Paris, Amsterdam, Brussels or Cologne.
From the UK, we are blessed with a short channel crossing either by ferry or by rail to take us to continental Europe and the river cruise starting points on the rivers of France, The Netherlands, Belgium, Germany and Switzerland. With a bit of careful planning, we can even get you to The Danube. So when you are looking for the best no-fly river cruises, what should you be looking for?
Advantages/disadvantages of no-flying European river cruises
From talking to clients we believe that the following applies:
Advantages of no-fly European river cruising
More flexibility due to multiple daily train times – depart when you want
A much more relaxed experience than moving through an airport and encountering prolonged security queues
Able to arrive much later to check in
There's more space on a train and able to move about during the journey
Unlikely to be long delays so you arrive on time
The ability to view the countryside makes you feel that you are travelling, discovering and on holiday already
Disadvantages of no-fly European river cruising
With the UK no longer being an EU member state, there may well be longer immigration queues for UK citizens to enter the Schengen area via the rest of the world lanes than previously experienced. NB: However, the same would apply at immigration at airports.
Changing between Eurostar and domestic rail services such as SNCF or Deutsche Bahn may mean handling luggage and finding luggage space.
Travelling within the UK from outside the South East may mean having to get to London/Ebbsfleet the day before.
Our list of the 10 best no-fly river cruises in Europe, concentrates on the best river cruises that also mean you don't have to fly but where travelling by not flying works best. The list also concentrates on rail transportation as it is quicker than travelling by coach – coach travel we believe will wane in popularity due to its enclosed nature for long periods of time and social distancing restrictions. But for those that like the ease of coach travel we have included a recommendation.
So don't let fear of flying or airports put you off going on a European trip, as a river cruise without using airports can work out to be easy to manage. There is help for less mobile travellers with Eurostar and also the national continental rail operators such as SNCF or Deutsche Bahn. As river cruise travel agents we can help plan and arrange any additional assistance, upgrades or porterage.
You can get to French river cruises without flying, Rhine river cruises without flying and The Netherlands and Belgium river cruises without flying. And we can also accommodate The Danube without flying and without taking 2 days to get there. Read on for more information.
So, save some emissions and bag yourself a holiday that works without flying.
Our no-fly river cruise office is now open. Why not speak to us about your requirements today and we'll recommend the best cruise for you?
---
The best 7 night no-fly Holland & Belgium river cruise
This round trip from Amsterdam can now be enjoyed from May through to October. This trip suits both the active and the less active due to the wonderful "flatness" of the low countries which make it ideal for either walking, hiking or cycling. Clients can take advantage of a direct train from London to Amsterdam. Every day has lots of small touring group options including the option of a bike tour through one of the beautiful medieval towns such as Bruges or Antwerp or cycle next to the 19 windmills at Kinderdijk. Taste waffles when you stop on your bike, or take the motor coach to the chocolate factory or the Belgian beer garden, the choice is yours. Visit castles and museums and windmills and the incredible modern buildings of Rotterdam by architect Piet Blom, the Kubuswoningen, or 'Cube-Houses'. AmaWaterways provide the bikes and the tour guides. Or for those of you that prefer a more leisurely pace, then a slow walking tour will be for you. For the more active, the onboard Wellness Host will also provide daily yoga classes, runs and there's an onboard gym. This truly is a river cruise for all ages and states of activity. And only a couple of hours by direct train from London. Plus there is never an issue with high or low waterlevels. This is in the high end price bracket but certain departure times may have discounts available.
Suitable for the more active travellers? YES
Biking tours every day including a bike tour to see Kinderdijk's 19 windmills, hikes, wellness Host including onboard gym, lots of active experiences.
Suitable for the less active travellers? YES
Slow walker tours available, daily tours with motor coaches provided, lots of scenic cruising to Ijsselmeer and through Holland and Belgium's waterways which are so numerous and include lakes, canals and rivers.
Price point = £££

---
The best 14 night Rhine no fly river cruise
This river cruise is (wonderfully) longer – 14 nights, still reachable directly from London to Amsterdam but is also a history buffs delight. APT offers this 14 night all-inclusive river cruise with rail included and plenty of time to explore the history of this area including the World War 1 sites. Only offered on a couple of dates each year, it sells out fast with guests from as far afield as Australia and Canada, eager to find out more about this area of history.
Covering the best of The Netherlands and Belgium's waterways, there are several tours to choose from each day depending whether you are feeling historic, gastronomic or simply curious to explore your surroundings. There is of course the chance to experience the haunting nightly "Last Post" at the Menin Gate in the Ypres region of Belgium. Savour a Michelin-starred lunch at Château Neercanne, enjoy the artwork of masters Piccasso and Monet. Travelling on the April departure will also allow a visit to the world famous Keukenhof flower gardens. Or an exclusive private organ recital and cheese making classes anyone? There is also plenty of time to explore on your own with your APT app with GPS, take out a bike through the beauty of the lowlands and simply recount your day with your fellow worldwide travellers over your all inclusive drinks in the lounge of your luxurious ship. This is in the high end price bracket but certain departure times may have discounts available.
Suitable for less active travellers? YES
Home pick up in the UK and escorted touring on ship and butler services and in room dining in selected suites.
Suitable for more active travellers? YES.
Bikes onboard and biking tours.
Price point = £££

---
The best 7 night no-fly Rhine & Moselle river cruise
This is a great 7 night no fly river cruise on the Rhine and the lesser visited Moselle. For those that want to be looked after from the minute you leave your front door, then this is the perfect Rhine and Moselle no-fly river cruise for you. If you haven't heard of Titan Travel before, as a tour operator Titan specialise in catering to travellers who like to be looked after and provide a car to your door as well as international transport and it is all included in the brochure price.
Titan VIP home pick up will pick you up from anywhere in the UK and then transferred to coach and ferry crossing or Eurostar. So easy but with beautiful visits to Cochem, Bernkastel and Trier. With drinks included you can happily discuss your discoveries of the day with your new ship mates.
There are loads of departures and prices from a little over £1000 for a lower deck cabin low season. Titan now charter their own ships so are able to offer a good 4 star standard of no-fly river cruise often with drinks included and some excursions. On this tour you will be visiting Beethoven's house as well as Cochem castle with wine tasting, Bernkastel and beautiful Trier. The river ships are comfortable and the staff and fellow guests very friendly. Titan are currently using the Serenade river ship, refurbished in 2018 there are fixed window cabins and french balcony cabins. Plus, there are also low single supplements for travellers who don't want to share a cabin.
Price point = £
---
Often known as a "Tulip Time" cruise, this Spring time river cruise should be a must for all those that love river cruising. The cruise is timed to coincide with the blooms of Holland and Belgium, when the lowlands are starting to wake up from winter.
Perhaps you haven't tried river cruising before, so a shorter, cheaper cruise which doesn't involve wasting time hanging around in airports could get you to try it? This Riviera Travel river cruise, the best short no fly river cruise by train to Amsterdam shows you the highlights of Amsterdam, the windmills of Kinderdijk, Dutch fishing villages and the world famous Tulip bulbfields of Keukenhof gardens all in a short 4 night break.
Riviera Travel offer the UK's most popular river cruises and charter their own luxury ships with literary names such as MS George Eliot, MS Geoffrey Chaucer and MS Oscar Wilde. Your fellow travellers will be predominantly from the UK. For a higher standard cruise, their value is hard to beat as tours are included on a daily basis as well as all meals onboard.
It is best to book early as there are a limited number of no single supplement cabins on the lower deck on each departure if you are travelling solo or in a group and not wishing to share a cabin.
Price point = £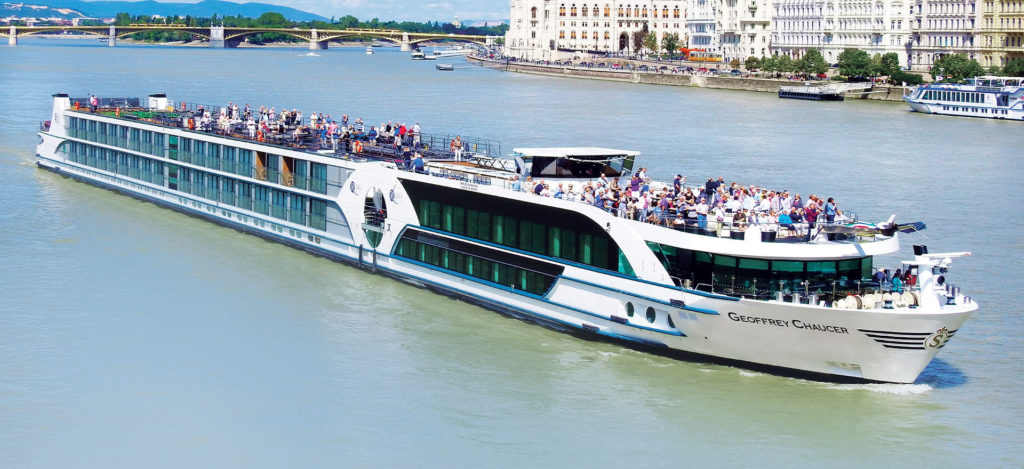 ---
This 7 night roundtrip river cruise from Lyon, can be overlooked, unfairly as some feel that it is not going from north to south or south to north in the same way some of the other cruises. That preconception really does it a disservice. The train from London to Lyon is much, much shorter and the distance travelled on this cruise is the same. You visit Macon, Beaune, Arles, Avignon, Viviers, Lyon and Chalon sur Saone just as you do on the other cruises. But miss the long journey back again from Avignon by train.
The Amadeus Provence luxury river ship is one of the prettiest on the river with an on deck infinite pool. You can watch the world go by on board or explore Provence and Burgundy yourself. There's also nothing like the camaraderie guests have with the Amadeus staff, who have been working for this small Austrian family owned company for year. They really make the trip.
Suitable for less active travellers? YES.
Much easier train journey than travelling to Avignon, ability to stay onboard and watch the world go by if you decide not to go on a tour.
Suitable for the more active? YES.
The onboard Activities Host offers early morning yoga sessions, hiking trips and onboard bicycles and biking tours available.
Price point = ££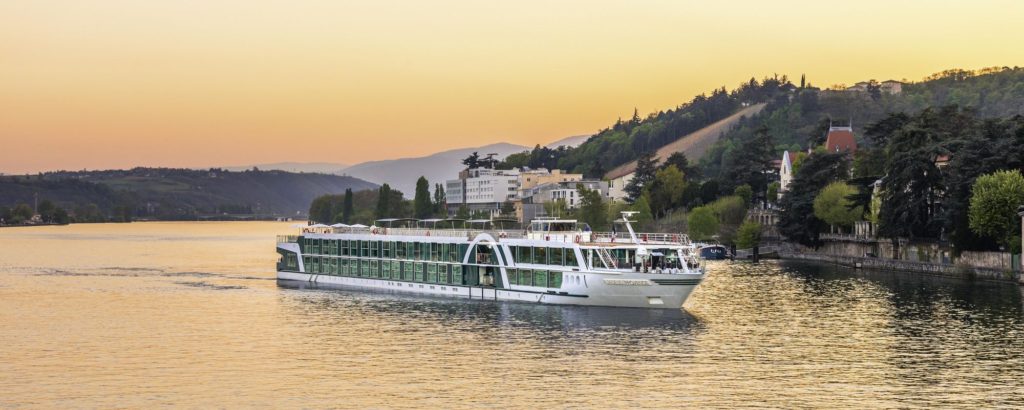 ---
This 6 night river cruise on one of Amadeus' luxury river cruise ships brings our customers to come back and enjoy it year after year. Join the Eurostar in London and change in Brussels to arrive in Cologne just yards from where your river ship will be moored and get ready for a very different Christmas experience.
The atmosphere on board is incredible as you celebrate Christmas with your fellow European and North American travellers and the long standing Amadeus crew, loyal to this small Austrian family owned river cruise company. Catch the Christmas markets in Cologne before Christmas and enjoy a gala Christmas dinner after decorating the tree. You can also attend midnight mass at Speyer cathedral if you are still able to move!
Suitable for couples, families with older children and friendship groups, this cruise is also suitable for those that don't want to share a cabin as single supplements are lowered.
Tours are available to purchase onboard or you may want to just wander yourselves in your groups and the Cruise Manager will always be on hand to advise you. You may even get some snow, but we make no guarantees.
Suitable for less active travellers? YES.
An easy train journey from London to Cologne via Brussels. The ability to stay onboard and watch the world go by if you decide not to go on a tour, there will always be something to do.
Suitable for the more active travellers? YES.
The onboard Activities Host offers early morning yoga sessions, hiking trips and onboard bicycles and biking tours available.
Price point = ££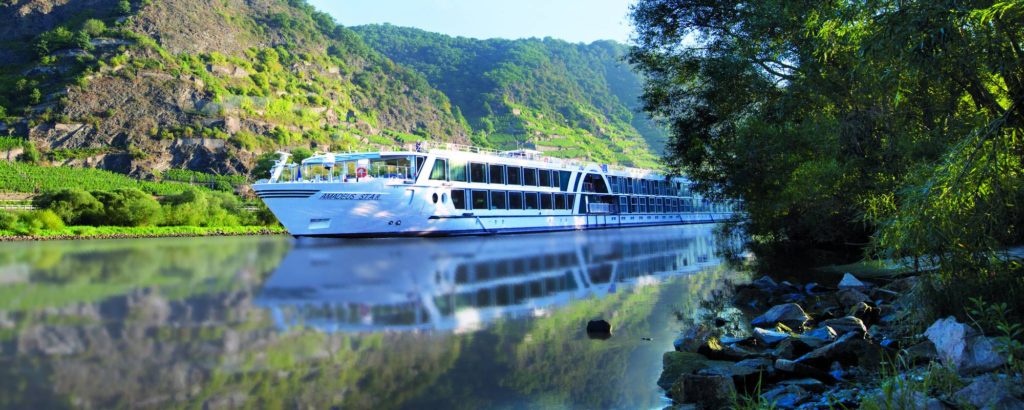 ---
This is the easiest by far Danube no fly river cruise by train. Other companies try to do the Danube by train. However much fun it might be (which it isn't really) to take over 2 days to get to Hungary by train, it has really lost it's glow by the time you have to go back, a mere 7 days later! You really have to like trains! Instead, this trip starts and ends in the beautiful Germany city of Passau, rarely visited by UK guests on the Danube itself.
The train journey to this part of the Danube takes about 10 hours from London St Pancras changing trains in Brussels and Frankfurt. In my opinion Frankfurt itself is worth a visit including at visit to the Goethe Institute, Germany's most famous writer/poet.
You will see the very essence of the Danube on this 16 day trip. Visit Passau, Budapest, Vienna, Melk, Romania, Bulgaria, The Iron Gates as well as taking a Danube Delta small boat safari with an ecologist in this incredible UNESCO preserved biodiversity site and then go all the way to Constanta and the Black Sea. A 7 night Danube trip usually can only cover Germany and Austria, so with this trip you get some much more as well as a shorter train journey and a longer holiday.
With departures throughout the season this is THE bucket list Danube cruise and one that can be done easily without flying.
Suitable for the more active travellers? YES.
The onboard Activities Host offers early morning yoga sessions, hiking trips and onboard bicycles and biking tours available.
Price point = ££

---
We love this 11 day round trip on Seine from Scenic as it gives travellers more time to explore Paris and Normandy by including visits to Honfleur, Deauville, Giverney, as well as an onboard expert to explain in depth the Western Front. Nothing is missed out in this tour of Paris and Northern France and also includes special extra excursions and treats such as shopping with a chef. More time to discover and also enjoy a fantastic luxury ship, the Scenic Gem with full all-inclusive.
The no-fly bit is very straightforward as it involves a Eurostar from London to Paris and then you will be picked up from Paris Gare du Nord. 10 nights on a wonderful cruise and then a simple couple of hours train journey back again to London. This cruise in the high end price bracket but certain departure times may have discounts available.
Suitable for less active travellers? YES
Ease of travel to the ship, all-inclusive onboard, motor coach tours available
Suitable for more active travellers? YES
Scenic provides electric bikes which can be used for bike tours and taken out independently with a GPS onboard guide for your own adventures, just reserve at the front desk. Gym onboard as well as exercise classes.
Price point = £££
---
Discover the waterways of the Bordeaux region, fast flowing and intriguing on this 7 night no-fly river cruise with trains from London to Bordeaux via Paris. The journey takes about 7 hours with one change.
This is an ultra luxury all-inclusive river cruise with the boutique river cruise company, Uniworld. This particular cruise offers the friendliest and most attentive yet unobtrusive staff on the luxurious SS Bon Voyage, fantastic regional dining experiences onboard.
But off the ship, there is more to this cruise that simply Bordeaux wines – that is if you need anything more than just Bordeaux wines, in what is the home of wine. Why not do a yoga class at the Blaye Fortress or if that is too much like exercise, then take a scenic drive along the Route de la Corniche Fleurie through the most picturesque villages in the region. There will be an opportunity to bike through the Médoc Vineyards as well as discovering the colourful life of Toulouse Lautrec at Château de Malromé. And don't worry, there will be plenty of private wine tasting and learning opportunities in this the most incredible of French regions. This cruise is in the high end price bracket but certain departure times may have discounts available.
Suitable for less active travellers? YES
Uniworld take care of everything, you will be completely spoilt. Touring options will always include slower paced options and motor coaches.
Suitable for more active travellers? YES
With onboard fitness activities and bikes available, there will always be something to do to work off the incredible food and drink on offer throughout the trip.
Price point = £££
---
Yes – I have included yet another river cruise with Riviera – they are the operator we sell the most of to our UK customers – in my no-fly river cruises to Europe top 10.
This is a 7 night no-fly river cruise which takes in the highlights of The Black Forest and beautiful Lucerne but starts from Cologne rather than Amsterdam. There are merits to starting in Cologne and missing out the more industrial area of the North and also if you have already been to Amsterdam in the past. Seeing Lucerne is a highlight in itself and works out very reasonably by not having to pay Swiss prices for accommodation in one of their most beautiful cities.
The journey by train is a little more involved from London to get to Basel in Switzerland with a few more changes if you were going to do it independently, which is why this fully escorted river cruise is highly recommended for those that would rather have it all sorted out for them. Riviera make it much easier.
Suitable for less active travellers? YES
All tours are set each day and all transport escorted, including to and from the UK (London).
---
And there you have it, our top 10 no-fly river cruises in Europe.
I hope that you have enjoyed this list. It was a tough decision and there are very many that I had to leave out. This list is ones that tick all the boxes from ease of travel and quality of cruise within their price point.
P.S. -We do have a much wider selection of other of river cruises that don't need flights within our website. Please do have a look.
We'd love to hear your questions and find the right river cruise for you. Our online consultations let us bring the cruises to life for you, and go beyond the brochure. Why not give us a try?
Posted by
Alex