We're delighted to have been named Winner in Travel Weekly's Mystery Shopper exercise. Focussed on river cruise specialists, scoring was based on knowledge & expertise as well as service and the overall client experience. The weighting for each is shown below, we scored 89%.
50% – Advice & Product Knowledge
25% – Customer Service
15% – Website Appearance
10% – Overall Experience
Our Service Ethos
As a specialist agency we aim to offer a fantastic service for all our clients.  Using our knowledge and expertise we help them find the river cruise that is right for them.  As we are not aligned to any specific operator clients can be assured of an independent view and unbiased recommendation.  Working closely with all the major river cruise operators, and niche river cruise providers, we know their river cruise ships and itineraries very well.
As well as providing specialist insight behind the brochure content we are also very happy to research specific personalised itineraries for our clients, or just hard to find availability. It's all part of the service!
Click the image below to read the full article …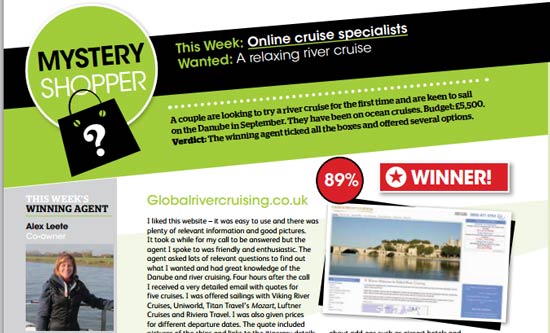 How We Can Help
If you're tired of browsing endless web pages. Tired of sitting on hold listening to an automated message.  Call us and talk to a real person.  Let us take the legwork, or even internet work, out of your search.
Our Recommendations
The Mystery Shopper was looking for a relaxing Danube river cruise.  They wanted a good size cabin with a French Balcony and bicycles available on board.
We recommended one of the following itineraries, click the links for full details:
Viking River Cruises – Romantic Danube
Uniworld with Titan Travel – Enchanting Danube
Titan Travel & the MS Mozart – Danube Symphony
Lüftner Cruises – Danube Rhapsody
Riviera Travel – The Blue Danube
For all Danube river cruises click the following link or use the navigation buttons at the top of the screen.
Posted by
Simeon