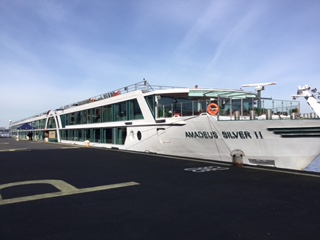 Amadeus River Cruises by Luftner , a family owned company, offer high quality river cruises on the major rivers in Europe. Unlike some of the better known and much, much larger American owned companies, Amadeus has stayed in the same family for the last 40 years and prides itself on a small fleet of custom designed river ships. I was lucky enough to cruise on the brand new Amadeus Silver II in March 2017 and here is my review of the ship.
We joined the ship in Amsterdam. The Amadeus Silver II is one of the new 135 square meter river cruise ships being launched by Luftner. The ship will cruise the river Rhine and The Danube throughout the season from early spring and including Christmas markets and Christmas and New Year cruises as well.
Stepping onboard, the modern interior with greys and pinks is bright and welcoming. The staff are also very friendly and I recognise them from a previous cruise I have taken with Amadeus. Due to the family nature of the cruise line, there is a very small staff turnover and our customers are often telling us that they look forward to meeting familiar staff again on their next cruise. Again, the larger American river cruise lines would not be able to offer this very welcome element of customer service. It takes a long time to train a member of staff.
What facilities are there on the Amadeus Silver II ship?
Well, there is a fitness room with equipment, hair salon, massage room, a gift shop, complimentary bicycles to use when in port to cycle into towns etc. Additionally there is a laundry service which is payable locally.
The Public Areas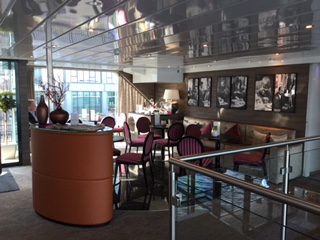 Moving up a level from the lobby, there is a coffee and tea area, the Cafe Vienna, with Viennese coffee specialities which allows customers to sit and enjoy the view out of the large glass windows whilst enjoying the complementary hot drinks from the 24 hour coffee station.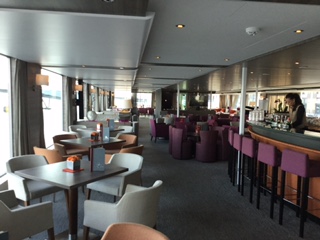 Moving into the main panorama lounge which is full of full length windows and light, the bar area again is modern and with plenty of seating throughout the area, you will also be able to find somewhere to sit and read a book or browse a newspaper or the internet. In the evening, the Panorama lounge and bar is where the entertainment of either the pianist or local performers who are brought onboard will be enjoyed from.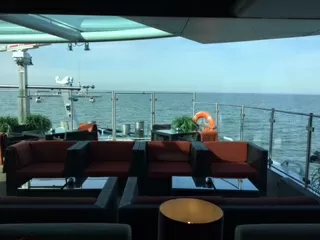 Moving forward in the lounge you can access the outside seating area, known as the "River Terrace", an absolute must for when the ship is scenic cruising. As it was early spring, we were able to take advantage of the blankets on offer whilst enjoying a hot drink and the view.
The sundeck is the best place to catch the 360 degrees river views from and it enjoys a Lido-bar, lounge chairs, shade awnings, giant chess board and shuffleboard.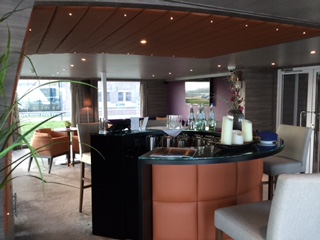 Additionally at the rear of the ship, there is the Amadeus Club Lounge. With windows on three sides and again an outside area, this is a lovely quiet area with again a coffee station and computers to check emails.
Size of the Amadeus Silver II
Built in 2015, over 3 floors the ship offers 84 staterooms in total of which 12 are suites. The maximum number of passengers on board is 168 and the number of crew is 46. This ship is although the same size as the Amadeus Silver, has much bigger staterooms and suites and less passengers.
The Restaurant and dining onboard the Amadeus Silver II
You will find yourself enjoying up to 3 meals a day on your Amadeus Silver II cruise. Breakfast, lunch and dinner are offered in the dining room, a large, modern area with floor to ceiling windows. Open seating means that you will find yourself a table and sit down.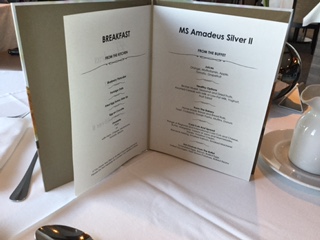 Breakfast is a buffet with many recognisable continental and American options. So, there is a egg station for omelettes and poached and fried eggs which can be ordered, cereals, fruit and yogurt, fried breakfast items and more Germanic breakfast items. There is free flowing coffee and tea as well as self service fruit juice. The waiters are there to assist you with special requirement, just ask.
Lunch is also a buffet with free seating with salad options, soup and meat dishes.
Dinner is a table d'hote menu with multiple courses and the standard here is very high.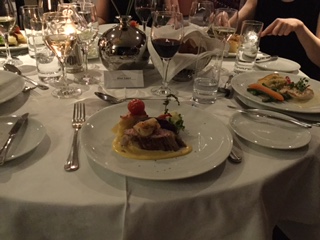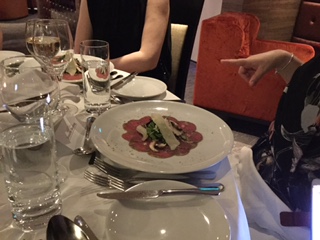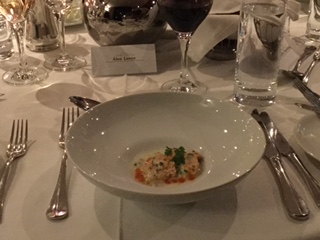 The staterooms
I was lucky enough to be in one of the 284 sq ft suites. I can highly recommend them. As well as the largest walkin wardrobe I have ever seen on a river cruise ship – it is enormous – there is an additional corner seating area.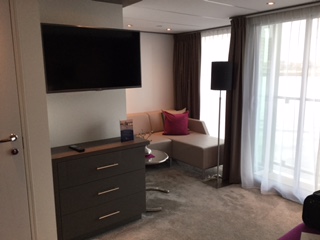 The floor to ceiling windows make the suite seem even bigger. there is a small sit out balcony for the warmer days, a large flat screen tv, mini bar. The ensuite bathroom is a great size, with complementary toiletries.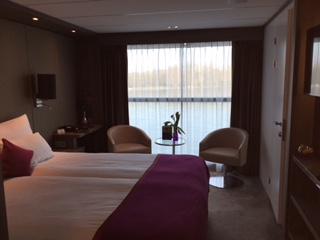 The staterooms on the middle and upper decks are 188 sq ft – these are a really good size for french balcony cabins. An electronic window allows the french balcony to be opened horizontally.
On the lower deck, again the staterooms are a good size at 172 sq ft with a head height window. Lots of mirrors have been used to allow more light into the cabins and I have to say, that unlike some river cruise ship designs for lower deck cabins I would be very happy to be in one of these rooms. The space has been used well.
My Overall Opinion of the Amadeus Silver II
I really enjoyed my time on the Silver II. I have seen a lot of river cruise ships and I like the fact that the Amadeus ships are all different. There is no "one-size fits all" so there is never a time that the ships feel dated. Depending on which package is booked, you could have drinks with your meals and wi-fi included and selected excursions. As an Amadeus specialist, we are able to advise on the best package for you as well as whether you would like cruise only or flights and transfers. Do check before booking as Amadeus cruises do tend to be tailor made.
Posted by
Alex