Christmas markets river cruises allow you to sample so many different locations and some of the best of Europe's oldest markets. If you have the time, here are the best Christmas market river cruises to do.
17 Different Christmas Markets to Choose From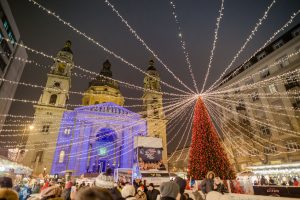 I have spent the last week going "aaah" over the beautiful sparkly lights and snowy scenes of Europe's best Christmas markets. Looking through the lovely itineraries we have to suit all budgets, I have so far counted a choice of 17 different ones covering France, Belgium, Holland, Austria and Hungary.
Christmas markets run from mid November through to Christmas or even up to 3rd January in some areas. They came to the UK a number of years ago and I have eaten many a Bratwurst in Albert Square in Manchester when we used to live "up north".
For repeat river cruisers it is a chance to visit places that you may have already been to, such as Vienna but without the need to join the organised excursion or encountering the same crowds and to simply wander the streets a bit, taking in the new smells and sparkles and then always knowing there is a cosy welcome awaiting you back at the ship. Has hot chocolate with brandy ever tasted so good.
Food Choices at Christmas Markets
So, why not enjoy a short Belgium cruise with all your food and drink included and match it with some low cost flights. Or enjoy a Kurtosh Kallach traditional Hungarian pastry, washed down with mulled wine in Budapest's Vorosmarty Square.
Or instead of a bar crawl, go on a sausage crawl to compare which area has the best – always an extreme local riviary. Regensburg prides itself on its bratwurst above all other areas.
Whatever your wish this Christmas, we can find a cruise that will fit the bill!
Alex
Posted by
Alex