If you were to ask us, why choose AmaWaterways?  What do you think makes AmaWaterways stand out from its competitors?  Here are a few pointers we would like you to consider:
1. Hand built, brand new, custom designed ships
These are stunning, custom-designed vessels perfectly designed for river cruising. AmaWaterways are constantly seeking new ways of improving passenger comfort. AmaWaterways now has a fleet of twenty vessels operating across Europe, Burma, Vietnam, Cambodia and the Zambezi. Ship design is inspired by classic luxury yacht style. Most cabins have balconies and all brand new European ships have the full veranda cabins available. Standards are always high with friendly, personalised service, heated swimming pools, and an all pervading atmosphere of luxury.  My favourite bit is the swim up bar on their new concerto class ships.
2. The Quality of Cuisine
The quality of food speaks for itself. Uniquely among river cruise lines, AmaWaterways is a member of La Chaine des Rotisseurs. La Chaine des Rotisseurs is one of the world's most prestigious culinary organisations and membership is purely by invitation only. Being invited to join is regarded as an achievement of world-class culinary skills. The menus reflect a European palate, and the food is always of high standard. Staff training in food service is regarded as extremely important. In 2014, AmaWaterways won the TravelAge West WAVE award for Best Onboard Dining (River Cruise).
3. Award winning recognition
Ever since the company's foundation in 2002, it has been attracting award after award. Among the most recent are Travel & Leisure World's Best Awards 2014 and TravelAge West WAVE for Best Staterooms. Berlitz has officially stated that AmaWaterways has the best river cruise fleet in Europe scooping the top 11 places in the Berlitz River Cruising in Europe guide. Cruise magazines regularly highlight AmaWaterways as the readers or editors choice as the best cruise company.  The  one of the newest of the AmaWaterways Concerto class ships, AmaPrima took the top spot in the rankings of river cruise vessels within Berlitz's guide to River Crusing in Europe. The ship was assessed under five categories: hardware, accommodation, cuisine, service and miscellaneous.
Here at Global River Cruising, Simeon recently had the pleasure of cruising on the brand new AmaSonata, enjoying a BB grade cabin, bike riding and eating the Chaine des Rotisseurs menu on the "Romantic Danube" itinerary from Nuremberg to Budapest and also seeing the new AmaSerena being built in Holland.  I have also visited the AmaSonta, AmaCerto and the AmaDante.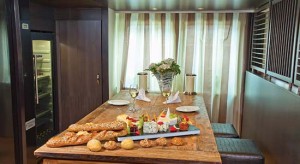 4. Flexibility of the onboard drinks package keeps your holiday price down
Now this might be a bit counter-intuitive, but as all the other premium lines have gone all-inclusive and put a price tag on that, AmaWaterways have stayed at wine with lunch and dinner.  Onboard customers pay for additional drinks outside this.  I have a client who seemed to be suggesting he had paid £1000 extra to have included alcohol with his premium cruise, I have suggested that AmaWaterways would fit the bill next time.
This is not ocean cruising and you are not stuck on the ship all day paying for soft drinks packages.  With Amawaterways, if you only want wine with your evening meal, then your bar tab will be zero at the end of the cruise.  AmaWaterways don't want you to subsidise other people's drinking.  Also, by being moored in port during the evenings, they want people to venture off the ship to enjoy the local bars and cafes and not feel stuck on the ship because drinks have already been paid for.
Where do AmaWaterways go in the world?
AMA currently have ships on the Rhine, Moselle, Danube, Main, Rhone and Saone, Seine, Douro, Mekong, Irrawaddy and Chobe rivers.
There are of course other good reasons to look at AmaWaterways.  These include gentle walking tours, free to hire bicycles on board, a relaxed sophisticated atmosphere and excellent service.
River cruising with AmaWaterways feels like you are at a very high level hotel.  You are there to enjoy a leisurely cruise with like minded people where there are excursions, including small groups when you want them and free time when you don't.  Sound good, then see our full AmaWaterways portfolio, learn more here: Global River Cruising
Talk soon,
Alex
Posted by
Alex