MV Amalia trip with Titan, 1st-3rd October 2015
We arrived at Venice Marco Polo airport whilst it is having renovations done. Beware at the moment as Venice Marco Polo airport is a little messy and quite a walk to the water taxis so be prepared.
We were off for our journey to Rijeka via a 3 hour coach journey which as we'd all met at Gatwick at 4.30 was a welcome chance to sleep.
The MV Amalia is a pretty 3 star ship which can take 36 guests. Titan have contracted it as part of a wider Istria and Croatia tour. There is a restaurant dining area with small bar, , several outside places to sit and sip drinks and a large sundeck Withi modern style loungers.
Onboard are a captain, a ship mate, a waiter called Nemo and a female cook. This being October, the wind is chilly but it is easy to see how lovely it would be to simply sun bath whilst the sea drifts past.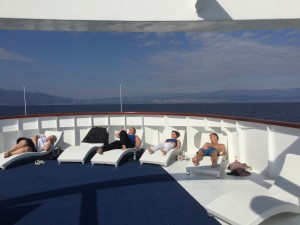 We arrived in time for a late lunch of beef consommé and then a lovely slow cooked beef stew (Pasticada) with gnocchi which is a favourite of Croatian wedding banquets, followed by salad and then ice cream. We were all getting used to the motion of ship whilst eating. I have on my seas bands so was able to eat the food. Others were not so lucky as there was a bit of a swell today.
We sailed into Krk at dusk, the second largest island in the 1200 or so Croatian Islands. Since the 1980s it has been joined to the mainland by a bridge but this being a windy area, the bridge was shut today. We walked to discover Vrbnik, the wine producing area of Krk and were treated to a short talk and then a proper Croatian sit down of meats and cheese with which to savour the family made wines.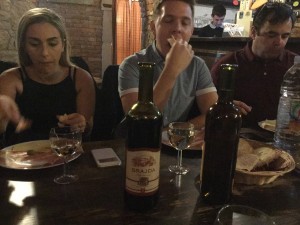 It was cosy and homely and we just had to order a few more bottles of this incredibly drinkable wine. I can't imagine that any even makes it off the island. I have two bottles for Simeon to taste, if in deed they make it home.
Back to the ship for dinner of spaghetti and a rich tomato sauce to be washed down with large half litres of pivo (October ) Croatian draft beer. A chilly but successful day!
Posted by
Alex