Problems on river cruising do happen. As a travel agent who specialises in river cruises we tell people honestly about problems that can occur on river cruises.  Once we have talked them through it, we find that people are ready to go and have the confidence to set off on their river cruise journey, safe in the knowledge that they know what to expect.
Your ship's Cruise Manager will be an old hand at scheduling and rescheduling your day's visits.  Why?  Because both nature and mankind have a habit of keeping them on their toes!  Horror stories are very, very rare, but slight changes to schedules are common.  So don't panic and read on.
Some new river cruise customers just don't realise that problems can arise and that operators are completely within their rights to change itineraries and schedules on a day by day basis.  It is a fact of river cruising operation.  Some customers don't even take into consideration that some of the highlights of the trip are not directly at the waterside.
So, take a look at our 5 "safety first" points to consider to make sure you are getting the holiday you want and you are a "savvy" river cruiser!
River water levels change dramatically dependent on the weather
This is the biggie.  (Please don't hate me for stating the obvious and think of me more as a well meaning friend!)  The flow of the river depends solely on local rain.  Too much and the level becomes too high, too little and the level becomes too low.  You get the picture. Where there are commercial centres such as cities this generally means that the river is heavily man-managed, so water can be released on to flood plains if there is too much.  But we can't add more water if there is too little.  No river or canal is exempt from these factors though some suffer more than others.  If the river is too full, it will be travelling faster than the ship can thrust and be too high to get under a bridge.  If there is too little there is a risk of the ship running aground.  In short, for both reasons the ship can't move and your schedule will change.
2. Busy rivers mean busy locks
Locks are not just something that exist on canals.  In fact, the enormous locks of the Rhine and even the Douro are spectacular and well worth the trip in themselves.  But these are massive multi-million euro electronic and mechanical structures.  With every single barge, small ship and river ship wanting to use them to navigate in both directions, then a Harbour Master has to schedule entry and exit.  Your ship has to get from A to B, with arrival for your next day's excursion but also meet its appointment with the lock.  Ships will pass through locks at night so be prepared for the odd bump and nudge and noise.  Here is a picture of the SS Antoinette negotiating one of the very narrow Rhine locks.  There is a gap of around 10 cm between the ship and the lock wall.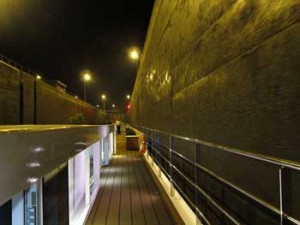 But what if that large coal barge is taking longer than expected, or the lock is closed for maintenance?  Or a ship misjudges and gets stuck?  Then where does your river ship go? It moors the wrong side of the lock and your coach waits for you there.  You still get to your excursion, but you have  a longer journey and maybe an earlier departure.  All being well, after your day out, your ship will have got through the lock and it will be business as usual.
3. You paid for a veranda but you can't use it!
The river ships with verandas (sit out balcony) are the ones that sell out fastest right? They are perceived as the best cabins on the river ship.  A veranda means being able to sit outside your cabin and watch your own private view drifting past.  Would it surprise you to know that Tauck, multiple award winning river cruise and tour operator don't have them on their ships?  And here's one of the reasons why –
River ship operators cannot guarantee that you will always get a view on your veranda.  It is simply not possible to know how your ship will be moored from day to day.  If you are moored in a town, then other ships will be moored also.  So your ship will be attached to it, hence no view.
If your ship is moored at an quayside, then there will be a wall to look at if you are in a stateroom on that particular side of the ship.  
If you look below at the picture, then the street level is only visible to the top deck staterooms.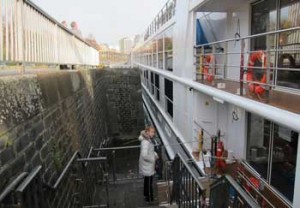 Most of the time, this is only a problem when you are moored.  And that will mean you are generally on an excursion or off the ship.  But again, knowing this could be the case helps make the decision as to whether the mark up on the veranda cabin is worth the extra for you.
I heard of a Viking customer last year who booked an explorer suite – which are in the middle of the ship and never got to use it.  He had paid over £8000 for his 7 night holiday.
4. The highlight of the holiday is nowhere near the river!
This can be another big shock to customers.  The operators are good at providing maps but not transfer times.  Again, getting carried away with the lovely brochure pictures of bucket list places is a trap we have known customers who go direct to an operator fall into.  It is hard not to feel misled, but geography doesn't lie.  A river cruise is giving you the opportunity to visit some wonderful places all in the space of a 7 or 14 night holiday.  It is a touring holiday with one base – your ship.  What it might not do is take the Elbe river all the way in to Prague or the Po River to Verona or the Douro to Salamanca or the Seine to the Normandy landing beaches.  Or even the Rhine to Heidelberg.  (You get the idea).  But would you want to miss these wonderful places?  Prague is visited by some operators as a day trip which then involves around a 5 hour round trip and an early morning start.  Salamanca in Spain is a full day trip from the Douro River, again around 5 hours on a coach.  Just be careful on your choice of itinerary.  It is often better to do a city extension before starting your cruise.
5. Excursions at 9am and dinner at 7pm.  Is this actually a holiday?
If you are not keen on having a schedule whilst on holiday, then a river cruise may not be for you.  However, you can understand that if you are having to travel a distance to that day's highlight then starting off early is a MUST.  If you prefer to rise later, then river cruise operators do allow that and may have some tours with a second wave of departures.  Or better still, book a cruise without excursions.  That way, you can decide on the cruise which are your "MUST SEE" experiences that you will get up for.  It is a great way to save money and be independent.  I know – human nature always means that if you think you've paid for something, you won't not do it.  Germanic and French river cruise operators don't include excursions as their clientele prefer it.  Ships with bicycles are also great as you can explore on your own and see what you want to see, especially if churches are not your thing.
Fixed dining times at dinner are often unavoidable.  Kitchens on river ships are small and can't generally cater for drop-in dining.  Tauck let you dine from 7pm onwards, so as long as you sit down before 9pm you will get the same wonderful dinner as everyone else.  A-Rosa offer buffet dining, so you can return at your leisure and still get fed.  Some river cruises offer on shore dining in the evening or at lunchtime so you can absorb more of the local culture and cuisine.  Scenic will make you a packed lunch if you choose to explore on your own.
Whatever you decide dining or excursion wise, just make sure you take your shore card with you…..
Remember problems on river cruises can be avoided if you are armed with the right information and knowledge.
Alex
Posted by
Alex