You may have been going on holiday with friends for years now, or perhaps it has just come up as a happy possibility over a glass of wine? But what type of holiday for this year or next, and how to make a choice that everyone will be happy with? What about considering a river cruise with friends?
River Cruising as an experience is something that more and more people are trying as a great holiday as a group. Its combination of comfort, sightseeing and sociability is appealing to a wider, and also younger, audience.  With so many different river cruise it can be as organised or as independent as you desire. Those friends who might not consider an ocean cruise or a coach touring holiday, will certainly look at it seriously. No long days at sea and no long coach journeys. Meals and drinks with meals also tend to be included which works well for people with varying levels of budget.
So, if you find yourself as the organiser of this year's group holiday, read on to avoid unnecessary headaches and misunderstandings. Here's our tips for getting what everybody wants from their first river cruise:
1. Set the destination priorities first.
The rivers of Europe tend to be where people look first, but they are all very different.  Most people will have seen the Viking river cruise adverts of beautiful actors hanging over the side of their 300 sq ft suite watching all that Europe has to offer drifting by, a glass of wine in hand. Setting expectations early is a must. The view from that suite in the peak months of June or September will cost roughly £9,000 per couple but to get on the ship is considerably less.
Instead of looking at fixtures and fittings first, consider what are your priorities for the destinations you might want to visit? Are the members of the group history buffs that want to explore medieval and Romanesque Europe? Or places synonymous with World War I or II? Are there places on your bucket list that might well just be next to a river? Has someone always wanted to see the castles on the Rhine? Is St Petersburg looking appealing and the idea of learning more about Russian culture and history of interest? For most travellers the days' tours are the highlight of the cruise but if you have non-history buffs or late risers amongst your group, then it would be upto them whether they decide to miss the tours or if they'd prefer to go exploring on their own.
2. Set the pace of the holiday
Is relaxation important? A bit of down time, after all we are on holiday! Cruises with, (sounds daft I know), but with more cruising should be considered. The busier the river such as the Rhine, the less day time cruising there is, simply due to river and timetable logistics.  Boats will generally move overnight to avoid congested locks and to ensure that you are where you need to be bright and early for the next day's tour. Some tours do leave early in the morning, but just because there is one, you don't have to participate in it.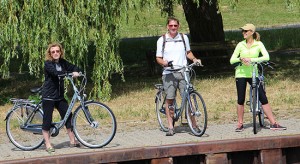 3. When can you all go and for how long?
What time of year works best for you all? Are your group sun lovers or culture vultures? Many areas are pretty hot to explore at the height of Summer in July and August but you won't have to worry about school holidays and children on board as most cruise ships have an age limit on them. Most travellers plump for June or September as being a safer bet weather wise and for less busy rivers and airports. So, don't be surprised that this pushes the price up – it's just supply and demand. And don't be surprised if availability is limited, as ships generally only take around 160 people on each departure.
4. Setting the budget
Like all holidays the price can vary wildly reflecting the type of accommodation, the quality of the food, the tours and what's included. Ocean cruisers who are used to picking up bargains in the 'lates' market can often be the hardest to convince that a river cruise is worth the price. However, if others in the group are seriously thinking about it, then they will too. River cruise pricing works differently to ocean cruising, simply due to the reduced availability of cabins cruise operators have to sell. More is also included in the actual price and most river cruises will be more akin to the experience on a luxury small ship rather than a MSC or P&O Cruise.
Most river cruises will be seven nights in length, which means seven nights full board. Unlike ocean cruises tours are included with most operators and some also include drinks in the price. A high standard river cruise will cost anywhere from £1500 per person up to £3,000 or more for a week. If the budget is £1500pp and no more, then it is worth looking at cruises with less inclusions, so those that would like to spend more don't feel hard done by with the quality of the ship. Tours do constitute a lot of the holiday cost, so choosing a cruise which lets you pick and choose on a pay as you go basis rather than including one per day, would stretch the budgets further. This is the way most European travellers do it.  We find it's the  North American and Australian river cruise lines that include lots of tours in the cruise price.
Perhaps there are bargain hunters amongst your party. They've seen a bargain and they are going to try and get the cheapest price, despite it not being really what anyone wants. If it looks too good to be true, then get a second opinion. Does it really visit the places you want to go to in the way that you want to see them? How does what is actually included stack up against the other cruises you've been looking at? The internet is a wonderful research tool, but maybe it is what you are not being told, not what you are being told that really matters.
5. START YOUR SEARCH EARLY to get the cruise and the price you are looking for!
This is where we as agents come in. Our role is to be your helping hand, guiding light and font of all river cruising knowledge. Moderators in all the different opinions and requirements.
How annoyed do you become when the couple in your party who won't make their minds up, are the one that ask the most questions! We know the answers and are just one phone call away, this is what we do!
The bigger the group, can also result in bigger potential savings. One in 10 people can go free, so why not you be the free one? However, to book that group, the cabins need to be available. Nobody wants to be the couple who has to volunteer to go on the bottom deck, just so everyone else can get to go on the holiday of their dreams? River cruises can go on sale up to 18 months in advance and as mentioned, June and September never get bigger savings on them, than they do when they first go on sale. There is honestly no point waiting.  Starting to plan early means, you will know who is seriously interested and able to commit.
Posted by
Alex