One of the more common questions we hear from potential river cruises is what should I wear and what do I need to pack? With baggage generally limited to one suitcase per person it is useful to understand what you might need. Well the first thing to say is that you certainly don't need to pack a dinner jacket or evening gown.
In contrast to their ocean going cousins river cruises are a much more casual affair with very few dress codes. The emphasis is definitely on comfort with a smart casual leaning. Although specific guidelines do vary from line to line the general principles are pretty consistent.
Example of Storage Space on board the Scenic Jasper – Balcony Suite 205 sq ft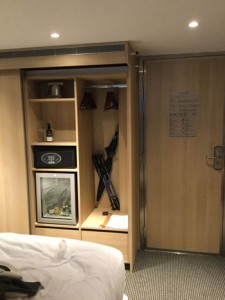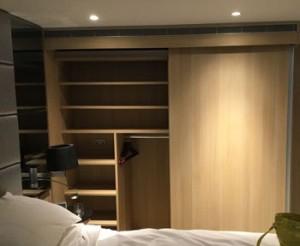 Within your cabin you will have hanging space for coats and jackets and your suitcase will go under your bed. Space will be tighter than an ocean cabin generally, but you are more restricted by the size of your luggage allowance than your storage space, so don't worry.
O
n Board River Cruise Dress Code
Our previous customers comments suggest that the dress code is really set by the guests rather than the river cruise line itself. Whilst recommendations are made by each line, they are rarely enforced. Shorts or light trousers are the norm for the warmer months with jeans and jumpers becoming more common through the cooler parts of the year.
Lunch is usually free seating and light bites in another part of the ship. Casual clothes that you have been wearing on your outing will be absolutely fine.
Dinner is generally a little more formal with shorts, t-shirts and jeans discouraged. Celebration evenings such as the various Captain's dinners provide the opportunity to dress up a bit. Jacket and tie, or cocktail dresses are not required but are always welcome. You may also wish to pack them for an evening outing or smart dinner. Just think what you would wear to a hotel restaurant and you will be fine. For gentlemen, a short sleeve shirt wouldn't look out of place but a tie isn't necessary if you don't usually wear them on a night out.
(Me, ready to get off and start exploring all that the Douro has to offer)
Excursions
You will need comfortable clothes and walking shoes for excursions, some surfaces can be over uneven terrain. Shorts are perfectly acceptable, as are jeans. A light water resistant jacket can be useful even in the summer! I would also recommend a sun hat for the summer months.
Bear in mind that some excursions will take in visits to Cathedrals or other religious locations where more modest attire, covering the shoulders to below the knees, is appropriate. A scarf applied across the shoulders is perfectly acceptable. This is particularly important in Italy where standards of dress are rigorously enforced but is also respectful elsewhere.
Operator Specific Guidelines
To see what the various river cruise lines have to say about their dress code links to official information and guidance may be found below:
Riviera River Cruises – On Board Information
AmaWaterways Cruising – Frequently Asked Questions
Viking River Cruises – Frequently Asked Questions
Avalon Waterways – On Board Information
More in the River Cruise Q & A Series:
Introduction to River Cruising
What to Wear?
Posted by
Simeon