With the weather here in Cornwall being a bit cold and grey, we have started to turn our attention to spring time river cruises which generally means Holland and Belgium.  They seem to be late bookings for the UK market but operators are used to this and have good availability in all cabin grades.  We have some great deals and itineraries on the best ships and even some shorter cruisers for those who want to give river cruising a try.
So what can you expect to see on a springtime river cruise in Holland & Belgium?
Springtime in Holland is unique – acres upon acres of bulb fields blazing with brilliant reds, yellows, blues and purples interspersed with the occasional cool white. Then there are the stunning Keukenhof gardens in Amsterdam where tulips, daffodils, hyacinths and other bulbs create a massive carpet of colour from which the delicate scent rises gently in the warm sunlight. It is not surprising that this is a sight that has inspired numerous artists and writers.
Cruising along the Dutch rivers is the best way to see this magnificent display of colour. Relax with a drink as the boat gently glides through a patchwork landscape of ever changing colours. This is truly a land where the tulip holds sway from March to early May, as it has done for hundreds of years. Back in the seventeenth century, fortunes were made and lost on the price of just one single tulip bulb.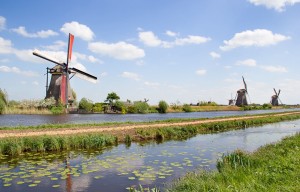 Capital of Holland, Amsterdam has always been the centre of the tulip trade, and millions of bulbs pass through its warehouses every year on their way to gardens in Britain and elsewhere. The displays certainly provide lots of inspiration!
From the bustling streets of old Amsterdam with their delicate network of canals it is a hard choice between cruises southwards or northwards. There is so much to choose and so much to see – but always the acres of bulb fields!
Southwards lies the pleasures of some of the world's prettiest and most historic cities. It is too early for the Flanders poppies, but the evocative sound of the Last Post still rings out in Ypres at the Menin gate every night. The bridge at Arnhem is a reminder of another war, when soldiers fought desperately to hold a river crossing. We loved exploring the medieval cities of Ghent and Bruges, with gorgeous shops selling local lace then sitting drinking coffee in a little square while listening to the carillion ringing out from the Bell Tower.
Springtime river cruising northwards offers something very different. This is the quiet, undisturbed country of northern Holland where windmills still work holding back the waters of the North Sea. Surprizingly, the Zuider Zee and the Ijesselmeer are actually lower than the sea beyond the great dykes. Our boat passes little villages that seem almost unchanged from those seen in paintings of times gone by. Stopping off at the town of Edam offers an irresistible opportunity to try some fresh cheese from the great piles on offer in the marketplace.
A little further on is Volendam, once the haunt of Picasso and Renoir. A small harbour town with wide picturesque streets and narrow houses; this is a very atmospheric fishermen's town. A trip to the local museum offers an unmissable opportunity to dress in Dutch costumes and pose for photographs. The high pointed bonnet and decorated aprons are really pretty.
The river cruising in the area starts again in March and continues through to May.  If you only have a few days, then hop onto the Eurostar and travel around the upper Rhine for 3 or 4 days.  If you have longer, then include Belgium's highlights of Bruges, Ghent, Antwerp and Brussels.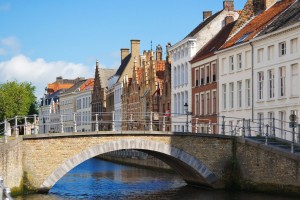 A special moment on the Tauck Belgium & Holland in Spring cruise includes a private gourmet dining experience at Chateau Neercane, the only terraced dutch castle with baroque gardens, private vineyard and a wine cellar in caves where you are served an "event of a meal".  Or cruising along the Albert Canal to enter Antwerp.
Alex
Posted by
Alex