If it's springtime in Holland, it means just one thing – colour and lots of it. Cruising along the rivers is by far the best way to really appreciate it. Read about the highlights of your visit to The Netherlands and Belgium.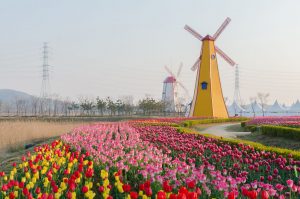 The fields positively blaze with colour stretching for mile upon mile on either side, passing through areas which are accessible only by boat. A springtime river cruise is unique. From March to May, springtime in Holland is incredible.
And it's not just in the fields. At every stop along the route, there are brilliantly coloured bulbs to be seen. In the stunning Keukenhof gardens (open from 21st March – 21st May 2017), bulb growers have worked all year to devise the most stunning and imaginative displays. These not just swathes of colour such as a mini river of blue hyacinths surrounded by yellow daffodils passing through a clump of trees, but also spectacular images such as a sailing ship or the face of Van Gogh decked out in flowers. Then there is the all pervading delicate fragrances that scent the air, delighting every visitor.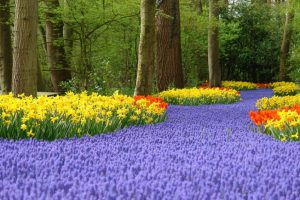 Not surprisingly, this is an area which has inspired countless artists and writers. Monet explored the rivers of Northern Holland, painting windmills and beautiful stretches of calm, tranquil waters. Even today, the little villages along the riverbanks seem unchanged by time.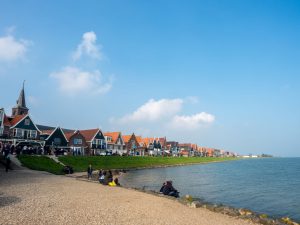 Cruising the Ijesselmeer is an experience in itself – a vast inland sea created to protect the land from the ravages of the North Sea.
Springtime in the Netherlands
The maze of canals and rivers characterize the Netherlands continues even into the city of Amsterdam. There are beautiful tall, narrow riverside houses and what seems like thousands of bicycles everywhere. Try some Dutch poffertje (a type of pancake), and taste unusual cheeses at the cheese shops. Explore beautiful art at the Rijksmuseum or see the Sunflowers at the Van Gogh museum.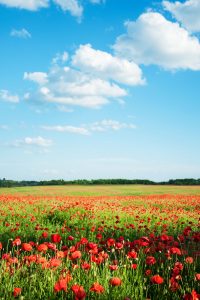 First World War Memories on a Springtime River Cruise
As the boat travels southwards and into the Flanders fields, the landscape begins to change. There are constant reminders of the hard fought battles of two World Wars, especially at Arnham and Ypres. The poignant sound of the Last Post ringing out each evening at the Menin Gate never fails to be an emotional moment. Marvel at a city which was almost totally destroyed during the First World War, but within a few was totally rebuilt just as it had been for centuries.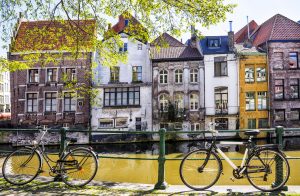 Discover the secrets of chocolate making in Bruges, and enjoy the beauties its little canals and rivers. Or explore the magnificence of Ghent, with its soaring medieval architecture. Springtime will never be the same again!
Looking for our cruises and dates, then click here:
Alex
Posted by
Alex