The waterways of The Netherlands are ideal for a river cruise especially in springtime to see the stunning Tulip and Bulb fields in full bloom. Ranging from a 4 night mini cruise to a luxury 10 day voyage.
One of our favourites is with Amadeus onboard the beautiful Silver III – their brand new flag ship ( see a little preview of this amazing ship in the video below).
I also learnt that "Holland" is the name of only two provinces – North Holland and South Holland, so strictly speaking isn't correct. The country is called The Netherlands.
Watch our little video to appreciate what a springtime tulip river cruise in The Netherlands is like and then ring us as we still have some availability on 0800 471 4754.
Cruising through a landscape studded with windmills, it is easy to see why Monet was so fascinated by the Dutch scenery. His attention was caught by the peaceful landscaped reflected in the waters of the canals and rivers, interspersed by flashes of colour as the Tulip and Bulb fields burst into bloom.
Springtime cruises through Holland continue to be a sensory feast of colour and scent as fields upon fields are filled with masses of scarlet, gold, sapphire and purple flowers. Historic windmills can still be seen such as those at Kinderdijk.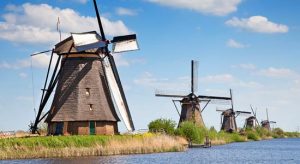 And it's not just in the fields. At every stop along the route, there are brilliantly coloured bulbs to be seen. In the stunning Keukenhof Gardens (open from 22nd March – 13th May 2018), bulb growers have worked all year to devise the most stunning and imaginative displays. These not just swathes of colour such as a mini river of blue hyacinths surrounded by yellow daffodils passing through a clump of trees, but also spectacular images such as a sailing ship or the face of Van Gogh decked out in flowers. Then there is the all pervading delicate fragrances that scent the air, delighting every visitor.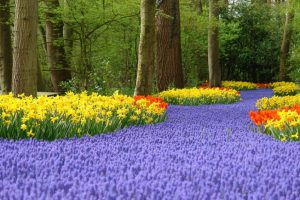 Countless artists and writers have been inspired by this area. Monet explored the rivers of Northern Holland, painting windmills and beautiful stretches of calm, tranquil waters. Even today, the little villages along the riverbanks seem unchanged by time.
Cruising the Ljesselmeer is an experience in itself – a vast inland sea created to protect the land from the ravages of the North Sea.
Springtime Netherlands River Cruising
The maze of canals and rivers characterize the Netherlands continues even into the city of Amsterdam. There are beautiful tall, narrow riverside houses and what seems like thousands of bicycles everywhere. Try some Dutch poffertje (a type of pancake), and taste unusual cheeses at the cheese shops. Explore beautiful art at the Rijksmuseum or see the Sunflowers at the Van Gogh museum.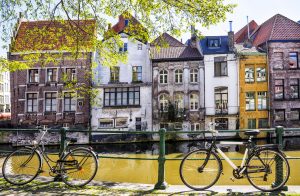 Discover the secrets of chocolate making in Bruges, and enjoy the beauties its little canals and rivers. Or explore the magnificence of Ghent, with its soaring medieval architecture. Springtime will never be the same again!
Looking for our cruises and dates, then click here:
Alex
Posted by
Alex