A display garden based on the floating gardens of Cambodia seen along the banks of the Mekong River has been revealed at the RHS Chelsea Flower Show, one of the world's largest gardening shows.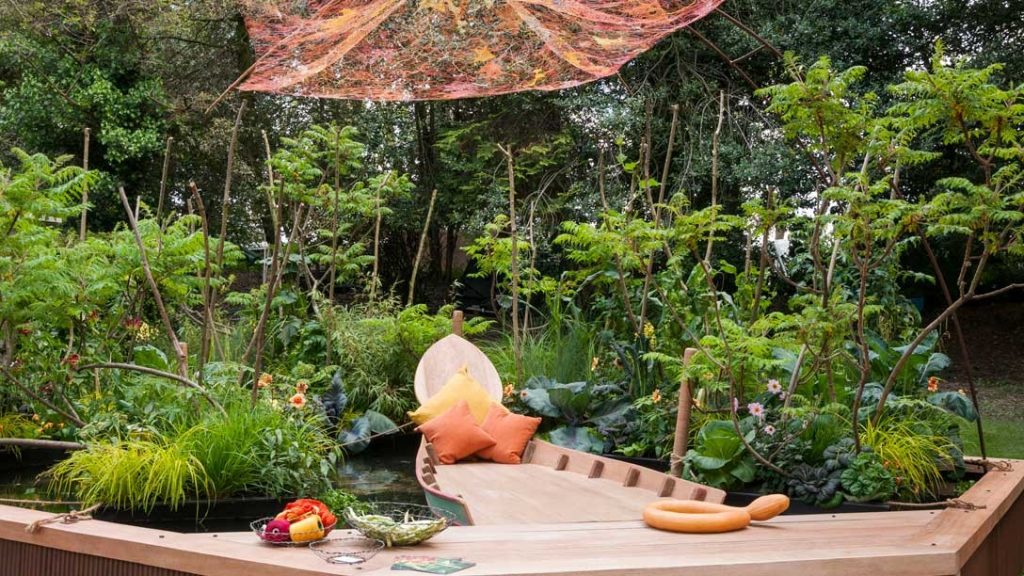 Awarded the prestigious accolade of Best Artisan Garden at the event, the garden was designed by eight-time RHS gold medal winner Sarah Eberle, and brought to life by Belderbos Landscapes.
The 7 x 5 metre garden plot is entirely water, surrounded by floating beds. A small deck leads to a traditional fishing boat decorated with cushions for added comfort, with a parasol overhead, inspired by the region's silk weaving and the traditional fishing nets used, providing the shade. Decorated with an assortment of wildflowers as well as a mixture of fruits and vegetables such as spinach, kale, aubergine and okra, the floating beds wouldn't be out of place on the banks of the Mekong itself.
The garden not only reflects the appearance of the Mekong River as it snakes through Cambodia, but also the lifestyle of the people who live on its banks, drawing on the silk-weaving and fishing which acts as the livelihood for many of the local communities.
This garden gives just a small insight on the incredible sights and experiences to be had when travelling along the Mekong River. Our Mekong River cruises take you through the lower stretches of the river in Cambodia and Vietnam, immersing you in the cultures of these beautiful countries and visiting everything from tiny fishing villages to bustling cities such as Ho Chi Minh and Phnom Penh and ancient temples including Angkor Wat.
Image: RHS
Posted by
Alex