The Mekong River flows through South East Asia and our river cruises will take you through a stretch of Cambodia and Vietnam. The beautiful scenery and landscapes will fully immerse you in the culture of this part of the world.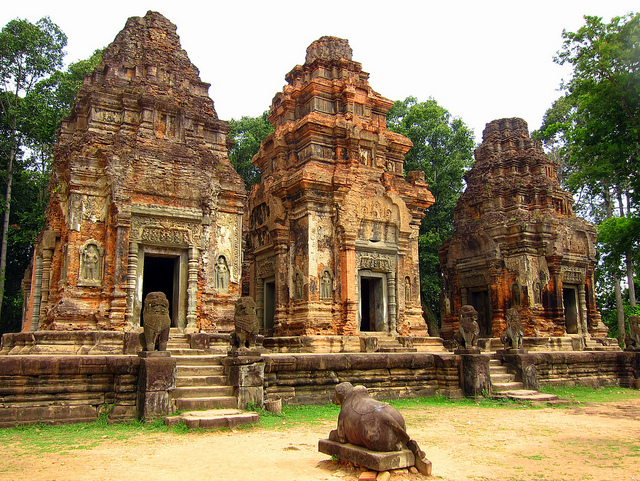 There are fishing villages, ancient temples and bustling cities you can explore on the tour, and longer tours will take you to beaches and enchanting bays. Take a look below for some of the unforgettable highlights you might expect to see on your Mekong River cruise.
Hanoi:
Vietnamese culture is proudly preserved in Hanoi and the 1000-year-old city has temples, citadels, theatre and wilderness just on the city borders that you can explore. The UNESCO World Heritage Site of the Imperial Citadel is a central symbol for Hanoi and the history of Vietnam and a definite highlight of a city tour.
The Port of Saigon:
A little further away from the exciting city centre of Saigon is the port. Located on the opening of the Mekong Delta, it is one of the world's busiest container ports. You can enjoy the vitality of the place on street level and as you sail away up the river, look back to see the glittering skyscrapers of the city.
Cai Be:
The Mekong Delta has many unmissable sights to see, one being the Cai Be Floating Market. One of the busiest towns and markets in Southern Vietnam, Cai Be is dazzling with colour as there are hundreds of boats laden with a variety of produce like fish, rice, fruit and vegetables.
Phnom Penh:
In Cambodia, the capital city of Phnom Penh has an eclectic blend of culture from ancient temples, French colonial architecture and a fantastic night life. The political and commercial centre of Cambodia is the perfect place for longer stays if you want to explore beaches to the south and the hill tribes to the north.
Siem Reap:
One of the best places to see on a Mekong River cruise is often left until last. Just north of Tongle Lake lies the famous historical site of the Angkor Temples. Over a few days you can take in the Angkor Thom, Angkor Wat, the Bayon Temple and the Terrace of the Elephant. Wait until sunset to see the ancient structures lit up in a stunning orange glow.
Photo by: Roy Patrick Tan
Posted by
Alex