I'm finally getting around to writing about my visit to Uniworld's River Empress. I do find it hard to write about Uniworld ships as I am so biased. What can you say other than it's lovely.
River Empress is a 110m Ship
Having had my head turned by Uniworld's "Super Ships" the Antoinette, Maria Theresa and Catherine, I was looking forward to seeing again one of their 110m ships. In the world of European river cruising, new build ships tend to be of the longer, 135m variety. They are able to hold more passengers and feature slightly more amenities onboard. However, they also take longer to traverse river distances, don't always fit into the best mooring points and some can look a little like a low rise block of flats from the outside, the Viking longships also have squashed noses.
Boutique Styling on the River Empress
No such problems with aesthetics for the Uniworld ships.  The River Empress is a pretty ship with her white exterior and blue swirls.  The boutique nature of the Uniworld design means every ship is decorated in its own quirky, elegant fashion. Uniworld customers remember which ship they have travelled on and the distinctive decor as well as the distinctive staff.  This is not something that can be said of most river cruise lines. Stepping aboard the River Empress, I was greeted by 360 degree floor to ceiling mirrors and the pictures of what I call, the gitanes ladies – you can get my drift from the image below. The smile was back on my face on what was a murky November day in Amsterdam and the size of the orchids in the foyer brightened the area further.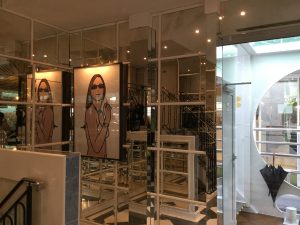 Moving from the foyer, on the same level you walk into the main public lounge and bar. The high bar chairs and nibbles invite you to sit and remember that Uniworld is now all-inclusive, so order what you want.
Uniworld Staff are the Big Difference
Rather than being shown around by UK staff who didn't really know the ship, Uniworld made sure we were shown round by their own River Empress ship staff. There is just something about the Uniworld service that makes this cruise line stand out. The staff are genuinely friendly. They don't just stand there with their hands behind their backs smiling and nodding at you. They build a relationship with you over time, knowing your name and you know theirs, they follow up on previous conversations and they stop and chat. No other high level river cruise line staff do this. It is an art.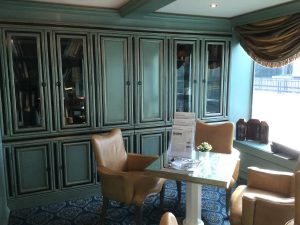 With a separate library area on the middle deck, a outside dining area on the sundeck, a sitting area next to a small boutique and salon on the lower deck and the bright main red restaurant the River Empress offers distinct dining and relaxing areas for her 110 passengers.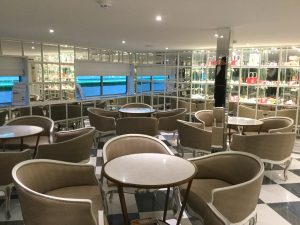 So, yes the suites are beautiful with separate seating areas and luxurious marble bathrooms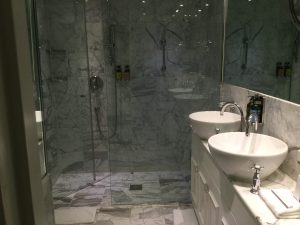 and high level toiletries and individual design and a butler to boot.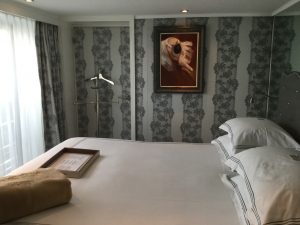 However, if you would like a french balcony on the River Empress, then you will need a category 1 stateroom on the upper deck. There are 18 of them in total on the River Empress at 150 sq ft or 14m sq.
River Empress Middle Deck Staterooms Explained
Middle deck staterooms in the River Empress are the same size but have a fixed window.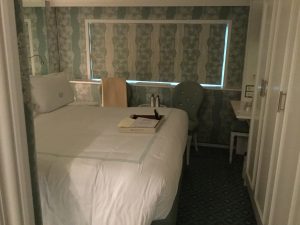 The lower deck cabins on Uniworld are some of my favourite lower deck cabins. Unlike some they are light and spacious rather than dim and dark.
River Empress Cruises the Castles Along The Rhine Uniworld Itinerary
So, if you would like to enjoy the River Empress, she does the Castles of the Rhine itinerary from Amsterdam to Basel or vice versa. To learn more, click here:
Posted by
Alex