The British worldwide touring company Titan now offers river cruises. Titan river cruises have become more and more popular, and what's not to like? Their VIP Travel service offers you hassle-free transfers from your home to your point of departure, be it your local airport or being taken to one of the UK's larger airport's or to pick up the Eurostar if travelling by rail. Titan great value river cruises sail on their own specially chartered ships. Why not choose to cruise down the Rhine or The Danube on board the MS Serenade 1 or the MS Bellejour.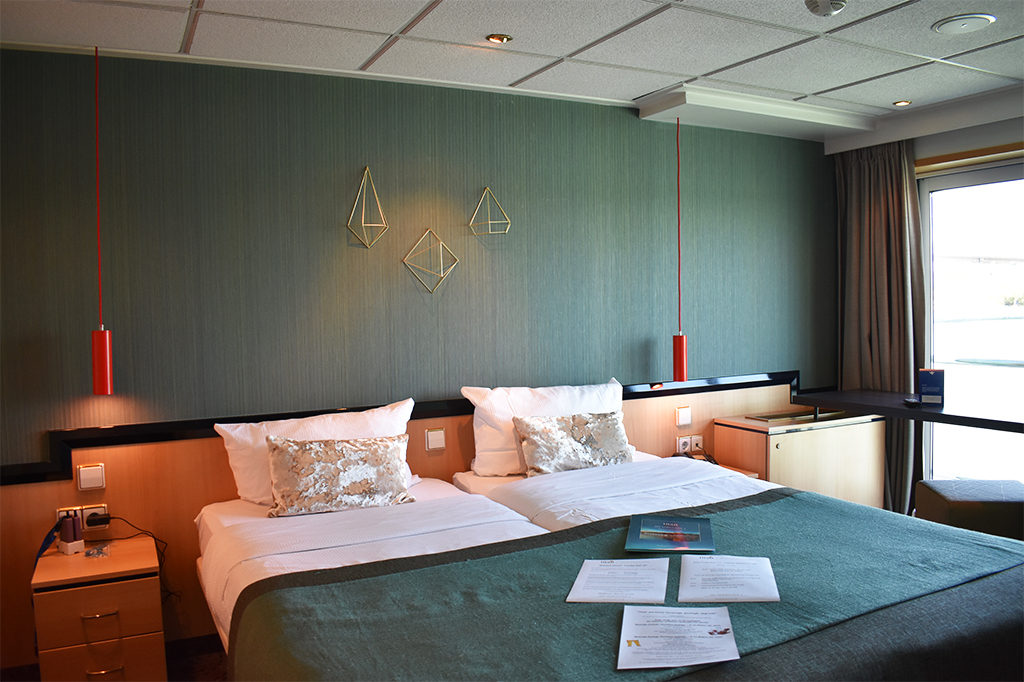 Here at Global River Cruising we believe that Titan river cruises offer, good value easy access to Europe's main rivers with a great deal of inclusions. If you have not been river cruising before, then these 4 star cruises with some excursions, drinks with meals, dining, international transportation from the UK and home pick up tick a lot of boxes, especially if you do not live in London or are travelling on your own. The Titan home pick up service will take people to their nearest airport by chauffeur, which really gets your holiday off to a stress free start. They will get you there on time. Also, by booking early, single travellers will pay no or a very low supplement allowing groups of friends to go on a cruise they may otherwise not be able to due to high solo occupancy supplements on other operators.
Or if you want the best that river cruising has to offer then Titan also partner with ultra luxury line Uniworld Boutique River Cruises along the Danube, French waterways, Venice and the Po River, The Douro in Portugal and The Rhine
Their range of Uniworld river cruises offers much more than an average holiday. With the VIP Home Departure Service, your luxury experience begins right on your doorstep – before transfer to the airport and your waiting cruise ship.
Titan also work with Austrian River Cruise pioneers, Amadeus cruises, to offer authentic, culturally engaging river cruises by tapping into decades of destination knowledge, introducing guests to the hidden best of Europe and to the privileged comforts of river cruising.
From picking you up from home, to being with you at the airport to help at check in, meeting you on arrival at your destination to guide you to your transport to the ship, at every step, knowledgeable tour guides and dedicated staff are on hand to offer advice and information – and ensure that everything runs perfectly after all this is your holiday and you want to relax and have someone else look after you.
Multi-Award Winning Holidays
… and Good Housekeeping Reader Recommended!
Titan comes highly recommend by previous guests who have travelled with them. Not only do they love being collected from home with the VIP home pick up but they really like the whole experience. From lovely food, experienced and knowledgeable guides to just how easy a touring holiday can be. It's no wonder that Titan Travel have won a hat full of awards from both within the travel industry, and beyond.
Titan won 22 awards at the British Travel awards in 2019 making them the most decorated company at the awards to date, high praise indeed as these awards are voted for by the public, so many of you must have had a great time on your Titan Holidays!
Good housekeeping awarded Titan "Reader Recommended"as 95% of their reader's who have travelled with Titan would recommend their escorted holidays as good or excellent.
Should you book early or wait for a last minute deal?
When it comes to booking your holiday, there's always that age-old debate book early and reserve your space, or hold out to get a last-minute deal?
Well finally a travel company that recognises that if they have to reduce the price of a holiday it does not penalise anyone who has booked early. Titan take all the stress and risk away with their Early Bird Price Promise.
The Early Bird Price Promise scheme is included on every one of their holidays. It means you're guaranteed the best possible price the earlier you book. The prices of holidays tend to go up closer to departure, so you'll always get the best price if you book early. But in the event they should go down after you've booked, we'll get in touch with you to refund the difference back to you. How does that sound?
Not only will you be assured that you have the best prices but you will be able to have the full choice of departure dates and, if you're booking a cruise, the best choice of cabins so you can sit back and look forward to your holiday, safe in the knowledge it's all booked at the best price.
So our advice is book early to get what you want when you want it and not just what is left at the last minute.
Travelling Solo
Travelling on your own, then an escorted river cruise is an ideal option for you, join in with a group of like minded people to share the memorable moments as you are taken around to see the sights in each destination, you can be as social as you want to be on the ship as you have spent a day sightseeing with everyone it is so easy to chat to your fellow guests on board or just have time to yourself the choice is yours. Whilst having the peace of mind that everything is taken care of you just have to sit back relax and enjoy your time away.
Titan also have some great solo offers with low or even no single supplements on offer If you'd rather travel on one of our other holidays, lots of them carry low or no single supplement. Your tour manager can introduce you to other solo travellers in the group if you like, and we make it easy to mingle at every opportunity, organising coaches to excursions and meals where you can get to know your fellow
Click the logo below to see our selection of Titan holidays
Call us FREE on 0800 471 4754 to book your next river cruise and experience all that Titan can offer.
Posted by
Alex