The SS Bon Voyage, based in the Bordeaux region of South West France, is one of the most luxurious and newest river cruise ships of Uniworld's line of Super Ships. Uniworld likes to call these vessels Super Ships. They feature enhanced dining options, more suites and a much higher passenger to staff ratio than other ships.
We were lucky enough to be invited onboard when she was docked in Bordeaux for a tour with the lovely Cruise Director Lydia (seen below with Simeon in La Cave du Vin). Uniworld have been one of our favourite river cruise operators since we started on our river cruise travel agency six years ago. As an aside, the River Royale was the first Uniworld ship we visited whilst it was based in the South of France. The River Royale is now transformed into the "Super Ship" Bon Voyage. The biggest remaining evidence of its former life is the beautiful mosaic behind the Reception desk. The more eagle eyed will see the Provencial reference of the sunflowers.
Uniworld currently owns and operates six Super Ships. As far as we know, there are four more to follow in 2020. The S.S. Bon Voyage is only the second Uniworld ship to have undergone a complete conversion update to the Super Ship status.
Uniworld SS Bon Voyage Interior
As with all Uniworld's river cruise ships, the style is very distinct. As the SS Bon Voyage will sail exclusively the Bordeaux-Medoc region, the flamboyant décor aims to immerse the guests into the French way of life. The Le Salon Champagne has sofas that echo the ones in Yves Saint Laurent's own home apparently. If you're looking for a contemporary white and beige then this is not your ship. But if you want to see the most beautiful parquet floor in oak that you will ever encounter on a river ship, then you will be in heaven. There is an intense focus on a more imperial interior design. This means you can look forward to polished brass, glass chandeliers, fabric covered walls and most of all expect marble. To us, the ship is beautiful and unique. Compare that to other companies with their same on same river ships, mentioning no names. With Uniworld you can expect something better, and you get that in spades.
SS Bon Voyage Cabins & Suites
The SS Bon Voyage features two unique grand suites of 26 m2, 2 x 20 m2 suites. On top of that, it offers 22 French balcony cabins, 30 window cabins and 6 beautiful lower deck cabins. A total of 124 guests are catered to by a total of 50 staff.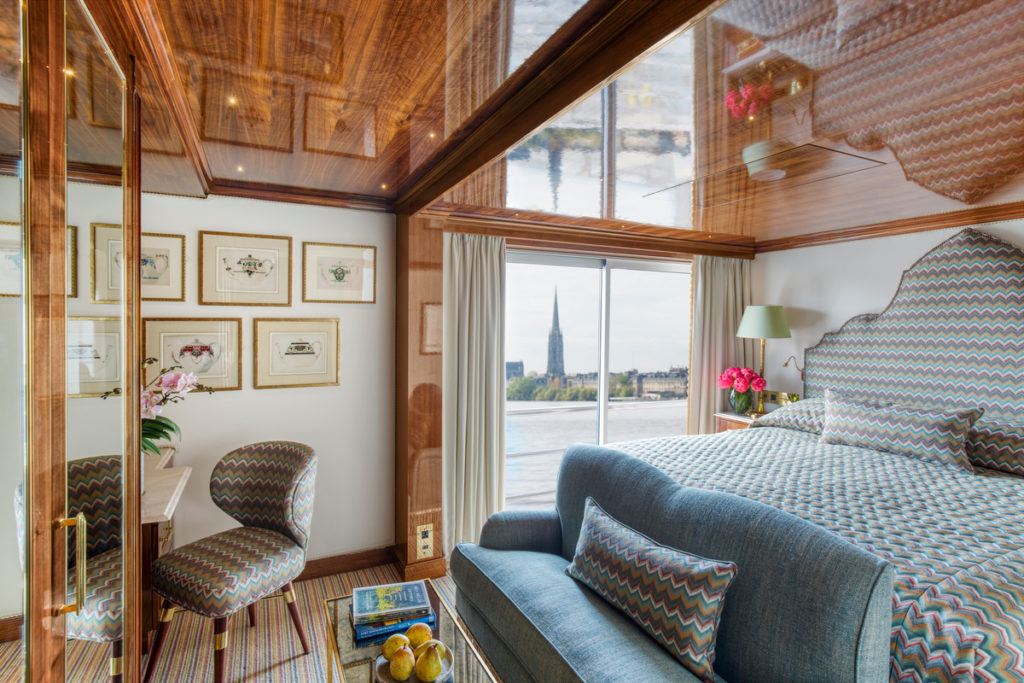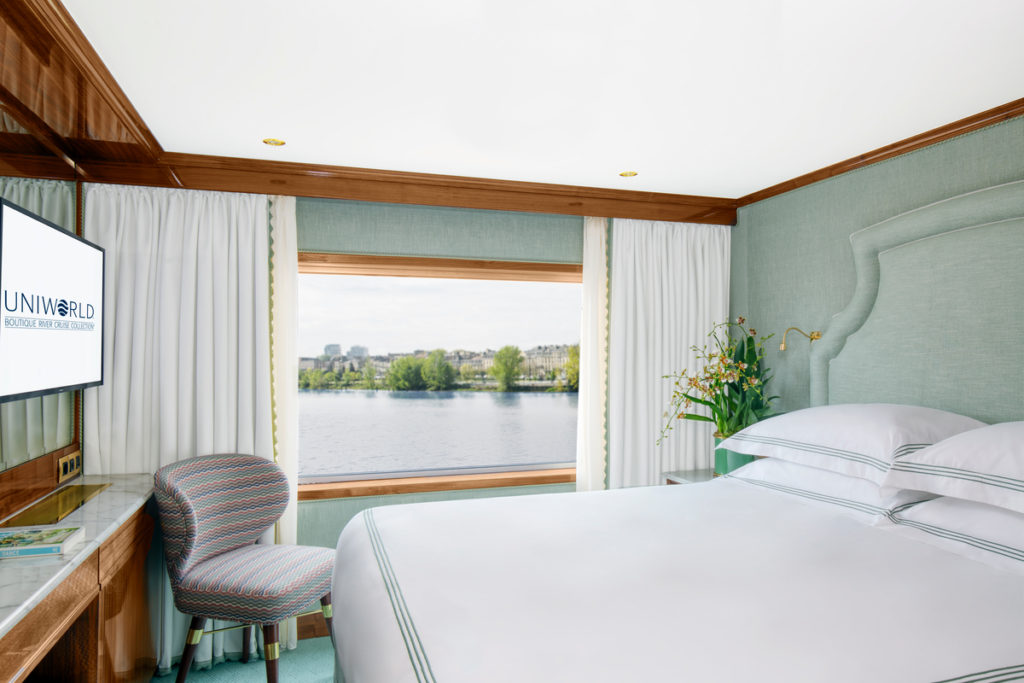 Inspired by the culinary prowess of the region, SS Bon Voyage features two new dining venues La Brasserie and Le Cafe du Soleil (which transforms into La Belle Etoile at night). La Cave du Vin's intimate atmosphere for 16 guests plays host to the wine pairing dinners, one of the highlights of the cruise itself.
Uniworld Onboard Activities
Excursions are plenty and varied. They vary from more fitness focussed activities such as trekking and biking to culture pursuits like chateau visits and most importantly wine tasting. As Uniworld is an all-inclusive river cruise operator, guests get truly spoilt when it comes to food and drinks. For those that might be worried that the Bordeaux region is all about wine, then you will find a choice of non wine related discovery on the excursions provided on the SS Bon Voyage.
SS Bon Voyage Pool & Sundeck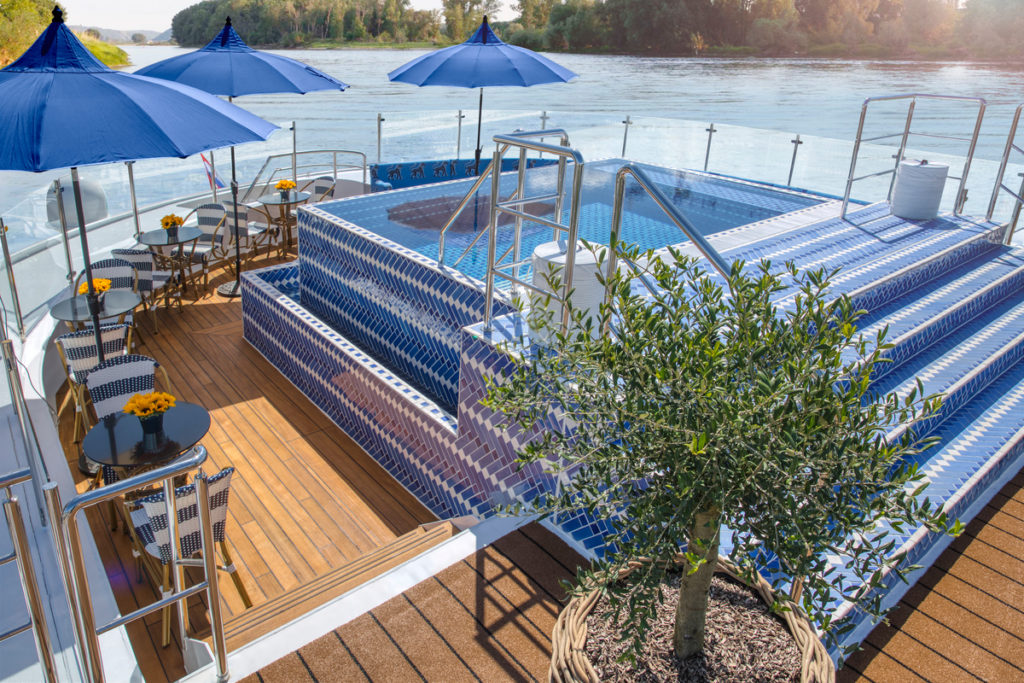 In order to relax on board after sightseeing or whilst cruising, then there is no better place to do that than in the outdoor pool. On the day we visited in early August, it was hot and although it is empty it was the midday sun and I can imagine a little later on that the guests would have been in the pool, Aperol Spritz in hand. I certainly wanted to jump in there and then! And once you have been in the pool, the beautiful leopard prints of the padded sunloungers are there for you to dry off on, read a book or maybe even take a nap in the shade to sleep off lunch.
The SS Bon Voyage currently travels the "Brilliant Bordeaux" river cruise holiday in South West France with Uniworld. This itinerary is the perfect mixture of discovery of the world's most famous wine region and also the highlights of the area such as Le Route de la Corniche Fleurie, one of the most beautiful roads in the world which runs along the river banks and through picturesque hamlets such as Blaye
Our current special offer for this cruise is here
If you want to find out more about Uniworld, their Super Ships and/or a wine river cruise, please do get in touch!
Alex & Simeon. Global River Cruising. August 2019
Posted by
Alex