When TV presenter Jane MacDonald was treated to a 'Christmas Markets River Cruise' last November and the results screened on Channel 5 in the UK, it reminded me that Simeon, here at Global River Cruising had actually been on pretty much the same cruise the year before.  A Uniworld Christmas markets river cruise is the crème de la crème of the river cruise calendar.  An ultra luxury floating hotel with all-inclusive and service to die for at a time of year when it is hard not to have a smile on your face.  The iconic Danube is a treat at anytime of year, but the spectacle of the Christmas markets adds a different dimension, even for those that have already been on that stretch of river during the summer months.
So, what better way to get into the season's spirit than than a cruise along the Danube river with Uniworld.  Cruising from Passau to Budapest, this "Danube Christmas Markets" cruise covers 7 nights and operates in December each year.  It visits Passua, Linz and Salzburg, Wachau valley, Krems, Vienna, Bratislava and Budapest.  Along the way you can choose from a selection of included excursions that cover the history and culture of each area as well as the distinctive Christmas markets themselves.
A Floating Christmas Boutique Hotel With Food, Drink & Staff to Match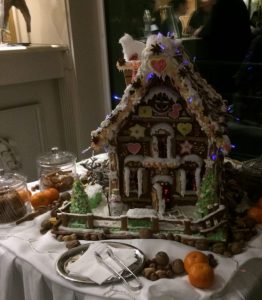 I travelled from the UK to Munich airport and then took a Uniworld mini-coach transfer to the German river side town of Passau.  As a group we arrived at the ship just after nightfall to find her beautifully illuminated in the darkness.
There is nothing that says Christmas more than festive lights and it did feel like Uniworld had certainly done their best to bring out the festive element of this cruise.  I have been a fair few river cruises and on this stretch of the river several times, but seeing the ship decorated in this way, made me feel that I was in for a special treat.
Christmas garlands and lighted trees were all about and one of the most magnificent gingerbread houses, temptingly placed next to reception, give the ship an elegant festive feel.  See my picture.
After a quick check-in we were shown to our stateroom where our luggage had magically appeared.
After freshening up it's off to dinner, the first of many magnificent meals on board. The food was of an extremely high standard throughout, with a mixture of local specialities and traditional favourites.  Local wines were served with dinner and were very drinkable with some really excellent ones. A nice touch was that Igor, our cheery sommelier, provided a little background on each of the wines he was serving, the grape varieties and the vineyards to really give a sense of the local produce we were enjoying.
When we retired to the main lounge evening entertainment was provided by our onboard musical duo.
In fact the staff were really excellent throughout.  Uniworld make a big thing about the standard of service onboard, and rightly so.  The team on the River Beatrice were wonderful and certainly seemed to anticipate one's needs, providing efficient yet relaxed service.  Having had a wide experience of luxury river cruise operators I would say that Uniworld's staff do stand out as a cut above the other, let's be honest in themselves really good, operators.
Ports of Call & Excursions
I find that one of the joys of river cruising is that the river takes not just to the stand out star attractions, such as Vienna or Budapest, but also to some of the lesser known gems along the way.  Places that one would probably never find a reason to visit independently.
I think Passau is one such place.  Located at the confluence of 3 rivers, the Danube, Inn and the Ilz, it was the historic seat of the ruling Prince Bishop and a place of significant local importance.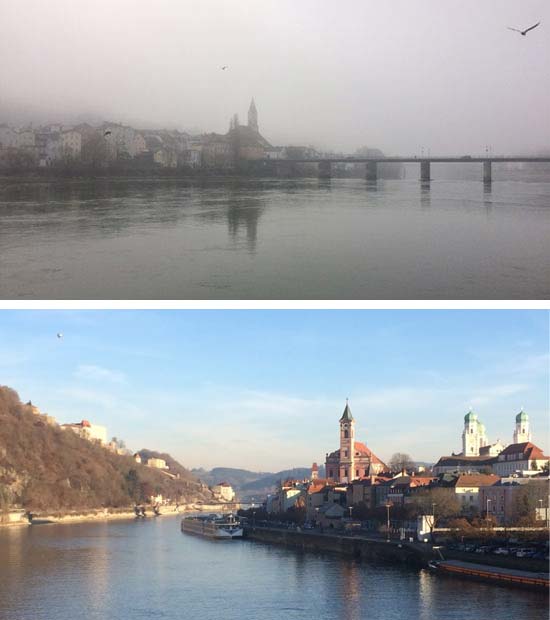 These two pictures of Passau were taken only an hour or so apart.  The morning mist clinging to the river valley being burned off to reveal a wonderfully bright sunny day.
It really is a wonderfully beautiful place, particularly all decked out for the holidays, and the Christmas Markets led to the first of many purchases – a unique handmade glass tree decoration – and some warming gluhwein of course!
Our local guides really were excellent both in their encyclopaedic knowledge and entertaining presentation.
Salzburg lived up to its picture postcard reputation being one of the most photogenic places I've ever visited, steeped in its shared historical figures of Mozart and the Von Trapp, family made famous by the Sound of Music.
Passing the local Grammar School (or Gymnasium as they are called in Austria) I couldn't resist snapping this great advent calendar display in the school windows.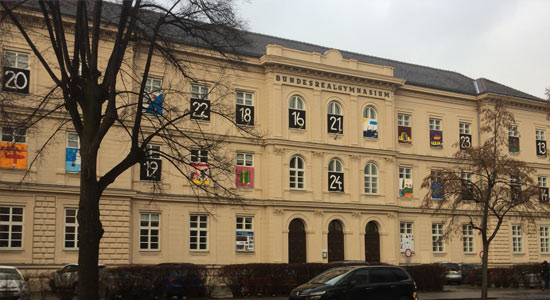 Vienna was one of the highlights of the cruise, and despite having been a couple of times before the included 'do as the locals do' tour showed me a completely different city.  Taking the subway into town, our guide led us through the backstreets and thoroughfares of the city, we saw many of it's highlights as well as hidden gems.  Stumbling, not so accidentally on the Spanish Riding School's stables, just as the magnificent Lipizzaner horses were led back in from the practice arena.  It was wonderful to see the horses so close and get a glimpse of the most magnificent stables you will ever have seen.
But the absolute reason for coming on this cruise at this time of year is of course the Christmas markets.  Budapest was the final stop on our Christmas market river-crawl.  One of the biggest in Europe it offers hundreds of stalls around the Basilica with crafts, sweet treats and regional and seasonal cuisine.  Not a place for bargain hunters but a place for people watching and tram watching as the festively decorated street cars go past.
There are cheaper ways of enjoying the Christmas markets along the Danube river as several operators do similar routes.  But to get that true luxury boutique feel at this time of year, Uniworld is very hard to beat.
Simeon
Posted by
Simeon