Being lovers of France we are always especially pleased to hear about new river ships in France. So, when we discovered that Croisi, the most French of river cruise companies and actually the largest river cruise company in the world, my English speaking friends, had decided to put their minds to a ship design that could conquer the vagaries of the Loire River, (France's longest river at 1,012km) water levels, we had to go and take a look.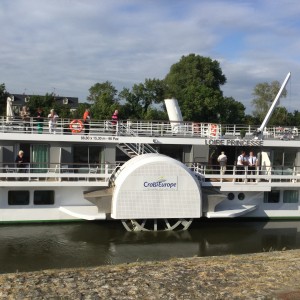 The fact is that most months of the year if you had to jump in the Loire, you would find the water level only up to your neck. However, the currents are as furious as any of its sister rivers. The clever people at Croisi have built in Saint Nazaire a beautiful French paddle wheel ship to masterfully and steadily guide the Loire Princesse on a round trip on the Loire River from Nantes to Angers. Covering a UNESCO world heritage site, the Loire river is a mixture of beautiful French terroir, gentrified chateaux and fortifications. Around every bend in the river there is another building to marvel at and wonder which lucky aristocrat or merchant used to preside within.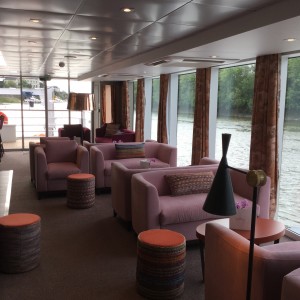 So it was that we found ourselves this May on only its 3rd voyage as guests for the evening on board the 4 week old Loire Princesse thanks to our friends at Croisi. Waiting at the quayside for her crew to ever so gently, gently get her as close to the river bank without touching the precious 18ft paddle wheel was a sight in itself and drew a crowd of local onlookers. Then, how to get the gang plank in place? Off came the upper sides of the ship, a crew member was then hoisted by crane over to the bank and the jigsaw puzzle assembly began. Still getting used to their new roles, the sailors slowly worked their magic. The Loire Princesse had drawn quite a local crowd by this point whilst the sun twinkled against the Loire's rushing flow.
At 90 metres long she is a charming size when compared to the brand new ships on the Rhine or Danube and also when you compare passenger numbers. When full the Loire Princesse holds 96 passengers, roughly 100 less than a Viking longship. The cosy interior is awash with the beautiful pinks and reds and purples of Missoni Italian and French styling. I feel very much at home in the bar and lounge and wish I could smuggle a stool out in my handbag but have to content myself with knowing I have right idea with my new striped carpet at home. Luis, the happy tri-lingual cruise manager was our guide. The lounge and bar is behind reception on the main level and also opens to a small terrace. Walking up a small flight of stairs will take you to the sun deck with its chairs, tables and sun loungers. Activities are organised during the day such as ti chi with river as a fantastic back drop.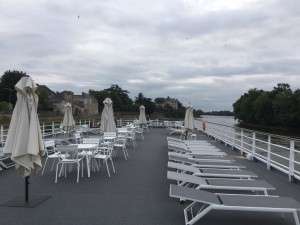 The cabins themselves are well decorated with very comfy beds that can be arranged into a double or twin. On the middle and upper level they have full verandas which are actually bigger than those on their larger cousin river ships and they are worth the extra money as they provide a good amount of space and clear views around 3 sides. The staterooms on the lower level have normal size fixed windows as you are not below water level. You will still get a good view of the river goings on while lying in bed again unlike the bigger cousins with only half height windows often.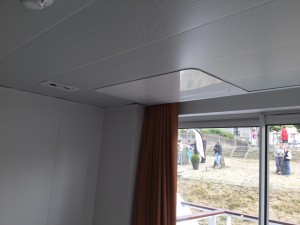 So, all beds face outwards, providing views at all times. Again Croisi have been clever with the use of space by providing a first for a river ship – the television comes out of the ceiling! Bathrooms are a good size with big shower. It is also worth noting that due to its size, there is no lift on board so all decks, including the restaurant which is on the lower deck have to be accessed by short flights of stairs. Plus due to lack of fixed mooring points and gantry on Loire, the gang plank will be used.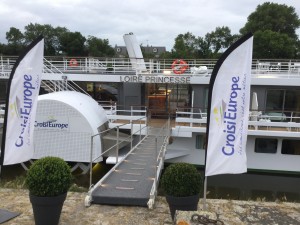 Croisi offer fully inclusive dining and drinks. We stepped down to dinner to find a open plan dining room with busy French staff. House wines were offered a choice of two local wines of every colour and I chose the Loire Gamay and Simeon chose the Anjou Rose. We like the feeling of being with the French in France, snippets of understood conversation, efficient friendly service where waiting on is seen as a career. An amuse bouche of cream of vegetables soup appeared from nowhere and fresh sour dough bread, delicious. Then a smoked salmon roulade and a main course of duck with rustic thin fried potatoes and butter sprouts with jus. Simple and delicious, what we expect from French cuisine, not fancy just delicious and not too much. Next came an alcohol drenched cake and cream that simply melted away in the mouth. Strong coffee to finish and news that there was to be an excursion via a land train to caves of degustation and chateaux. The little train I am glad to see was full of the Belgium and French guests who we had dined with. If it hadn't been for the two children who we had gate crashed with we would have accepted Luis invitation and gone with them. The next day's excursion to Saumur was an early start but no one was off to bed early on this river cruise.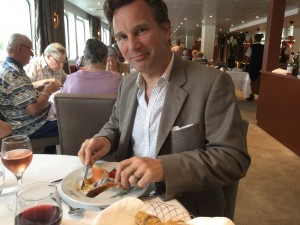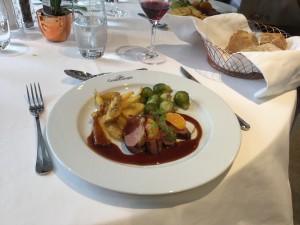 So what is there to see on the Loire? The Cadre Noire, the French riding school is located in Saumur and rumoured to be everywhere bit as good as its more famous Spanish equivalent in Vienna. A multitude of chateaux to explore. The troglodyte caves and dwellings were in the main created to extract the tuffeau cream coloured stone for the chateaux and churches and caves that dot the landscape. Why not sample a Rabelaisian feast of succulent fouees (hot breads) or galipettes (stuffed and cooked in the oven). Excursions vary from a trip to the shipyard which built the Queen Mary 2 and is currently constructing Harmony of the Seas to wine tasting at chateaux.
Let Croisi acquaint you again or anew with an area you thought you knew with the luxury of only unpacking the once. And remember, compared to the Rhine were there are over 300 river ships now vying for position and lock times, on the Loire you are the only one. Cruise are either 7 days or 5 days in length. For full details please see our Loire River Cruises page on the main website Plus a self drive option is very much on the cards with Nantes being roughly 3 hours from Roscoff or a little further from St Malo. That way you can fill the car boot with the local wines, which means the trip pays for itself! Well, not really, but if you need an excuse to go it's worth a try!
Alex
June 2015
Posted by
Alex