Azamara Quest Ship Visit – Saturday 4th July Queen Elizabeth Il terminal Southampton.
It was a very busy morning in Southampton as Britannia and Azure and Anthem and the Azamara Quest were all disembarking and embarking but traffic still pretty good at 9.30. Southampton really does know how to do ex UK cruising. But you do have to be off by 9am ish on your return. Why do holidays do that to you when you are depressed enough as it is you have to get up extra early as well!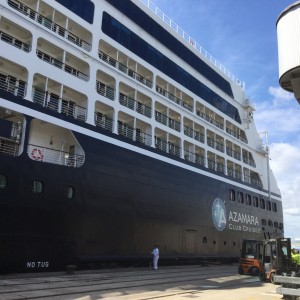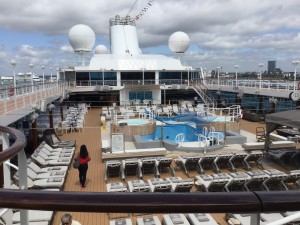 Quest has just returned from a 72 night charter. Oh to have that much time and not have to cook for that length of time. It was now awaiting their biggest UK ship visit ever with 70 people all keen to see what she had to offer.  I was the only travel agent to have gained entry to what is only a handful of UK ship visits.
My first impressions are of a comfortable ship. We walk through a dark wood atrium, through the very small casino and then up 7 flights of stairs to the front lounge and bar where we are greeted with coffee and Mimosa which is very nice with the bitters in it. Unintrusive service as waiters glide and whisk empty glasses away. There are lots of chairs but also lots of room to stretch out and enjoy the view should it arrive. The ship is having a complete refit over the winter but I'm not sure that much needs doing and it can only be to contemporise it, if there is such a word.
There is a relaxed feel about the ship which feels similar to a river cruise. No urgency and time to think.
Azamara have only 2 small ships which are constantly at oposite ends of the globe from each other.  There are no standard itineraries it would seem and they are able to take advantage of special dates in the calendar.  Whilst we were being shown around, the 600 plus passengers coming on board, a mix of UK and American were settling in to enjoy a 14 night British open golf cruise around UK which finishes in Leith. Then it goes off to Scandinavia to enjoy the light summer nights.
So what makes Azamara different to other cruise lines?  They care about the destination experience.  The ship will stay as long as it can in port, with tenders available often until the wee small hours, so you can enjoy the destination in the evening and after dark.  What a brilliant idea.  No rushing to get to bed so that you can be up early for the excursion the next day which can happen on river cruises.
White night on every cruise. Great fiesta night. Make sure you take some white clothing with you.  One of the ladies who I was with had done 3 Azamara cruises already and confirmed that the white night is fantastic with live music and outdoor eating on the main deck and feels very much like a street party and then some!
So, the facts and figures of the Azamara Question is that it weighs in at 30k tonnes and if the triples are used can hold 694 passengers.  But on average there are usually 620.  It can enter smaller ports and stay there longer.   For example, they always stay 2 nights in St Petersburg. I noticed that with the Venice – Croatia route, they stay 2 days in Hvar, including a private concert.  This is a fantastic way to do Croatian island hoping in style as the small little boats that are usually used, are for back packing at best, and a rather different clientele.
Also – each cruise has a unique event, called an Aza-Mazing experience.  These are tailor made to each cruise but remind me of Tauck style events which are just not something you would get anywhere else in the cruise industry at this price point.
For those of you who like spa's , the spa deck is included in the suite packages. The rest of the ships guests can buy passes.  The spa area outside is lovely and stays very quiet.  It would be somewhere I would definitely consider using one day if I wasn't already a suite guest.  Some of those with me said it reminded them of the  area on the Celebrity ships.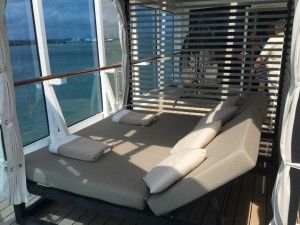 A great thing to hear is that both ships are having a full refurbishment over the winter to bring them bang up to date in decor.  All staterooms fully refurbished inc carpets and walls and ceilings.  Even things like wi-fi are being added to the staterooms.  This will take the ships up to another level I believe.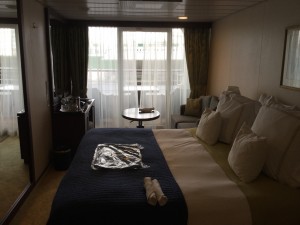 Discoveries restaurant. Main restaurant up to 8 courses. No jeans or open shoes flip flops. Open seating dine anytime from 2 people dining. Open for breakfast as well. No shorts.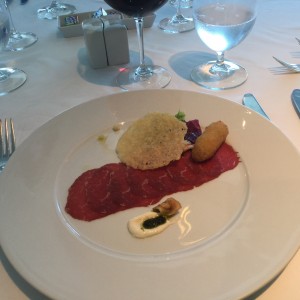 There are two specialty restaurants which carry a $25 surcharge on the ship, unless you are a suite guest and then there is no cover charge.  The Aqualina Italian specialty restaurant and Prime-C which is a specialty steak house.  We were lucky enough to be given a sample of the food at Aqualina from which I chose a carpaccio of beef, lobster bisque, veal, then the berry Tiramisu.  All were superb.  The most consistent meal I have had on a cruise or river cruise ship.  Plus the red wine, Californian was oaked and full bodied – I could only have one glass as I was driving or I would have had the white with the lobster.  Amazing and I'm not easily impressed by food.  I'm not sure it is something that all the high level river cruise operators have yet mastered over a 7 day period as yet.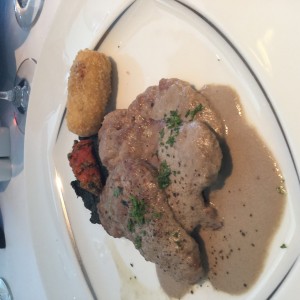 The captain and hotel manager came past for the 3rd time on the visit, happy smiling characters which really summed up the feel of the cruise.  I really did find myself smiling a lot on this ship.  The atmosphere is fantastic and relaxed.  People are here to relax and discover and I can't wait to tell our clients about it all.
So, what about the things that non-cruisers are always anxious about encountering:
1. The casino.  Very small with only 1 table and some slot machines.  It can only be opened when the ship is sailing. And on Azamara there is no smoking indoors anywhere on the ship.  The high rollers don't go on Azamara holidays!
2. Full on entertainment.  There are 2 shows per evening in Cabernet lounge which is small and friendly. Smaller productions are in looking glass lounge and low key music.  Azamara are able to use the Royal Caribbean licence for shows, which means the quality is high, if you choose to watch, you will be treated to shows from the west end or Broadway.
3. Smoking is allowed in a lovely outdoor seated area on deck 5 on port side only.
4. Too many things excluded from the price.  I don;t see any need for a drinks package or extra excursions on Azamara, so relax, you are unlikely to have a bar bill at the end of the cruise.  Drinks included. Inc recommended wines of the day. They call it boutique wines included. The included drinks are really all you need as there is a choice of branded spirits and good wines, so forget about those annoying drinks package notices all over the place on some cruise lines – there is no need to even notice them on Azamara.
Having had the chance to visit the Azamara Quest last weekend, it is time for river cruisers to try this cruise line that offers the same comfort and destination immersion as a river cruise.
I recommend because:
1. Destination immersion – smaller ships can visit the best hidden gems where the large cruise ships simply can't go.  Two ships offering unique itineraries throughout the globe which change every season.
2.Tendered visits in each port for up to 48 hours
3.Included visits and immersion with a variety of excursion and independent touring options
4.Tourist board representative on ship at every port to help you plan your time ashore
5.Fabulous cuisine and variety that a river cruise ship simply can't provide
6.All inclusive package with boutique wine and spirits 24 hours a day
7.A fun, relaxed and very happy atmosphere with only 600 guests
Posted by
Alex