Is river cruising a suitable holiday for someone who can't walk quickly or particularly far?
Is river cruising suitable for someone who finds walking a struggle?
Is river cruising a good holiday choice for a person who needs assistance with walking?
If I can't walk well, will I enjoy a river cruise?
If stairs are a struggle will a river cruise be right for me?
These are questions we get asked frequently and the short answer is it can be, as long as you pick the right river cruise for you and your requirements. We assist customers every week with making these choices and we promise you that if a river cruise isn't the right choice we are honest and we will tell you.
When a river cruise will not be for you
I am sorry to say that if you are a permanent wheelchair user, our experience through countless attempts to try, is that it isn't usually possible.  There are issues of use on board and space requirements but the bottom line is that ships can often be moored side by side.  In this instance, it means that customers may have to go up and over other ships to get off to the quayside.
Ocean cruising ships are much better at providing a holiday you will enjoy if you are a permanent wheelchair user.
So, let's look at the options available.
For this comparison, the type of river cruise available in Europe falls into two categories.  I'll also follow this up with some actual examples of our customers who are not great walkers who have enjoyed river cruising.  Hopefully, this will give you a good insight into what can be done and what can't.
Option 1: The first grouping is river cruises with included excursions in the price. 
Viking River Cruises are a company who offer river cruises with daily included excursions which you may have heard of.  With a company like Viking their brochure will show the included excursions they provide so you can have a good look at the itinerary and it will usually, but not always,  give you enough information to show you how each excursion will work.  Things you need to consider are:
If it is a walking tour with a local guide, then check if it is a half day or a full day.
Are you walking from the quayside into the town or are you being taken by coach?
Is there free time included in the excursion?
Is the excursion a visit to a museum or monument?  How much walking will be involved?  Are there steps involved?
Is there a walking tour in the morning and then another in the afternoon?
Is there time on board ship to relax after a tour in the morning?
Are there any days free to get your breath back?
Would I be able to take a walking aid if required on these excursions?
Does the brochure state that there is a slow walkers option available?
The must-see sights on the river or on the tours – are they up a hill?
How would you feel if you were unable to get to the highlight of the trip for you?
Are there evening excursions included that might feature concerts which will allow you to see the inside of beautiful buildings rather than having to just walk or drive past them?
If you are the sort of person that is going on a river cruise to see lots of places and to visit them through an organised excursion – a faster paced river cruise holiday – then you need to think very carefully about your walking abilities and your ability to get on and off coaches.
Your river cruise ship will moor at a stopping off point, rather than right next to an attraction.  That day's visit maybe even an hour or more away from where the ship stops.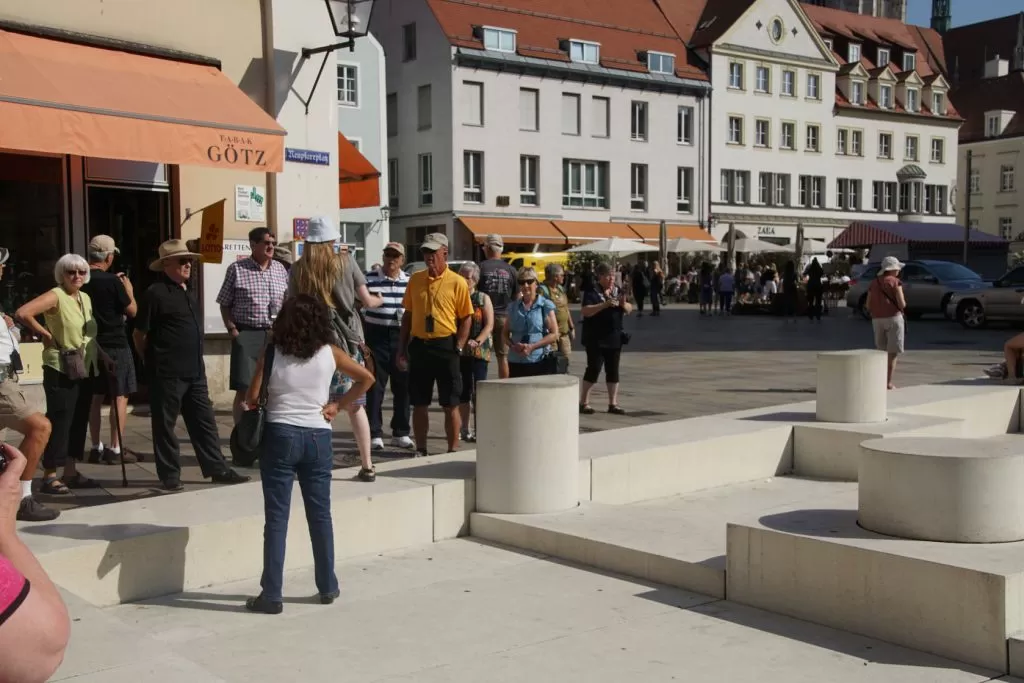 Regensburg, Germany – tour group at the holocaust memorial[/caption]
How fast would you ideally like to walk?
How long can you walk for?
Would you be able to keep up with a large group or would a smaller group be better?
Would you walk for 10 minutes and then want to rest?
Could you walk about for up to 2 hours on day one, but not on day two?
Does the idea of walking around cobbled streets sound appealing or potentially hazardous?
Do you have a walking frame that you would like to use?  Can it be carried on a coach?
Have you heard of "Slow walkers groups"? These are offered by some river cruise operators such as Amawaterways as part of a river cruise with excursions.  They are not offered on every tour.  Some tours are not designed for slow or short walking tours.  If you feel you may need slow walking tours, then you need to check how many are offered on each itinerary.
There are no river cruises that offer every tour with a slow walking option.  Your Tour Manager on your ship will do their best to accommodate less able passengers but on this style of river cruise it maybe that you will need to stay on board the ship on a particular day if the walking tour is not for you.
Tour can even be organised with the little land trains to take you to the museum/excursion rather than a coach.  I've seen this done by Uniworld on their Castles of the Rhine itinerary to the Siegfried Mechanical Museum.  And also by other operators on French cruises.
Do however remember that there will be others like you on board your river cruise, so you will not be alone and you certainly won't stand out.  So, if you and your companion/partner/spouse are just being a bit slow it should certainly not put you off visiting some of the world's great rivers.
I think at this point it would be helpful to share a real life example of one of our less able walking customers who go on river cruises who can vouch for them being a fantastic holiday for them on board a floating hotel.
The customer in question is in her eighties and still has a strong desire to travel. We know what sort of river cruise she and her husband and her sister in law like – France or Portugal for a more relaxed pace and the warm weather. We organise their airport assistance and make sure that she is taken to the gate of the airplane and sat at the front of the cabin for ease of embarking and disembarking.  Once on board the ship she enjoys relaxing in the public areas and the dining room or she chooses to stay on the veranda of her stateroom.  The ship has a lift and a cabin near the front of the middle deck means less distance to walk to the restaurant or to get off the ship.
A choice of excursions each day helps her choose the area she hasn't been to before and also the type of travel.  A wine excursion to a vineyard means a short coach journey and then the ability to sit down whilst a wine tasting is done.  She'll miss out the walking tour of Arles and simply find a cafe near the bus drop off point.  She very much enjoys meeting the other people on the cruise and she and her husband have made many new friends from across the world this way.
The higher end luxury cruises offer that bit more luxury on board if she decides to stay on the sundeck rather than do a long excursion and she feels that she deserves it.  They also offer smaller touring groups so less people per group and therefore are more likely to go at the pace of the slowest member.  There are also more staff around to help with any questions and special requirements.  It makes the holiday simple and pleasurable and relaxing.
We do have a few customers with motorised, collapsible scooters who are able to take them on a river cruise. We organise the carriage with the airline and make sure that the scooter can fit in the river cruise cabin folded.  Some cabins on river ships have been adapted to have wider doors and hand rails.  Word of warning though, the scooter can't be used on board and you will need to manage it yourselves.
Collapsible wheelchair users. If a customer has a carer with them who is able to push the wheelchair on excursions then this can be a solution but cannot be guaranteed. River cruise lines cannot commit to having staff to help push a wheelchair.  One river cruise line actually keeps wheelchairs on board for customers to use on excursions on some ships.
However, they can't commit to you being able to use it in case there are more potential users than wheelchairs available.  The general rule of thumb is that a customer does need to be able to get on and off coaches but could use an agreed portable wheelchair where walking any distance is not possible on certain river cruise companies and ships.
Option 2: My second grouping is "European river cruises without pre-bought excursions". 
Yes – you can get river cruises which don't include excursions and in a lot of ways these are my favourite.  It allows customers to travel the same stretch of river but not need to go back to the same church or town they saw last time or it even allows them to do something different in that place.  Or it allows you to travel a river without having to see said church or town at all.
If you'd rather go shopping in Budapest than go to the Parliament building, then why not?  If you'd rather just find a cafe and people watch, then why not?  This style of river cruising is more akin to more mainstream ocean cruising as it is flexible and less hectic.  If you'd rather not or are not able to do a city walking tour, why not get the front desk to book you a private taxi and let the taxi driver take you on a tour instead?  Find a friend and split the cost between you.  You don't have to go on the coach with the 150 others on board, you can do your own thing.
But if that all sounds a bit too much for your first river cruise, then there are excursions provided and these can be bought on the ship itself, but you can make that choice dependent on how you feel on the day.  Did enough walking yesterday?  Then stay on board today and relax by the pool or read a book.  That way you don't feel you have to go as "you've paid for it".  It feels more of a relaxed holiday than some of the river cruises on offer.  Do remember that a lot of the English speaking river cruise companies in Europe are intended as a quick way for North American and Australian tourists to see as much of Europe as possible in a short space of time.  If you are from the UK, the chances are you may have already seen some of the sights or you can come again at a later date and do a city break perhaps.
This second grouping is how the Europeans do river cruising.  They will use the stop on the river to explore on their own. They will choose from a menu of excursions in different places and then buy one by one, the ones they are most interested in.  You have a floating hotel with all the usual amenities but you also may have all your drinks included in the package, so you can relax on board all day without working up a tab.  And you still get to socialise at meal times.
So, back to the walking side of things.  If you are able to choose your excursions, you only then buy the ones you know work for you and your partner/friends.  You don't all need to go on the same excursion.  You can plan your free time, maybe visit a museum or restaurant.  Or you can go with everyone else on the excursion.  You choose.  This will sound a more familiar way of doing things to some ocean cruisers.
So who does this type of cruise suit?  Well, you wouldn't be out of place if you decided to stay most days on board enjoying the view.  You still have meals on the ship so plenty of time to socialise and meet fellow passengers when everyone is back together.  Cruise companies such as Croisi Europe and Amadeus have ships on all the major rivers so you can still choose to see all the places you wanted to visit.  And if this style of cruising suits you, you can do it again next time.
So, in summary, there are lots of different river cruise experiences to choose from so don't be put off trying it if walking or climbing stairs is an issue.  Just be wise to how much you can and want to do and we will be able to advise you further as we cover them all.
Posted by
Alex