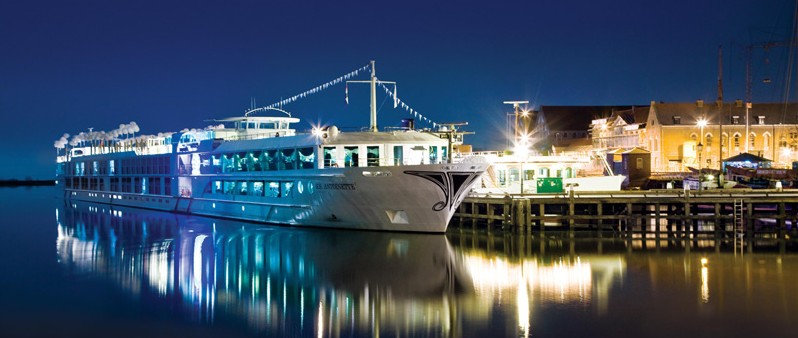 I have just been lucky enough to spend 7 nights on board the Uniworld SS Antoinette.   We sailed the River Rhine on their Castles along The Rhine Itinerary in November 2012.
On landing at Basel I had a slight wobble when faced with whether to enter Switzerland at passport control or France or Germany.  I plumped for Switzerland which proved to be correct as a smiling Uniworld representative was there to greet me.  She then explained that we were diverted from Basel to Breisach as the water was too high for the ship to enter Basel.  It couldn't get under the bridge as it had been raining for 2 days constantly on top of already high water levels for November.   Rather than a 10 minute transfer from the airport it was 45 minutes.  As this was to be our first port of call on day 2 this wasn't a problem.  We drove through a dark and rainy Rhineland until we saw the neon blue lights of the SS Antoinette glowing next to the quay.
The SS Antoinette may be small compared to ocean ship standards but it is 135m long which for a river ship is enormous.  We were welcomed on board by the Cruise Manager, Hotel Manager and the Captain with warm hand towels, a warm drink and information on checking in at reception with our passport.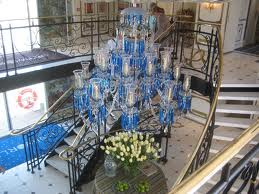 Your first impressions of the SS Antoinette's interior is of the enormous statement Baccarat antique chandler handing in the two storey atrium as you step on board.  That gets a conversation going that the staff must have had a thousand times about where it came from but their smiles and replies are enthusiastic from the Captain to the Cabin Steward so you feel like you are the first to ask.
Cabins on the SS Antoinette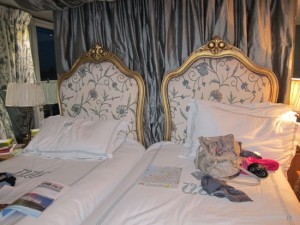 My cabin 307 is a cat 2 cabin on the middle, La Duchesse deck with a french window.  The French window is a very high tech design as rather than the usual french doors and metal  restraints blocking the view, with the push of a button you can open the full width window and it lowers horizontally to half the height of the room.  It is a very clever design and allows you to have an uninterrupted view of the scenery whether up or down.  The cabins on the upper deck have a balcony that when the window, again at the push of a button,  is up creates a fully enclosed conservatory with a table and two chairs and a flat screen tv (in addition to the flat screen tv – a nice discrete size) in the room.  The balcony is a lovely seating area. Although it takes space from the cabin if you want to feel that you are sitting in the scenery as you are docked or sailing along it is a lovely feature.  This is an exclusive Uniworld design.
There were plug sockets, six in total with both European, American and English settings so don't worry if you forget your adaptor.  The bathroom was marble and mirrors, more mirrors than I have in my house and you can see yourself from every angle.  Lovely L'Occatane products are actually in dispensers next to the sink and in the shower.  Whenever I used the shower, either morning or night there was always hot water I am very pleased to say.
Unpacking was easy due to the amount of draw and cupboard space.  My large suitcase then fitted easily under the bed and was then covered by the valance until needed again in 7 days time.
It was then off to the Salon du Grand Trianon for the 6pm Welcome and safety briefing.  The briefing was finished by Woulter the cruise manager who presented us with an overview of the week, a very useful document which showed exact timings for visits, sailings, tour bookings and daytime activities.
Our First Dining Experience on the SS Antoinette
7pm and it was off to the Restaurant de Versailles where it was open seating tables from 2 up to 12 settings and we selected from our dinner menu an appetizer, soup and entree.  Each course has a vegetarian option and you are free to add from that menu completely or whichever course you like.  I was trying to pace myself for the week so chose a cocktail of orange and grapefruit in sherry mint syrup, then vegetable consomme and then grilled fillet of butter fish served with peperonata, hotchpotatch and crispy fennel.  The fish was cooked to perfection. I skipped the creme patisserie tart as I was being good.  All washed down with extremely free flowing house wines selected from the region.
We returned to the Salon du Trianon and found the resident singer and pianist duo Greg & Margaret singing well known songs but this was as far as the entertainment went on the first night as they could tell everyone was tired from travelling, especially those from north america who had flown in that day.  Some of the group found the Leopard Bar which was on the top deck which was a little like a gentleman's club, complete with extremely handsome wooden leopard sculpture.  Antonia from Portugal was preparing the drinks and still smiling away at gone 11pm at which point we bid her goodnight and retired.
Alex Leete,Global River Cruising
SS Antoinette
November 2012
Posted by
Alex