A foggy start to the morning awaited us and after breakfast on the SS Antoinette at quay in Kehl, our stopping off point for Strasbourg, (one of the Rhine's less picturesque moorings from what we could see through the fog) we set off from the SS Antoinette by coach to the capital of the Alsace region, Strasbourg.  We then transferred with our guide to a smaller canal vessel for a trip along Strasbourg's waterways to finish in the heart of "downtown", that's city center to the Brits among us.
Visiting Strasbourg on the SS Antoinette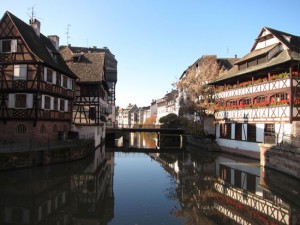 Strasbourg is best seen from a canal cruise and is a surprisingly pretty place with a chequered history having been conquered and annexed several times.  The trip starts from the modern European parliament buildings and then through beautiful 18th and 19th century houses, which according to our guide Gizelle you would need a few million euros now to own and arrives in "Petit France" its wooden houses being the centre of the city.  The sun came out early on and we experienced the best of touring at this time of year, no crowds and pavement cafes to linger over.  The  SS Antoinette Cruise Manager Woulter had arranged a number of shuttle buses back to the SS Antoinette throughout the afternoon so those that wanted lunch on board could go back at 12pm but those who wanted to explore more could return at either 2.30pm, 3.30pm or 4.30pm.  Several of the group were delayed by a French farmers protest which blocked the road with over 100 tractors!  We also decided to stay in Strasbourg rather than go onto the optional "Black Forest" excursion in the afternoon.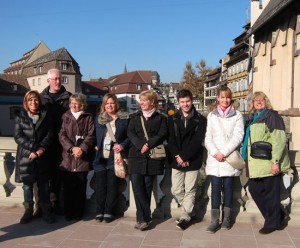 Back in our cabin we decided to try the Uniworld multi-media system and just relax.  One of our group had booked a massage and went for a swim in the pool on the SS Antoinette. I imagined how lovely it would be in summer with the glass doors open onto the river, bathing with drink in hand, music playing and even a few of the waves from the resistance machine.  However, the weather was cold today, so I gave it a miss and instead watched a movie!  There was a huge selection of blockbusters to suit all tastes and new releases as well.  For those that wanted to learn a bit more history, Uniworld has its own collection of informative videos for each location.
A quick change and freshen up and it's 6.45pm and we were now into the routine of a port talk by Cruise Manager Woulter to update us on arrangements for tomorrow.  Then 7pm dinner and making a b-line for our favourite waiter's serving area to sit in. Today's highlight for me was the Roasted Rack of Aveyron lamb served with honey-thyme jus, grilled tomato, ratatouille and potato gratin. Delicious.
Tonight saw the first on shore entertainers come aboard, a singer and pianist.  We then went to the Leopard Bar and made as much noise as we liked over cocktails.  We set sail for Germersheim at 10.30pm which gave us a chance to watch the world go by from our ship top perch in Leopard Bar.
Alex Leete, Global River Cruising
SS Antoinette
November 2012
Posted by
Alex