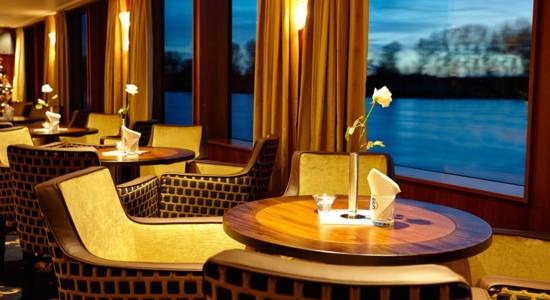 The Lord Byron moved to a new home in the South of France.  She sails the beautiful Rivers Rhone and Saone from Lyon to Avignon.
——————————————————————————————————————–
Well I'm now back in England and reminiscing about my time on the MS Lord Byron. I thought I'd take the opportunity of a bit of quiet time to write a short review about my visit to Germany and the River Rhine.  This was the first time that I had been on the Lord Byron and, even though I knew she was good, was very pleasantly surprised by my experience.  There's nothing quite like seeing something first hand!
I'll try to keep the review brief but cover the most important aspects of the ship – if you'd like to know more please give us a call and we'd be happy to help.
MS Lord Byron Cabins & Suites Review
Deluxe Suite
I had one of the Deluxe Suites on the upper deck, so will start this part of the review with that. At 242 sq.ft. it very spacious and provided fantastic river views through the floor to ceiling glass windows and plenty of fresh air – fresh being the appropriate word in November!
There was plenty of storage with a good wardrobe, lots of drawer space and room under the beds for cases and bags.
The bathroom was really quite large with double sinks, a loo and large glass shower enclosure with a really good shower.  It was well stocked with toiletries and towels and had a very nice feel to it.
Suites
Suites are available on each deck and at 199 sq.ft. are almost 25% larger than the standard cabins.  The bed is also angled towards the window to provide a better view of the passing scenery.  As with the Standard cabins, those on the middle and upper deck have the French Balcony.
French Balcony Cabins
Cabins on the middle and upper decks are 161 sq.ft. in size and have French Balconies that let in plenty of light and air.  These cabins form the bulk of the accommodation on the MS Lord Byron and are a very pleasant place to spend your cruise.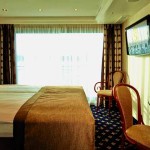 Lower Deck Cabins
Cabins on the lower deck are the same size as those on the middle and upper decks and have all the same amenities.  As with other river cruise ships the main difference is windows, these are smaller, fixed windows higher up in the cabin.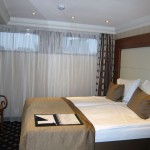 One nice thing about these cabins is that Riviera Travel offer a number of them to single travellers without a supplement – but they do sell out very quickly!
MS Lord Byron Public Areas Review
The public areas of the ship have a mix of classic charm and modern sleek lines with plenty of dark wood, glass and chrome.  The use of rich fabrics in the upholstery also brings the rooms to life.
The large vaulted lobby welcomes you onto the ship and provides access to the Restaurant and lounge.  A collection of smaller and larger tables around the restaurant and lounge gives plenty of choice.  A lift services the middle and upper accommodation decks but not the lower, Emerald, Deck or Sun Deck.
There is also a wellness area on board featuring a sauna, steam room, shower and relaxation area, which is free for passengers to use.
Dining Review
Riviera cater exclusively for British passengers so cuisine tends to be more towards our tastes. Breakfast was a buffet, with a wide selection of continental and British favourites.  Unusually, Riviera also provide continental breakfasts in your cabin should you prefer. Lunch is primarily buffet service, although there is a served option should you prefer.
Dinner is certainly the main event as far as food is concerned with a good choice of dishes in each course.  I have to say I found the dining on board to be of a really excellent level.  Passengers can also treat themselves to a 'private dining' experience in the Chef's Restaurant'.  There is no additional charge for this but be quick, as catering for only 24 diners, it does fill up quickly.
One area that Rivera Travel river cruises differs from many others at this level is that they do not include wine with lunch or dinner.  This is available from the bar and prices seemed pretty reasonable – around €20 for a bottle of wine.
Our Verdict – Highly Recommended
I really liked this Lord Byron, accommodation and service was of a very high standard and the staff were friendly and efficient.  Riviera Travel river cruises certainly offer excellent value and I would find it difficult to find anything of a similar quality at anything near the price.
Posted by
Simeon