We woke up today to find the SS Antoinette still cruising to Germersheim, the stopping off point for Speyer.  There was also a signiture lecture this morning, nice and early at 8.30am entitled "The European City from the Middle Ages to "Modern Times" by Sven Matthiesen.
Visiting Speyer from the SS Antoinette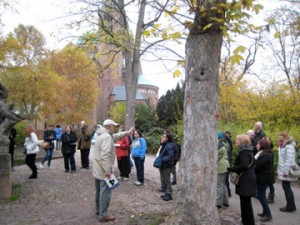 A 20 minute bus transfer away, Speyer is home to Europe's largest Romanesque building, Speyer Dom (cathedral). With its six spires it took over 30 years to complete.  We learnt that as the Romanesque style is plain this time was nothing compared to Strasbourg, which as it is in the gothic style took over 600 years! Three Holy Roman Emperors are buried in the crypt and it appears that each son was trying to out-do the other in the redesigns according to our best guide yet, Tomas (seen here with his number 4 paddle).  As a German speaking English he could speak as an English person would, using a turn of phrase, philosophy and an understanding of the sense of humour that only someone who had lived in Britain you'd think would have.  We also visited the ancient Jewish area and sacred bath which is still in use today.  Uniworld provide a "Gentle Walking Tour" option for Speyer where the guide follows a slower pace but still does 70-80% of the tour.  The gentle option was ticket 5.  Each excursion we were asked to pick a card from reception with a number on it.  That then related to our bus and to our guide.  It worked really well and meant groups were of even numbers.  Each guide had a "lollypop" with the group number on that they held aloft and we all wandered towards them so we could re-tune our devices to their commentary.
We had free time for cafe and kuchen and then returned to the ship for the hot buffet lunch.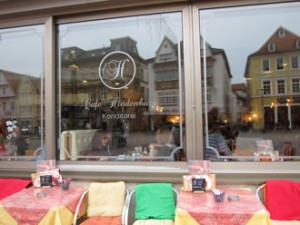 Cycling Down The Rhine!
As the SS Antoinette was moored next to a cycle path than ran the length of the Rhine a group of eight of us decided to try the complementary bicycles.  You just ask at the front desk and a bike is brought down for you and adjusted quayside.  I reckon we cycled about 5 km and I was very glad to get back to afternoon tea and cakes in the Salon du Grand Trianon.  Other passengers had gone on the optional afternoon excursion to Heidelberg.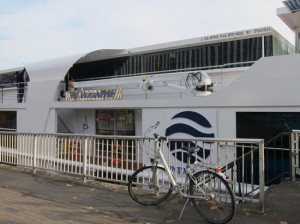 (rather a dull picture I'm afraid but the ones of us – in motion – came out blurred of course!)
Private Dining on the SS Antoinette
This evening we took up the invitation for the Private Dining Experience in L'Orangerie.  At no additional charge this is on a first come, first served basis by signing up at the front desk – there are announcements during the day.  It is a more intimate experience with the suite butlers waiting on you and the chef cooking the food in full view of the diners.  A tip for deciding which night you try is to find out what is being served in the main restaurant that night.  We had a lovely meal, but our colleagues who stayed in the Restaurant de Versailles had Confit of duck which is one of my favourites so I was a little disappointed to have missed it.  However, the Tiramisu – of which I am not a great fan – was fantastic.  Well done to the chef for using the Asbach Uralt German whiskey of the region.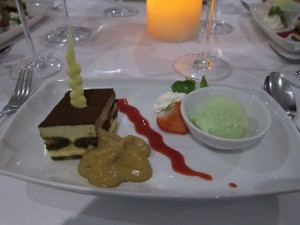 Alex Leete
Global River Cruising
SS Antoinette, November 2012
Posted by
Alex