Is there actually a dress code on a river cruise and what should I pack? These are questions we hear from potential first time river cruisers. The river cruise brochures show pictures of happy river cruise customers who all look so confident in their specially selected river cruise attire – straight out of a photo shoot of course. It can make people in the UK who are used to the average greyness of the British year a bit nervous that they are going to get it wrong. Or another question is if they have experienced a particular type of ocean cruise, that they could need a big list of outfits for the various evening events.
There are of course shops where you are going, but that's not the point. You want to get on with enjoying yourself, not worrying whether you've forgotten something important. The following information has helped a lot of our customers and we hope it will help you to.
What to wear at dinner on a river cruise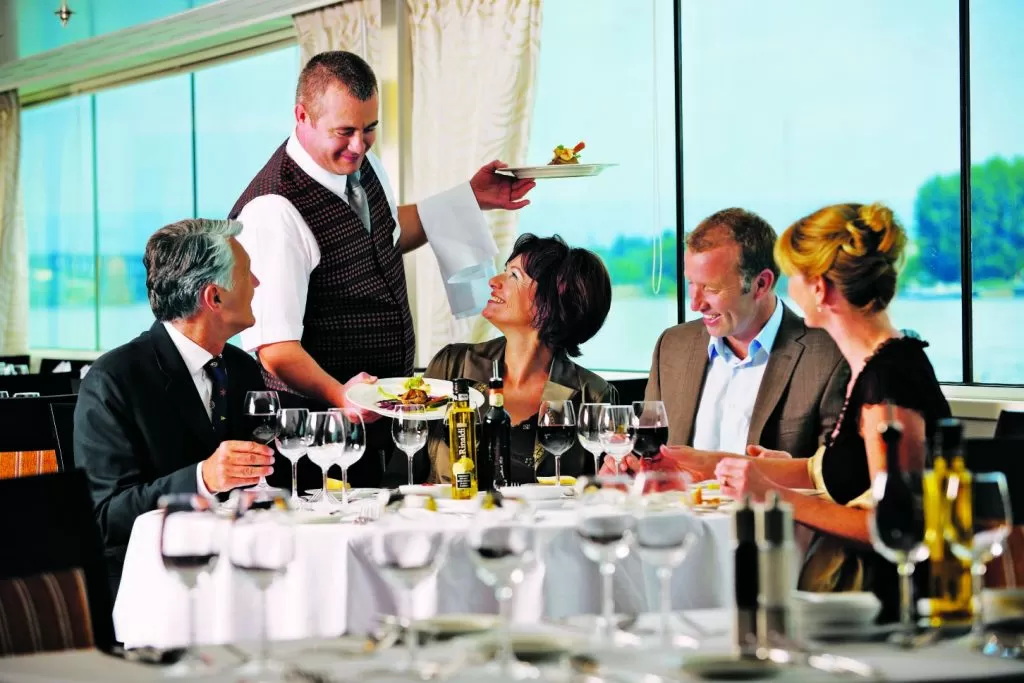 The picture above, though a little staged does show how I would describe a captain's dinner or welcome dinner. The people above are dressed as they would be to go to a restaurant. A shirt for the men, perhaps a tie if you feel more comfortable like that than just an open collar. A dress or a blouse and skirt, or top and trousers for the ladies. However, there isn't a door man who is going to ask you to change if he doesn't like what you are wearing. On hotter cruises, especially in Portugal or the Mekong smart shorts for a lady or a man are not a problem. But looking like you've just come off the beach will draw looks from fellow passengers. Lunch and normal dinners are casual and fine to wear jeans or similar. If you are dining al fresco, that again tends to be casual. If you go to a private dining experience or book the non main restaurant, it would be more in keeping to be smart casual. Most passengers like to make a bit more of an effort for an evening meal, as it makes them feel like they are on holiday and that dinner is that bit more special. But it doesn't have to be every night. Once you have experienced a river cruise you will soon get the hang of it.
River cruises are not stuffy affairs with fixed seating and dining at the captains table only for those that cut the mustard or who are on their 8th river cruise. They are relaxed, social holidays where around 150 people to a ship means that you will get to say hello each day to many of your fellow passengers. There is no order to which people get allocated to tour groups or given seating. If a customer has paid for a suite, then there may well be additional services that they are getting, but they are mostly be to do with in-room (butler) service. It is different to some types of ocean cruise which allow you to pre-book many options such as dining times in specific restaurants. Amawaterways can offer some pre-bookable excursions through an online customer system, but this varies by itinerary.
There could be other passengers on your river cruise who have loyalty status with that operator due to multiple cruises with them. Again, that usually involves a welcome drink, onboard credit, perhaps a room upgrade. But they won't be able to usurp you at dinner or take your place on a tour. We will explain any additional extras that may be available so you can make any required choices in plenty of time.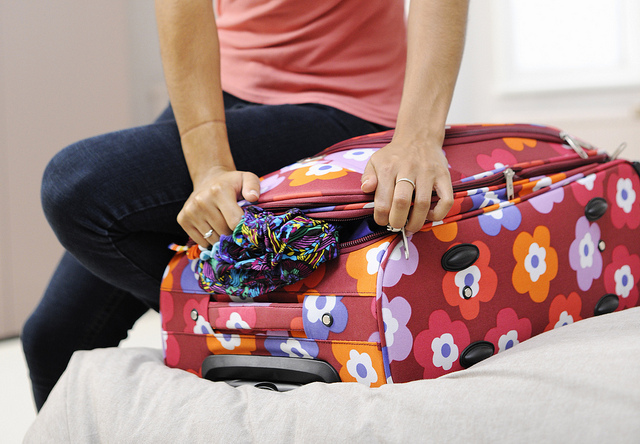 How much luggage can I take on a river cruise?
It is worth remembering that with most river cruises you are allowed one piece of luggage which is large suitcase size. It will depend on your airline/tour operator as to exact dimensions and weights, but usually around 20kg is allowed if the bag is going in the hold. But in practical terms it is best to make sure it is a case that can usually fit under the bed in your cabin. And remember that if there are two of you, then two suitcases need to be properly stowed in your cabin. If you had anymore, there would simply be now where to put them. With more and more of us using budget airlines like Ryanair, we are getting more used to packing light anyway. We will know which airline you are going to be flying with before you book your cruise, so we can talk about this in detail before you book.
So, here in practice are the things to actually put in your suitcase.
1. Smart-casual clothes for evenings
River cruises have one or two smarter evening meals on a 7 night cruise. This is a chance to be a bit more dressed up but only what you would normally wear to a night out at a restaurant. Dinner jackets and cocktail dresses are not required.
2. Flat shoes for walking
Walking tours tend to be offered in most towns and cities that are offered for sightseeing on a river cruise. So a really comfortable pair of shoes that will see you right for a couple of hours of walking slowly and pottering per day would be best. River ships often have walking tracks and small golf ranges on the upper deck. If you were wanting to do a few circuits, then a pair of trainers would be good. If you are also thinking of taking out one of the complementary bicycles, then a shoe with grip would be best.
3. Adaptors for British electrical appliances
Most plug sockets on river cruise ships will be the two pinned European type. However, if you are river cruising in the United States or South East Asia then the American two-pin will be used.
4. Take clothing layers

The best place to see the river is from the open-air top deck of the ship. This can mean being outside first thing in the morning or even in the evening. Even if you are going on a river cruise outside the summer's hottest months, you won't want to miss out on the views that you have come all that way to see. Plan for being on a ship's top deck for at least a couple of hours without getting either too cold or too much exposure to the sun.
If a big coat is going to mean you will get too hot when walking about, perhaps a gillet might be better.
A sun hat is essential during the summer months.
If you are susceptible to insect bites, then make sure to take longer trousers and a light cardigan/shirt for the evenings and also insect repellent.
5. Take hand wash for clothes

Some ships, such as the SS Antoinette do have self washing facilities such as washing machines but not many. All will offer laundry services which are chargeable at similar prices to a hotel. If you are on a ship which doesn't have self wash facilities it is much cheaper to take a small bottle of hand washing solution so that you can wash out any smaller garments or stains. Especially if you are going for longer than a week's cruise
6. Don't forget your phone charger, your ipad charger, your kindle charger, your camera battery charger
You can buy travel chargers and USB chargers for under £10 just for this purpose. If you are using your phone and tablet for photos and perhaps navigation if you are exploring on your own, then the battery life will be limited and you may need to charge more than once a day.

If you forget these, it will be very difficult to borrow one off a fellow passenger as they will be jealously guarding their battery life too!
7. Ear plugs

River cruise ships often need to travel at night. If you are sensitive to noise, then the sounds of your ship going through locks may disturb you. Also, fellow travellers cabin toilets can also be heard to be flushed on some vessels. Again if you think you might be disturbed, then do take ear plugs as a precaution.
8. Swimming costume

Has your ship got a plunge pool or an actual swimming pool? After eating a lot of food on your river cruise in a short space of time you will feel like a little exercise or may well be persuaded to try the pool. Some ships also have spa facilities which you may be tempted to try.
9. A small over the shoulder bag or rucksack

Perfect to be able to carry money, camera/phone and your electronic tour guide which is a small box. Once you have finished your tour, you need to have somewhere to put the gadget and headphones.
10. Small denomination notes in the local currency

There is nothing worse than not being able to tip the local guide as you simply haven't got any change. Or be able to buy a coffee as you need to find a cash machine. River cruise ships don't have bureau de changes so having the right money before you start takes a lot of hassle out of your trip. If you would like to know more about tipping then we have a blog post that covers that, how to tip on river cruises.
Alex
Posted by
Alex