First time river cruisers might feel that perhaps they need to pay the extra for a sit out balcony, an open air space to sit in by opening the glass door from their cabin, sometimes called a veranda. But the bigger space usually comes with a bigger price tag.
As someone who has sold river cruises for many years and has many happy repeat clients working with lots of different holiday budgets, I'm going to stick my neck out and say I don't think it matters that much. Choosing a French balcony over a veranda on a European river cruise ship, is certainly not second best.
Sitting on your own veranda on an ocean ship can seem like an oasis of calm, somewhere to escape to during the down times of days at sea.
Downtimes on river cruises during the day are few. You wake up in the morning and then go to breakfast. If the weather is ok, then you could take a coffee on your veranda. Or you could open your French windows and look out with the coffee in hand instead.
But now it's time to leave the ship, small bag in hand for the day's exploring. You won't see your veranda again for the rest of the day. Or, the weather is so nice, you are heading up to the top deck, book in hand to take advantage of one of the sun loungers or the marble pool or to meet some fellow guests for a chat over a coffee under a parasol. Or after a day's exploring, then you might still want to go to the top deck, Aperol in hand? Do you see where I am going with this?
By far the best place to watch the view of the river bank is on the top deck which gives you a 360 degree panoramic view which you can never get from your stateroom, even if you have the biggest one on the ship.
Let me try and explain why I believe some of the best French balcony stateroom options, offer just as much as a veranda on the central European rivers. Where does the term French balcony come from? Is it pretending to offer something that it is not. Wikipedia simply offers the phrase a "false balcony" which is true if a little harsh.
Why do river ship staterooms have French balconies?
Simple fact, river ships can only be a certain size in width and height, being limited by the height of the bridges and length and width of the locks. So the river cruise operators are restricted, they can't go out and they can't go tall. Which means cabins with verandas have to use the available space for a seating area outside from space within the cabin. Unless you have best suite in which case you will usually be at the front or back so able to have a walk out veranda
Viking River Cruises have small French Balconies on their Longships Viking River Cruises have decided to sell the French balcony short and all hail the veranda. Give them their due, they've been selling river cruises for a while now and know they can get their customers to pay for the veranda.
The Viking Longships have the small French balcony cabins on the rivers in their modern fleet. At 135 sq ft, your cabin, it could be argued, has been compromised by a veranda. And it's not yours, but the guy over the corridor who has taken the other 40 sq ft from your cabin! But then he's paid for it.
Uniworld – French Balconies go for elegance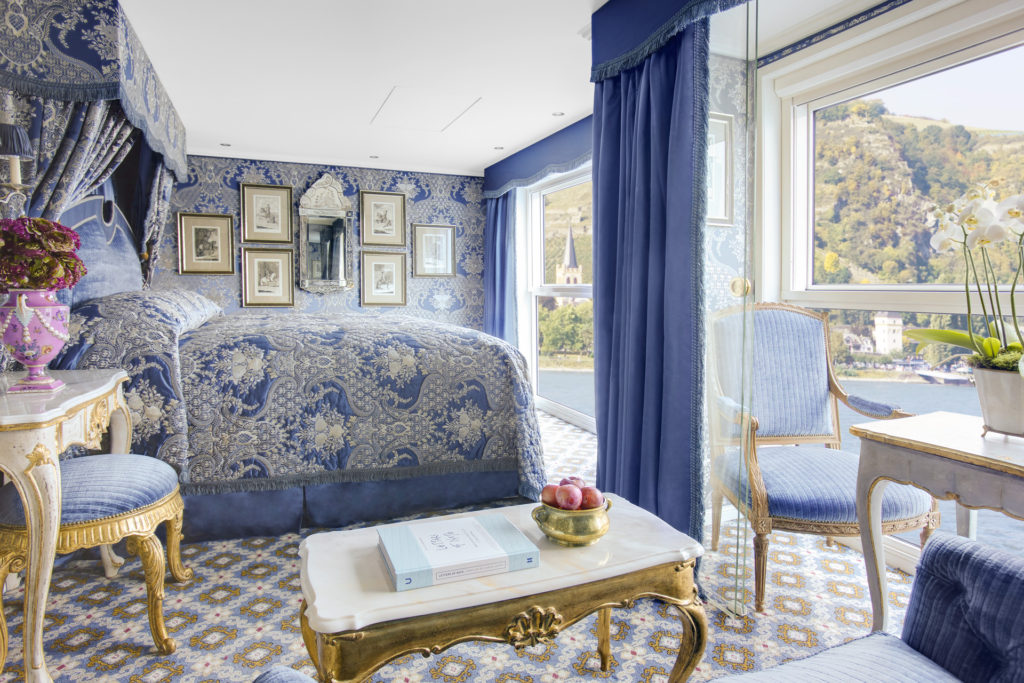 The exterior of a river cruise ship simply looks more elegant with French balconies. Verandas can give the appearance of a Canary Island waterfront covered in flats (apartments). Uniworld however, I have to take my hat off to, they have realised it and have enclosed their verandas in electronically removable glass, keeping the lines of the ship sleek and clean. The SS Antoinette, SS Catherine and the SS Maria Theresa, all have this design. Shape and form do matter and the boutique river cruise line have taken this into consideration. However, an insiders tip, the French balcony stateroom, with its electronic window which glides away so beautifully, is the same size – 196 sq ft – as the veranda cabin on the upper deck. So the veranda itself which is wide enough for a sideways chair has taken the space off your cabin. For more interior space, the category 2 is a good choice.
No verandas on Tauck, Avalon or Riviera
Tauck River Cruises MS Savor Cat 7 Stateroom The lovely people at family owned Tauck have created their inspiration class ships, the MS Savor and MS Inspire with no verandas at all. Tauck have said completely and utterly no to their brand new ships having verandas. A brave move for one of the world's best travel companies you might say. Designed in partnership with Scylla, their long term ship operating partner, these beautiful ships contain more suites than other ships at the luxury end of the market, so huge cabins with ample room for a veranda you might think. But no. My beautiful category 5, 225 sq ft, stateroom on the MS Savor, with its wonderfully comfy bed, Nespresso machine, separate seating area and a gorgeous Molton Brown smell had no veranda and was much bigger for it. Let me just mention that we are Tauck certified agents as I passed my exam, (but that's a whole other blog piece).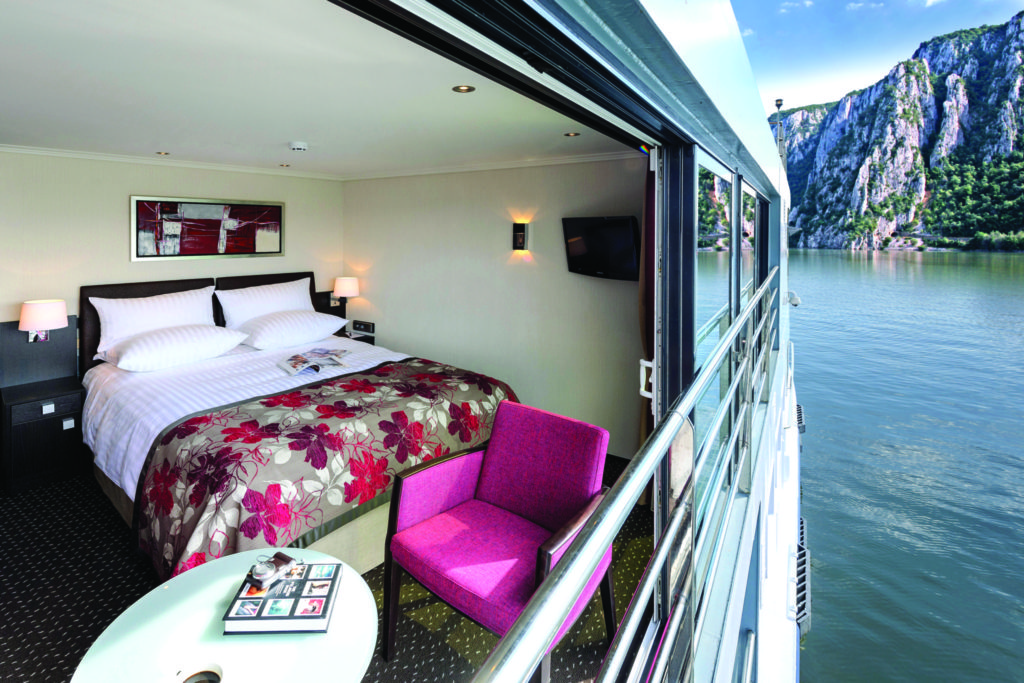 Another operator who is launching more and more suite ships is Avalon. Most staterooms are now over 200 sq ft, with an extra wide, 11ft French balcony. The flat glass which covers the entire wall is fantastic for making you feel like you are part of your surroundings. It feels like you are outside even in the cooler months when you are less likely to have the window open.
One of the best inventions of the last few years has been the completely disappearing French balcony glass. So, although the Riviera ships, the William Shakespeare and Charles Dickens, which do various itineraries on the Rhine and Danube, do have four deluxe suites with outside space – and you have to be booking a year in advance to get one any time during May-September – everyone else on the middle and upper deck gets a glass wall that opens to the world and saves themselves a few quid in the bargain.
Still can't decide between a French Balcony or Veranda?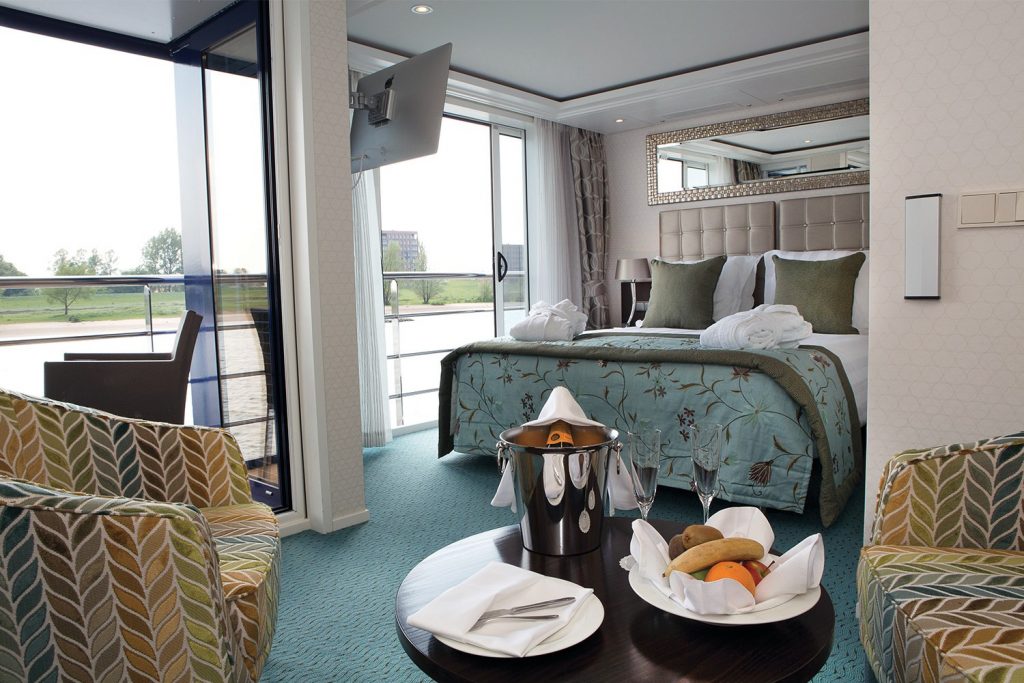 Which brings us finally to AmaWaterways. Berlitz rated them again in 2019 as having the best fleet on the European rivers and their new Concerto class ships really are stunning. These ships have middle deck French balcony cabins at 170 sq ft, with disappearing, sliding glass doors opening the whole cabin up to the river. All categories above this feature the AmaWaterways Twin Balcony concept with both a French balcony and a veranda.
If you really can't make your mind up, then this would be perfect! 🙂
Speak to an expert travel planner
Speak to an expert travel planner
Simeon knows every cabin and every ship on every river and is very happy to help you make the right choice.
Posted by
Alex