If you are not sure whether a river cruise is right for you, rest assured you are not alone.
It is a lot of money to spend on a holiday and if you are not sure, it is much easier to do nothing.
As a river cruising travel agent, we get a lot of people like yourself who ask us for a brochure and then we don't hear from again. They still are not sure whether a river cruise holiday is something they will enjoy.
Where does the enthusiasm go and when do the nerves set in? Or there are other reasons which mean what seemed like a good idea is now not so urgent. Did life get in the way?
So, thinking of the main objections that people have and nerves about trying it for the first time, let's see if we can put them to rest. We'd like to make it happen for you.
1.Why can't I fly from my local airport?
The main reason is probably that there just aren't any direct flights or they simply don't go on the right days. River cruise destinations in Europe tend to be starting from great capitals like Budapest or Vienna and from a smallish local airport these flights won't exist or won't be on the right days. But if your local airport has flights with low cost carriers like Easyjet or Jet2, then we look at flights first and then which rivers work well, second.
2. I don't want to fly, I'd rather go by train.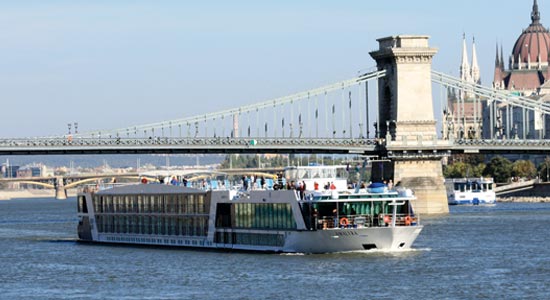 Trains are a great way to avoid the airport security restrictions or if you have a fear of flying. London is a great hub to get to and travel by Eurostar. It is then easy to get to Brussels or take a longer train south through France. Journeys can however take a lot longer than a flight and it is worth considering this when making your decision.
3. I am a single traveller and the supplements do seem high

River cruise ships are small and hold between roughly 100-190 people. We can be very politically correct about this and say that you get the space for two people. Most operators will look at 50% supplements over and above the twin passenger price.
Our Advice: If the price of the supplement has put you off, then we do know other operators who charge far, far less than 50% and would be happy to talk you through those options.
4. I'm not sure whether I am fit and able enough for a river cruise holiday at the moment?
If this seems like a stumbling block, then I always suggest breaking the holiday down into portions and working out whether they are manageable. If you are happy with getting on and off buses but don't want to walk far, then river cruising is still for you.
If you don't want to feel that you have paid for tours that you are not going to use, then we can look at operators who don't include tours. No one wants to pay for something they are not going to use.
Our Advice: You need to be able to get up and down stairs, however slowly, but you can watch the world go sailing by, or indeed go off on your own.
5. The dates don't work for me this year
River cruising seasons go on sale usually in March the previous year, so to get the best choice of dates – June and September are by far the busiest months, then plan ahead. A deposit will secure the holiday of your choice with the balance paid usually 3 months before travel.
Finally – Am I going to enjoy it?


River cruising is about culture, sightseeing and the of luxury of having a floating hotel in the centre of some of the world's most beautiful places. The atmosphere is very relaxed, but it is a touring holiday where the destination is king. Entertainment is low key in the evenings and dining is good to excellent but there is only usually one main dining room. With around 150 people on board, you will make friends easily. And remember, it doesn't have to be something that you do every year for the rest of your life, a river cruise for you may just be a way of seeing a part of the world you have always wanted to go to.
So, I hope that this blog post has moved you closer to knowing whether a river cruise is for you. Each river offers something different as does each cruise operator. As a specialist in our field. We look forward to making river cruising work for you.
Alex
Posted by
Alex